BigIslandNow.com.  "Community envisions revitalized future for Big Island's Waiakea Peninsula during design lab workshop."
Views expressed in this Hawaii Island News update are those of the reporters and correspondents.
Accessed on 19 November 2023, 2250 UTC.
Please click link or scroll down to read your selections.  Thanks for joining us today.
SUNDAY, NOVEMBER 19, 2023
Aloha Sunday, Big Island!
We hope your Thanksgiving prep is going well. Between holiday shopping, check out today's top stories.
A design lab workshop invited community members to create their vision for the Waiākea Peninsula, which includes historic Banyan Drive.
Seventeen Hawaiian-focused public charter schools – including six on Big Island – will be receiving a total of $6 million in support from the Office of Hawaiian Affairs over the next two fiscal years.
Don't forget to check out the poll results for the favorite Thanksgiving meal: Traditional or Hawaiian-style?
Mahalo for your readership!
EAST HAWAII NEWS
Using materials such as Play-Doh, cotton balls, chopsticks, paperclips, and colorful twist ties, the Big Island residents had about 10 minutes to mold and shape their creations, taking into account the history of the peninsula, traditions, environment and other aspects of the place.
BIG ISLAND POLLS
Thanksgiving is here!
Stores are packed this week people picking up everything that makes their family's holiday special and unique. And we were curious what those meals might look like.
HAWAII STATE NEWS
At their October meeting, trustees approved a $ 2.7 million Hawaiian Focused Charter School Fund Administration Grant to Kanu o ka ʻĀina Learning ʻOhana (KALO) to manage per-pupil funding support for 16 of these schools.
BIG ISLAND WEATHER
MAUI
Senator Mazie K. Hirono secures over $6.6 million in federal funding for the University of Hawaiʻi to enhance child care programs and services statewide.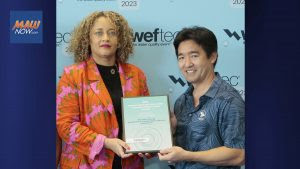 The Highways Maui District has been honored with the 2023 MS4 Phase II Overall Award for its exceptional stormwater management programs.
KAUAI
At 10:05 a.m., radar and automated rain gauges indicated that a band of heavy rain is moving over the island.
At 7:53 a.m., the Doppler radar was tracking this storm along a line extending from 34 miles northwest of Polihale to 65 miles west of Mana. Movement was east at 30 mph.