"Founders of Island Jerky Crunchy Munchies bring flavor, love to every bag."
Views expressed in this Hawaii Island News update are those of the reporters and correspondents.  Accessed on 21 August 2023, 2215 UTC.
Content provided by email subscription to "BigIslandNow.com."
Please click link or scroll down to read your selections.  Thanks for joining us today.
View in Browser
MONDAY, AUGUST 21, 2023
Aloha Monday,
For Business Monday, we highlight the family-owned business of Island Jerky Crunchy Munchies.
President Joe Biden and First Lady Jill Biden are on Maui visiting the disaster areas and talking with survivors of the Lāhainā fire that decimated Front Street.
A road in Ka'ū is now open following a brush fire over the weekend.
A Puna man is being held on $610,000 bail in connection to sexual assault of a minor and kidnapping.
Don't forget to vote in this week's poll regarding ocean access priorities in Puna following the 2018 eruption.
BUSINESS
The Tsukamoto family has made goat jerky for years. Seven years ago, they decided to turn their recipe toward beef.
NEWS
President Joe Biden and First Lady Jill Biden will visit Maui today, to observe the impacts of three Maui fires ignited on Aug. 8 and join the state in mourning the devastating loss of life and land that has occurred across the island.
NEWS
The bottom of South Point Road, near Ka Lae Point, is now open.
The road was closed on Saturday after a brush fire broke out at about 2:30 p.m. As of this morning, approximately 135 acres was scorched 85% of the blaze was contained.
NEWS
A Puna man is scheduled to make an initial appearance in Hilo District Court today on charges of sexual assault and kidnapping of a child less than 14 years old.
BIG ISLAND POLLS
The loss of ocean access has had a huge impact on Puna residents following the 2018 Kīlauea eruption. As work to restore roads, waterlines and parks begins, what would be your priority in regards to ocean access?
BIG ISLAND WEATHER
MAUI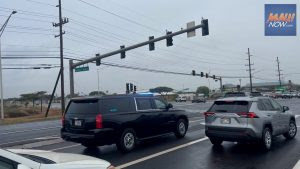 The President and the First Lady are due to arrive on Maui this morning. During their visit, they will meet emergency responders, survivors, community members, as well as federal, state, and local officials, and survey the area devastated by deadly wildfires on Maui.
Bidding them farewell from Vancouver was First Nations Squamish elder Bob Baker, who spoke of living on Maui for 16 years and getting involved with Hawaiian canoe paddling and sailing through the late Pwo Navigator from Lahaina Chad Kalepa Baybayan and Hōkūleʻa veteran voyagers from Lahaina Snake Ah Hee and Archie Kalepa, both of whom survived the fires along with their families and their homes.
KAUAI
Through community-based planning and the utilization of brownfields assessment grant funds, the County intends to work with property owners and other stakeholders in repurposing opportunity sites for local-serving uses, such as housing, jobs, services, and civic amenities.
President Joe Biden and First Lady Jill Biden will visit Maui today, to observe the impacts of three Maui fires ignited on Aug. 8.