"Pahoa eruption and recovery series and Banyan Drive Poll results are here!"
Views expressed in this Hawaii Island News summary are those of the reporters and correspondents.  Accessed on 30 July 2023, 2345 UTC.
Content provided by email subscription to "BigIslandNow.com").
Please click link or scroll down to read your selections.  Thanks for joining us today.
Enjoy our Sunday stories about Hawai'i Island's volcanic district of Pāhoa, and head to our website to see what our readers are saying should be done to improve Hilo's historic Banyan Drive.
COMMUNITY
At least once a week, 68-year-old Deb Smith and her 69-year-old husband Stan hike 700 feet over black lava — often lugging groceries — to their house. It's the same ordeal when they want to leave home.
While the elderly couple moved into a surviving home on property next to their original house, which was destroyed during the 2018 Kīlauea eruption, the road still has not been repaired.
NEWS
On the east side of the Big Island, south of Hilo, Pāhoa is a colorful small town of about 1,200 residents known for its local agriculture, a controversial geothermal plant, Uncle Robert's Awe Bar and Farmer's Market and infamous punatics.
It's a place rich with character, and characters, which attracts tourists. It also is known as the home of Tūtū Pele, a sign of respect for the well-known deity within Hawaiian mythology who is goddess of volcanoes and fire and the creator of the Hawaiian Islands.
NEWS
Starting this fall, there will be additional free job training courses available for Hawaiʻi Island residents through the Good Jobs Hawaiʻi initiative.
Some of the training will also be open to residents throughout the state. These training sessions will provide opportunities for people to upskill and earn industry credentials in the healthcare, skilled trades and technology industries, which will lead to employment, paid internships and apprenticeship pathways.
BIG ISLAND POLLS
Revitalization and redevelopment of Banyan Drive, known for decades as the "Hilo Walk of Fame" because of the banyan trees planted by celebrities lining the roadway, received a boost earlier this month.
Hawai'i Gov. Josh Green issued an emergency proclamation to help solve the public health and safety issues caused by the former Uncle Billy's Hilo Bay Hotel, which has become a haven for crime, drugs, squatters and other illicit and illegal activities. The state anticipates demolition of the once iconic hotel could begin by the end of this year.
NEWS
For the past six years, Hawai'i Community College's Title IX Coordinator Sara Vogel has supported survivors of sexual, relationship, and gender-based harassment and violence.
She's now ready to use her experience and knowledge to help create a comprehensive sexual education curriculum grounded in indigenous practices, beliefs, and education modalities during her research as a 2023-2024 Fulbright Scholar.
NEWS
The National Weather Service issued a coastal hazard message for all Hawai'i Island shorelines.
The message, sent from Hawai'i County Civil Defense, said some coastal flooding is expected, starting Sunday and lasting through Wednesday afternoon.
NEWS
Big Island police are asking the public for help with finding a missing 57-year-old Kona man.
Benjamin Lipman was last seen July 21 in the Hilo area. He is described as 5-foot-6, 160 pounds, with balding light brown/gray hair and brown eyes. He is also missing the tip of his index finger on one hand and is known to frequent the South Kona area, including Ke'ei Beach and the beach near Pu'uhonua O Hōnaunau.
SURF REPORT
BIG ISLAND WEATHER
MAUI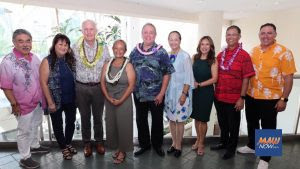 The Hawaiʻi Tourism Authority Board of Directors has appointed Blaine Miyasato as the new chair and Mahina Paishon Duarte as the new vice chair.
Ebb & Flow Arts present Duo Diorama – Minghuan Xu, violin, and Winston Choi, piano – in a concert on Saturday, Aug. 19, 2023 at 7 p.m., featuring works by Béla Bartók, Alfred Schnittke, Igor Santos, Kyung Mee Choi and Robert Pollock.
KAUAI
Lucy Douthitt took home the championship trophy during the 2023 Kiwanis Kūpuna Spelling Bee.
Locally breezy trade winds will prevail into next week. Partly to mostly cloudy skies across windward and mauka areas with scattered showers mainly during the…