"Illegal Fireworks Task Force in Hawaii:  What should be its priority?"
Views expressed in this Hawaii Island News summary are those of the reporters and correspondents.  Accessed on 09 July 2023, 2319 UTC.
Content provided by email subscription to "BigIslandNow.com."
Please click link or scroll down to read your selections.  Thanks for joining us today.
SUNDAY, JULY 9, 2023
Here's the latest news on Big Island! Check out our poll and learn more about what's happened on Moku o Keawe this weekend.
BIG ISLAND POLLS
In the Big Island Now's most recent poll — which asked "What should be the priority of the new Illegal Fireworks Task Force?" — most votes (21%) thought the new statewide initiative isnʻt necessary and another 17% think some illegal fireworks should be made legal.
But the majority of votes (62%) were spread over eight answers that offer a more aggressive way to enforce or deal with illegal fireworks.
ASTRONOMY
In the spring of 2019, astronomer Doug Simons had a hard time sleeping the night after he saw the world's first image of a black hole, taken by the international collaboration of the Event Horizon Telescope project that includes two telescopes at the summit of Maunakea.
The black center was surrounded by a ring of light, gas that's more than a billion degrees hot and basically spiraling forever into the black hole.
SURF REPORT
NEWS
Water will be temporarily turned off along 'Apapane, Lihikai and Kēōkea Loop roads from 8 a.m. to noon, daily July 11 through July 12 to install valves and relocate services, according to the County of Hawai'i Department of Water.
Upon resumption of water service, the waterlines will be flushed and cleaned during which time customers may notice turbid and/or discolored water.
EAST HAWAII NEWS
Big Island police are asking the public for assistance with locating a missing Puna man who is considered endangered because of his age.
The Hawai'i Police Department says 68-year-old Wayne Knapstad of Volcano was last seen at 2:30 p.m. July 3 in the Volcano area. Knapstad is described as 5 feet, 8 inches tall, weighing approximately 155 pounds, balding with white hair, white goatee, a light complexion and blue eyes. He was last seen wearing blue jeans, a blue jacket and a black baseball cap.
BIG ISLAND WEATHER
MAUI
The University of Hawaiʻi at Mānoa Library has successfully digitized the 鯨魚鑬笑録 (Geigyo ranshōroku) scrolls, rare hand-painted Japanese scrolls depicting the process of whale hunting during Japan's Edo period.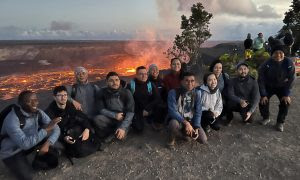 The Center for the Study of Active Volcanoes is holding its annual summer International Training Course in Volcano Hazards Monitoring. This year is the 30th course since its inception in 1990 after a three-year hiatus due to the COVID pandemic.
KAUAI
There will be closures on Kaumualiʻi Highway (Route 50) beginning Monday for tree trimming work.
Breezy easterly trades will continue through tonight, then ease slightly Monday through midweek as the remnants of former Tropical Cyclone Adrian move…