"International workshop on breast cancer research headed to Kona."
Views expressed in this Hawaii Island News update are those of the reporters and correspondents.  Accessed on 26 May 2023, 0006 UTC.
Content provided by email subscription to "BigIslandNow.com."
Please click link or scroll down to read your selections.  Thanks for joining us today.
Russ Roberts
View in Browser
THURSDAY, MAY 25, 2023
Aloha Big Island!
In an ongoing effort to understand and treat breast cancer, more than 100 physicians, researchers, allied health professionals and advocates will gather in Kailua-Kona in June to attend the 10th International Breast Density & Cancer Risk Assessment Workshop.
Alfred Lacks Carter Jr, grandson of Henrietta Lacks, will be visiting the University of Hawaiʻi Cancer Center to give a talk to honor his grandmother and the remarkable research advances made possible by her HeLa cells.
The Hawaiʻi Climate Commission, in collaboration with Hawai'i County, is hosting a Climate Community Fair.
Mahalo for your readership!
COMMUNITY
Topics will cover screening methods, next-generation imaging and clinical considerations of breast density.
HAWAII STATE NEWS
This free event is open to the public and will take place at the UH Cancer Center's Sullivan Conference Center and via Zoom on May 27 from 9:30 to 11 a.m. If attending in person, please RSVP by calling (808) 564-5835. Space is limited.
COMMUNITY
The focus is on what is being done to create a resilient and sustainable Hawaiʻi. Diverse organizations and programs will have booths, workshops and games to share.
NEWS
The Hawai'i State Department of Health is retesting Kahalu'u Beach Park in Kona after high levels of bacteria were detected in the water.
HAWAII STATE NEWS
Hawaiian Electric is partnering with global electric vehicle software provider ev.energy to offer customers a smart charging mobile app that will enable electric vehicle drivers to optimize their charging sessions while helping inform Hawaiian Electric's development
of future charging programs and EV-specific rate options.
NEWS
Hawai'i Island police are requesting the public's assistance in locating 16-year-old Ella Ishoda who was reported as a runaway.
BIG ISLAND WEATHER
MAUI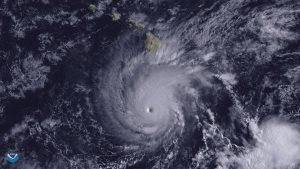 There is a 50% chance of above-normal tropical cyclone activity during the Central Pacific hurricane season this year, according to the outlook from NOAA's Central Pacific Hurricane Center and NOAA's Climate Prediction Center. For the 2023 season, 4 to 7 tropical cyclones are predicted for the Central Pacific hurricane region.
The Sentry Tournament of Champions raised a record $694,705 for charity in 2023. It's the largest charitable impact figure raised for the local community since the event moved to Maui in 1999.
KAUAI
Breezy easterly trade winds will continue through tonight. Trade winds will weaken Friday into the weekend as an upper trough builds north of the region…
Small long period south to southwest swells (180-220 degree) will keep surf heights around the summer average along south facing shores through the week. Surf…