"DLNR nominee Dawn Chang faces tough questions about her past work."
Views expressed in this Hawaii State News summary are those of the reporters and correspondents.
Accessed on 30 January 2023, 1921 UTC.
Content provided by email subscription to "Hawaii Business Magazine Newsletters."
Please click link or scroll down to read your selections.
Locally Owned, Locally Committed Since 1955
1.30.2023
TOP STORIES
DLNR nominee Dawn Chang faces tough questions about her past work
Opposition is growing among conservationists and some Native Hawaiians who want to see Gov. Josh Green withdraw Chang, a former deputy state attorney general and private consultant, as his nominee to lead the Department of Land and Natural Resources. Civil Beat.

Suspending laws is a recurring tactic in Hawai'i to shelter homeless
An emergency order focused on homelessness allows Gov. Josh Green to bypass more than two dozen state laws — including contract procurement, land use and environmental review — to speed efforts to shelter people. Star-Advertiser.

Bills would expand fees to access state parks and trails
Visitor "green fees" are already in limited use, such as at Diamond Head State Monument, but there's renewed interest this legislative session to expand the concept and generate more revenue for environmental protection. Star-Advertiser.

Inside the push to make school meals free
Hawai'i is one of only a few states that allow students to be denied food when their parents fail to pay school lunch bills. Lawmakers are weighing proposals to address the gap between the number of students eligible for free meals and those who actually need them. Civil Beat.

Hawai'i women lawmakers push bills for working mothers, abuse survivors
More than two dozen lawmakers make up the bipartisan Women's Legislative Caucus, and this session they aim to help working mothers and survivors of human trafficking and domestic abuse. Hawaii News Now.

State bills aim to curb illegal fireworks
Nearly two dozen bills have been introduced in an effort to crack down on illegal fireworks, including proposals to increase fines and boost inspections of shipping containers. Star-Advertiser.

Satellite study shows subtle signs of climate change in Hawai'i
Researchers have examined satellite images over four decades and concluded that the islands have endured significant "browning," or declines in vegetation health. Star-Advertiser.

Humpback whales are plentiful during first count of the season
Bad weather didn't deter volunteers on four islands from grabbing their binoculars and logbooks Saturday in the first of three coordinated whale counts for the year. Star-Advertiser.

How Pearl Harbor became "the nation's chief Pacific outpost"
As early as 1907, Prince Jonah Kūhiō Kalaniana'ole believed Hawai'i was in serious danger of attack by Japan. He became an ardent advocate of building up Pearl Harbor. Civil Beat.

Hawai'i workplace deaths decreased in 2022
Three workers died on the job last year, according to data from the U.S. Department of Labor's Occupational Safety and Health Administration. Seven workplace fatalities were reported in 2021 and two in 2020. Star-Advertiser.

HAWAII BUSINESS MAGAZINE
Your Next Hire Should Be a "Hidden Worker"
Nontraditional workers such as former veterans and caregivers often outperform traditional employees. The gains are widespread, according to executives with companies that hire substantial numbers of hidden workers… read more.
OʻAHU
Bill would have the state acquire nearly two dozen Sunset Beach lots hit by erosion
The properties would be condemned under a bill proposed by state Sen. Chris Lee. The bill says that failure to uphold laws has led to "houses falling onto the sand, debris littering near-shore waters and limitations to public access." Star-Advertiser.

Honolulu homeowners are shocked at new property tax bills
Several states have so-called "Truth-in-Taxation" laws designed to mitigate the sharp property tax increases like the ones Honolulu homeowners are facing. Civil Beat.

Waiāhole families facing huge rent hikes as farmers fight to keep local agriculture alive
The Hawai'i Housing Finance and Development Corporation says the proposed rates are well below market value and tenants need to pay their fair share to maintain the valley. KITV4.

Winter wave contests help sustain O'ahu's businesses
Surfing competitions from the "Eddie" to the World Surf League's opening championship tournaments have bolstered interest in the North Shore. Star-Advertiser.

HAWAII BUSINESS MAGAZINE
Vote Now: 2023 People's Choice for the Hawaii Entrepreneur Awards
This award is based on your online votes for the local startup that best represents the goals and interests of Startup Paradise. This company serves as an example for others to follow based on their successes, popularity and support of other community members… read more.
HAWAIʻI ISLAND
Big Island energy plant case heads to the Hawai'i Supreme Court again
Honua Ola Bioenergy's tireless effort to begin producing renewable energy enters another chapter Tuesday when the high court hears oral arguments. The appeal seeks to vacate a state Public Utilities Commission's decision that denied the company's power purchase agreement with a Hawaiian Electric subsidiary. Star-Advertiser.

County hoping to push forward with work on Puna roads
Last year, FEMA began an environmental assessment for a project to reopen roads inundated by lava in 2018. A draft of that assessment is expected in February. Tribune-Herald.

Lawmakers considering $250,000 settlement in assault case at Kona school
The state Department of Education is set to pay the settlement from a 2021 case brought by a Big Island family alleging the agency failed to protect a female student from repeated sexual assault on a public school campus. West Hawaii Today.

Kona hospital seeks $20 million for repairs
Kona Community Hospital serves a growing population in a facility that's almost 50 years old and in desperate need of repairs, according to its leaders. Star-Advertiser.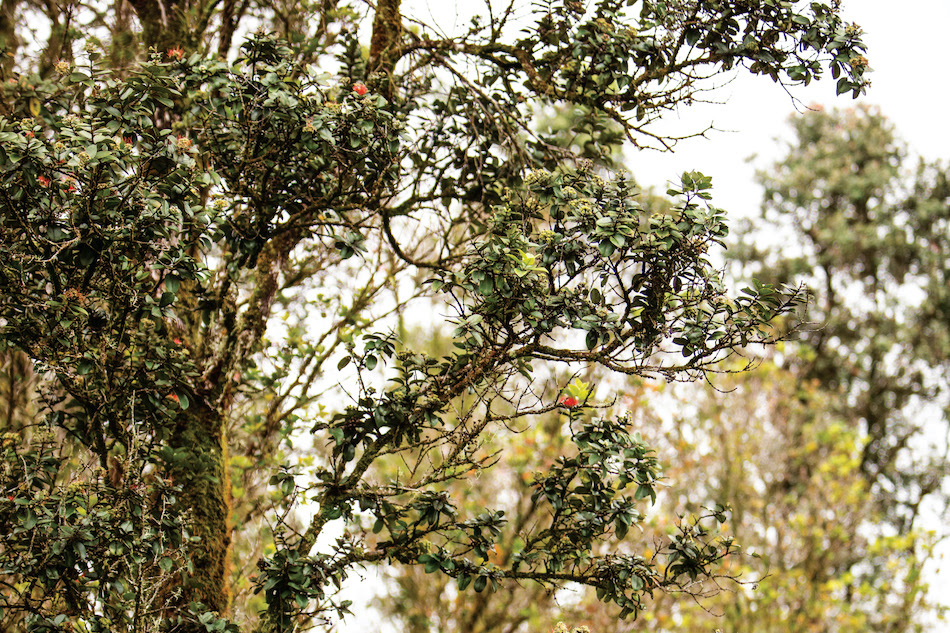 HAWAII BUSINESS MAGAZINE
Hawai'i's Native Forests Are Vanishing. Here's How to Help.
Pests and diseases are decimating 'ōhi'a trees and others, but simple actions can help stop the decline. It's important to keep Hawai'i isolated from nonnative species, as native species serve a special role in our islands' ecosystem... read more.
MAUI COUNTY
Alice Lee selected to chair County Council 
After a rocky start to the new term, the Maui County Council now has all nine members seated and, for the second time this month, a new chair. Civil Beat. Maui News.

Molokaʻi schools will be closed Monday due to severe weather
The state Department of Education's five public schools on the island are closed today. Officials said flooding has blocked roads and created unsafe conditions. Maui Now. Hawaii News Now.

Maui County sees largest vacation rental supply, occupancy, average rates in state
In December, Maui's vacation rental supply was 209,600 available unit nights, at 62% occupancy and an average daily rate of $391. Maui Now.

KAUAʻI
Lawmakers consider making access to abortion easier, especially in rural areas
A Kaua'i doctor's lawsuit recently helped expand access, but there are still plenty of hurdles. Civil Beat.

DLNR to nearly double its staff on Kaua'i
Six of 42 new officers will be stationed on Kaua'i, joining seven officers now working with the Department of Land and Natural Resources' Division of Conservation and Resources Enforcement. Garden Island.

Sperm whale carcass washes up on Lydgate Beach over the weekend
Officials with the state Department of Land and Natural Resources say the cause of death of the 56-foot-long whale is under investigation. Maui Now. Kaua'i Now. Hawaii News Now.
JANUARY / FEBRUARY ISSUE
Dive into some of our latest features!
What Happens When Private Equity Is Your Landlord in Hawai'i
How the Construction Industry Aims to Tackle Hawai'i's Biggest Problems
Your Next Hire Should Be a "Hidden Worker"
Hawai'i Foodbank Has a New Model for Feeding 120,000 People a Month
Hawaii Business Magazine 
 1088 Bishop St. Ste. LL2
Honolulu, HI 96813
General Inquiries: (808) 537-9500
Advertising/Sponsorships: (808) 534-7124
For the latest Hawaii State, Hawaii Island, West Hawaii, and Hawaii Sports News, please check the "News Resources" link in the blog sidebar.  Thanks for joining us today.
Russ Roberts