Finland leaders in Hilo to inspire Hawaii with its successful efforts to end homelessness.
Views expressed in this Hawaii Island News summary are those of the reporters and correspondents.  Accessed on 17 November 2022, 1933 UTC.
Content provided by email subscription to "BigIslandNow.com."
Please click link or scroll down to read your selections.
THURSDAY, NOVEMBER 17, 2022
Aloha Thursday!
The County Council is the first in the state to regulate where firearms may be carried. Find out where in our story featured below.
Also, the Hawai'i County Commission is meeting to continue its discussion on the hiring of the next police chief.
And in other news, a delegation from Finland came to the Big Island to talk about homelessness, how their country has addressed the problem and what the Aloha State can do to fix the issue here at home.
Mahalo for your readership.
HAWAII STATE NEWS
On Tuesday, leaders from Finland were in Hilo to explain how the northern European nation of 5.5 million is eliminating homelessness, a problem that Hawaiʻi County and the Aloha State have been trying to tackle for years.
Juha Kaakinen, Rapporteur for the Ministry of Environment of Finland, told the audience at the ʻImiloa Astronomy Center: "It's not rocket science."
NEWS
The Hawai'i County Police Commission will continue its discussion on selecting a new police chief at its upcoming meeting on Friday.
The meeting will take place at 9 a.m. at the West Hawaiʻi Civic Center, Building A Council Chambers, 74-5044 Ane Keohokalole Highway, in Kona.
NEWS
Sally Rankin posted a picture shortly after 6 p.m. on Nov. 9 on Facebook that shows a small cloud rope descending from a dark sky near her West Hawai'i home.
"Hung out for about 5 minutes [in] Kealakekua/Honalo just now," Rankin said in the post. "Disappeared on [its] way towards Kona."
DISCUSSION
Hawai'i County is the first in the state and one of the first municipalities in the nation to pass legislation regulating where licensed firearms can be carried with a valid permit.
After weeks of work and hours of discussion and testimony, the Hawai'i County Council on Wednesday adopted Bill 220, detailing several "sensitive places" where carrying a licensed firearm, concealed or not, will be prohibited on the Big Island.
ACTIVITIES
Looking for something for the kids to do during winter break? Registration is now open for the Hawai'i County Parks and Recreation Department's 2022 Winter Intersession programs.
Three programs are scheduled around the Big Island. All programs will run Monday through Friday, Dec. 19-30, with the exception of Dec. 26 in observance of the Christmas holiday. Programs will be conducted at the Pi'ihonua Gym in Hilo, Spencer Kalani Schutte District Park in Waimea and Pāpa'ikou Gym.
IN CASE YOU MISSED IT
One pill can kill. Fentanyl kills. Narcan saves lives.
These were just a few of the messages Kealakehe High School students and health care workers were spreading on Tuesday afternoon during a sign waving along Queen Ka'ahumanu Highway in Kailua-Kona.
BIG ISLAND WEATHER
MAUI
Maui Memorial Medical Center has received an "A" Leapfrog Hospital Safety Grade for fall 2022, following the same grade awarded in May for spring 2022.
Arc of Maui County received a $45,000 grant from the Nareit Foundation that will be utilized to renovate 12 bathrooms for 20 residents living with intellectual and developmental disabilities in four group homes on Maui.
KAUAI
Weakening high pressure will approach from the northwest, driving moderate trade winds across local waters over the next couple of days. Upper troughs will…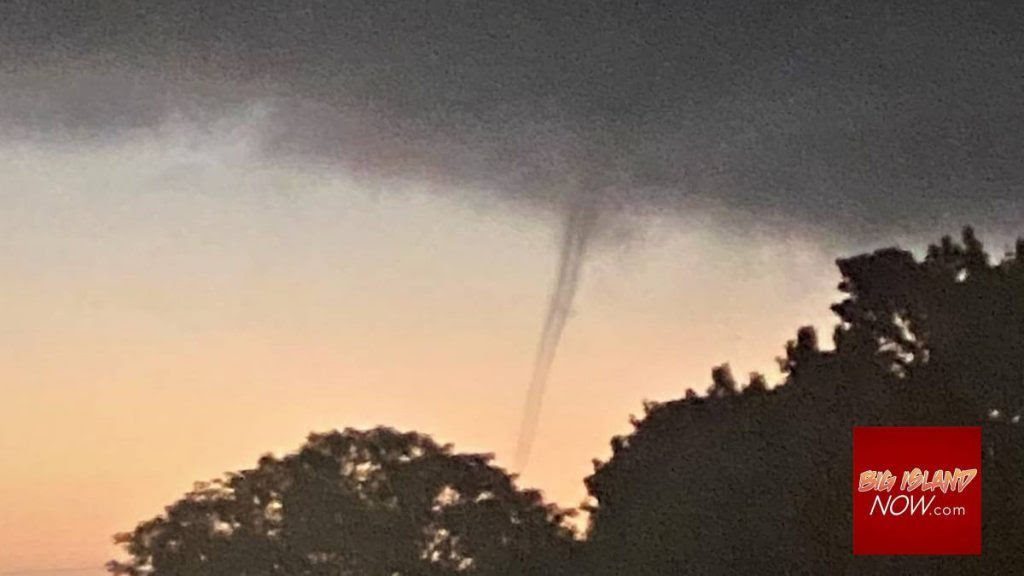 A photo of swirling cloud in dark skies over over West Hawai'i generates a whirlwind of interest on social media because the weather phenomena are rare in Hawaiʻi.
For the latest Hawaii Island, West Hawaii, Hawaii State, and Hawaii Sports News, please check the blog sidebar and links.  Thanks for joining us today.
Russ Roberts