Rescue at Kua Bay:  "That lady was dead and they saved her life."
Views expressed in this Hawaii Island News update are those of the reporters and correspondents.  Accessed on 02 November 2022, 2257 UTC.
Content provided by email subscription to "BigIslandNow.com."
Please click link or scroll down to read your selections.
WEDNESDAY, NOVEMBER 2, 2022
Aloha Wednesday!
We've got a feel-good story for you this morning about an incredible rescue made by ocean safety officers at Kua Bay. Witnesses say a woman pulled from the water was dead, but they brought her back to life with CPR. Check out the story to read more about the rescue.
Holiday season has arrived! The Waikoloa Foundation has kicked off its food drive to collect food for the Food Basket. More of these food drives will be cropping up so let's take care of each other, and donate if you can.
Mahalo for your readership!
IN CASE YOU MISSED IT
The Saturday morning of Oct. 22 was sunny with blue skies at beautiful Kua Bay in West Hawaiʻi. Waves were 1 to 3 feet with the occasional set of 4-footers. Everyone on the beach and in the water was enjoying themselves, seemingly unaware of the elderly woman floating face down.
Everyone except for Ocean Safety officer Ian McVeigh. He had just showered and returned to the lifeguard tower after running along the beach when he noticed what appeared to be a piece of clothing in the waves.
ACTIVITIES
Hawaiʻi Island community members are invited to support The Food Basket now through Dec. 22
As of Tuesday, the public is encouraged to participate in the Waikoloa Foundation's second Waikoloa Holiday Food Drive in support of The Food Basket, Hawaiʻi Island's Food Bank and its efforts to provide food assistance and promote community resiliency.
DISCUSSION
The Hawai'i County Finance Department recommended awarding six Big Island nonprofits with stewardship grants to maintain seven parcels acquired through the County's Public Access, Open Space and Natural Resources Preservation Fund.
County Finance Director Denna Sako presented the list, with total recommended grants of nearly $400,000, to the Hawai'i County Council Finance Committee on Tuesday. The grant money would come from the special fund.
BUSINESS
The Hawai'i Department of Health Clean Air Branch issued Notices of Violation and Order, or NOVO, against six companies statewide, including one in Kea'au.
All responsible parties have or had the option to request a hearing to contest their alleged violations and penalties. Mauna Loa Macadamia Nut Corporation paid a fine of $28,300 for various air permit violations on its boilers and diesel engine generators.
NEWS
Hawai'i Island police are asking for the public's assistance in locating 24-year-old Jonah Kanoa Mokuiki Drummondo-Rodrigues, of Kea'au, who is wanted for questioning in a sex assault investigation that occurred on Oʻahu.
Drummondo-Rodrigues is described as 5 feet 7 inches tall, 185 pounds, with black hair and brown eyes.
Anyone with information on Drummondo-Rodrigues' whereabouts should contact the police department's non-emergency line at 808-935-3311 or Det. Gavin Kagimoto at 808-961-2276 or via email at gavin.kagimoto@hawaiicounty.gov.
Tipsters who prefer to remain anonymous may call the islandwide Crime Stoppers number at 808-961-8300 and may be eligible for a reward of up to $1,000. All Crime Stoppers information is kept confidential.
NEWS
The Hawaiʻi State Department of Public Safety is warning people to beware of deputy sheriff impersonators and extortion scams.
In recent weeks, several people have come to the Sheriff Division Booking and Receiving Station at Keawe Street in Honolulu to turn themselves in at the instruction of scammers.
IN CASE YOU MISSED IT
Each month, hundreds of customers enter S. Tokunaga Store in Hilo to peruse and shop its selection of at least 15 brands of guns, including their best-sellers: 9mm Glocks and Sig Sauers.
"Right now, the firearms industry is pretty in demand," Michael Tokunaga, the store's owner, said. "Everybody is interested in getting firearms now. Ever since the pandemic, everything went crazy."
BIG ISLAND WEATHER
MAUI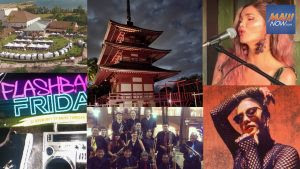 For a list of upcoming events, concerts, shows and entertainment for Nov. 3-9, find our comprehensive listing HERE.
The Paniolo Hall of Fame will announce the induction of nine new members of the Paniolo Hall of Fame in a banquet and ceremony during the Hawaiʻi Cattlemen's Council Annual Convention at the Waikoloa Beach Marriot Resort & Spa, on Saturday Nov. 19, 2022 at 12:30 p.m.
KAUAI
Moderate trades will focus showers over windward and mauka zones through today as a trough passes north of the islands. Winds will then strengthen and veer to…
An incoming south swell will keep surf along south facing shores above average through the end of the week, and then drop back to background levels by early…
For the latest Hawaii Island, West Hawaii, Hawaii State, and Hawaii Sports News, please check the blog sidebar and links.  Thanks for joining us today.