Former home of Tokai College in Moiliili acquired by city for affordable housing.
Views expressed in this Hawaii State News summary are those of the reporters and correspondents.  Accessed on 02 November 2022, 0212 UTC.
Content provided by email subscription to "Hawaii Business Magazine Newsletters."
Please click link or scroll down to read your selections.
11.1.2022
Former home of Tokai college in Mōʻiliʻili acquired by city for affordable housing
The city has finalized a $37.75 million acquisition of the former home of Hawaii Tokai International College to add more than 100 new affordable housing rental units. Since 2017 — when Hawaii Tokai International College sold the building to an investment vehicle — the property has been used as a housing facility for students, mostly attending Hawai'i Pacific University.
Navy proposes defueling Red Hill but keeping tanks in place for 'beneficial reuse'
Defueling the tanks but keeping them in place is among four alternatives submitted to the health department for review in the Navy's latest plan and the option that the Navy feels is safest and the fastest. Military officials said "beneficial reuse" might include storage or for hydroelectric uses.
Health department issues nearly $110K in fines for air pollution control permit violations
The Hawai'i Department of Health has fined six entities, including several major companies and the U.S. military nearly $110,000 for air pollution control permit violations in the state. These six entities have been issued notices of violations and orders, with the largest fine of $42,700 issued to Par Hawaii Refining LLC in Kapolei.
Maui hotel, conservation groups reach agreement to protect endangered Hawaiian petrel
The Grand Wailea Resort on Maui has implemented protective measures, including reducing lighting, to help protect the endangered 'ua'u, or Hawaiian petrel.
HAWAII BUSINESS MAGAZINE
This Downtown Hub Is Launching Businesses and Careers
The Patsy T. Mink Center for Business & Leadership offers small business workshops, one-on-one counseling and leadership training. Rachel Fukumoto's decided to work for herself, turning a side project making fruit tarts into a small business, and leaned on peers from the Patsy T. Mink Leadership Alliance program …read more.
Bishop Museum Hosts Hawaiʻi International Film Festival Screenings on Its Great Lawn
Bishop Museum is partnering with the Hawai'i International Film Festival to present two of the Festival's "Made in Hawaiʻi" feature films, as outdoor screening celebrations on its historic grounds and signature event venue, the Great Lawn. The films will be shown on Nov. 3 and Nov. 4.
Because we're in the business of business, right?
Here are some tips, advice, or business content that may be useful to Hawaiʻi's working professionals.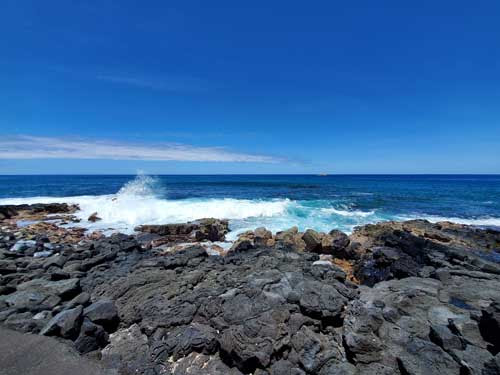 Waves crashing in Kailua-Kona.
Photo credit: Tianna Morimoto