Mysterious bright light off Hawaii Island's east coast explained.
Views expressed in this Hawaii Island News summary are those of the reporters and correspondents.  Accessed on 29 October 2022, 2157 UTC.
Content provided by email subscription to "BigIslandNow.com."
Please click link or scroll down to read your selections.
Big Island Now

 

editor@bigislandnow.com

 via gmail.mcsv.net 
View in Browser
SATURDAY, OCTOBER 29, 2022
Good morning Big Island,
Did you see the strange light off the coast of Hilo and wonder what it was? We have the answer. Today, we also have a story about the return of "The Rocky Horror Picture Show" to the Palace Theater, information about the repair work planned for Waipiʻo Valley Road and Volcano Watch.
Have a fun and safe Halloween weekend.
Mahalo for your readership
EAST HAWAII NEWS
A mysterious light burning off the Hilo coast has social media abuzz.
"Anyone see the weird light over the bay front tonight?" a member of the Hilo Happenings group on Facebook asked Monday evening. "Orange, then turned white. It also had a small light orbiting around it. … Lasted about 30 mins."
IN CASE YOU MISSED IT
Eight months after Mayor Mitch Roth declared an emergency proclamation to limit access to the steep and narrow Waipio Valley Road that was deemed dangerous, Hawai'i County unveiled its plans to make it safe.
At a community meeting Wednesday at Honoka'a Gym, Steve Pause, director of the county's Department of Public Works, told the crowd of valley residents, taro farmers and surfers that trimming and other maintenance work would begin on the 1.4-mile road in November.
ACTIVITIES
"It's the weirdest movie ever made. Seriously."
That's one reason 49-year-old Olga Sideleva of Hawaiian Acres has seen "The Rocky Horror Picture Show" so many times she has lost count since moving nearly 20 years ago from Russia to the United States. The last time was after Meatloaf, who plays Eddie in the movie, died earlier this year.
NEWS
A popular South Kohala beach park is closed due to water main repairs until early November.
Hāpuna Beach State Recreation Area, including its A-frame cabins, has been closed since Oct. 8 due to waterline breaks that have left no water source for the restrooms and showers. According to the Department of Land and Natural Resources State Parks Division, portable toilets are being brought in, and once in place, the park will reopen.
NEWS
The Hawai'i Department of Health is advising the public that a high bacteria count advisory has been issued for a West Hawai'i beach.
The Health Department's Clean Water Branch says it detected an excessive amount of enterococci, a bacteria that lives in the intestinal tracts of warm-blooded animals, including humans, in waters at the beach north of Honokōhau Harbor. Levels of 885 per 100 mL were detected during routine beach monitoring.
EAST HAWAII NEWS
For the second year in a row, the University of Hawai'i at Hilo women's soccer squad has clinched at least a share of the Pacific West Conference championship.
The No. 10 Vulcans activated the thrusters early to out-sprint Concordia University Irvine, 3-1, Thursday afternoon at Eagles Field in Irvine, Calif., to lay claim to part of the PacWest title.
BIG ISLAND WEATHER
MAUI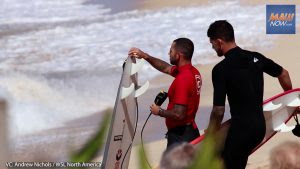 Defending, three-time event winner, Billy Kemper of Maui, is gearing up for the Sunset Pro pres. by HIC. The event is on hold with the next official call, Sunday at 7 a.m. HST, with the event window going through Nov. 6.
The Tigers' 17-under 267 leads two-time tournament winner Oklahoma (2015, 2019) and East Tennessee St. by one and two shots, respectively. The North Florida Ospreys (-11) are in fourth place. The defending champion Kansas Jayhawks and Ole Miss Rebels (-9) are tied for fifth.
KAUAI
Moderate trade winds remain in the forecast through Monday. An upper level low just east of the Big Island will slowly drift northward over the next few days…
Surf along north and west facing shores will remain below the seasonal average into early next week. The current small, short- period north swell will…
For the latest Hawaii Island, West Hawaii, Hawaii State, and Hawaii Sports News, please check the blog sidebar and links.  Thanks for joining us today.