"Big Wood" brings joy to downtown Kona-provides therapy to its creator.
Views expressed in this Hawaii Island News summary are those of the reporters and correspondents.  Accessed on 28 October 2022, 2307 UTC.
Please click link or scroll down to read your selections.
Big Island Now

 

editor@bigislandnow.com

 via gmail.mcsv.net 
View in Browser
FRIDAY, OCTOBER 28, 2022
Aloha Friday!
Hope you all had a great week. We've got a great story for you about Kona's walking tree on Ali'i Drive. Check out our story and learn more about the man behind the costume.
Don't forget, elections are just around the corner. Learn more about Hawai'i County Council's District 2 candidates.
Mahalo for your readership!
IN CASE YOU MISSED IT
Along the tourist drag of Ali'i Drive in Kona, people do double takes with expressions of surprise and delight when they see a 7-foot towering green creation of spray foam, cardboard, two-by-fours, silicon and fake plants — and realize a real person is inside.
The novelty's creator, Brandon Carpenter, calls himself "Big Wood." Others call him "Groot," the walking-talking tree from Marvel comics and "Guardians of the Galaxy" films.
EAST HAWAII NEWS
In the 2022 General Election, only one of the nine Hawai'i County Council seats is up for grabs: District 2, which features political newcomers Jennifer Kagiwada and Matthias Kusch. Only 40 votes separated them in the primary election.
There were five candidates running for District 2 in the August primary. Because no candidate received 50% of the votes cast plus one, the top two vote-getters of the nonpartisan primary race advance to the runoff during the General Election on Nov. 8.
EAST HAWAII NEWS
For the second year in a row, the University of Hawai'i at Hilo women's soccer squad has clinched at least a share of the Pacific West Conference championship.
The No. 10 Vulcans activated the thrusters early to out-sprint Concordia University Irvine, 3-1, Thursday afternoon at Eagles Field in Irvine, Calif., to lay claim to part of the PacWest title.
EAST HAWAII NEWS
Have you seen 14-year-old Kawika Hassard? If you have, Big Island police want to know.
The Hawai'i Police Department is asking the public to help locate Hassard, who was reported as a runaway. He was last seen at 10:30 a.m. Oct. 27 in the Mountain View area.
EAST HAWAII NEWS
A Big Island couple faces multiple charges, including allegedly being in possession of methamphetamine, fentanyl, heroin and methylphenidate, after a narcotics search warrant was executed at their Akolea Road home.
The Hawai''i County Office of the Prosecuting Attorney announced says 33-year-old Bronson Isaac Kaleo Lee and 33-year-old Priscilla Lee of Hilo were arrested and charged after officers with the Hawai'i Police Department's Area I Vice Section executed the warrant Oct. 24. Bronson Lee was also arrested on two unrelated Big Island Drug Court bench warrants.
EAST HAWAII NEWS
Hawai'i Island police are seeking the public's assistance in locating 23-year-old Kineo Kenty Engilo of Hilo. He is wanted for two outstanding Hilo Circuit Court warrants and for questioning in connection with two separate felony assault investigations.
Engilo is described as 5 feet 8 inches tall, 170 pounds, with black hair and brown eyes.
Anyone with information on Engilo's whereabouts is asked to contact the police department's non-emergency line at 808-935-3311.
Tipsters who prefer to remain anonymous may call the islandwide Crime Stoppers number at 808-961-8300 and may be eligible for a reward of up to $1,000. All Crime Stoppers information is kept confidential.
BIG ISLAND WEATHER
MAUI
These forecasts are automatically issued after most magnitude 5 and larger earthquakes in the United States and its territories.  The first forecast is issued 20 minutes after the mainshock and they are updated 74 more times during the first year.
Currently there are no laws or rules that regulate manta ray diving or viewing activities in the Hawaiian Islands. Officials with the state Department of Land and Natural Resources say this has led to overcrowding and associated safety concerns and user conflicts, and environmental impacts.
KAUAI
Expect moderate trade winds to continue through Monday. An upper level low over Maui and the Big Island will produce unstable weather conditions with periods of…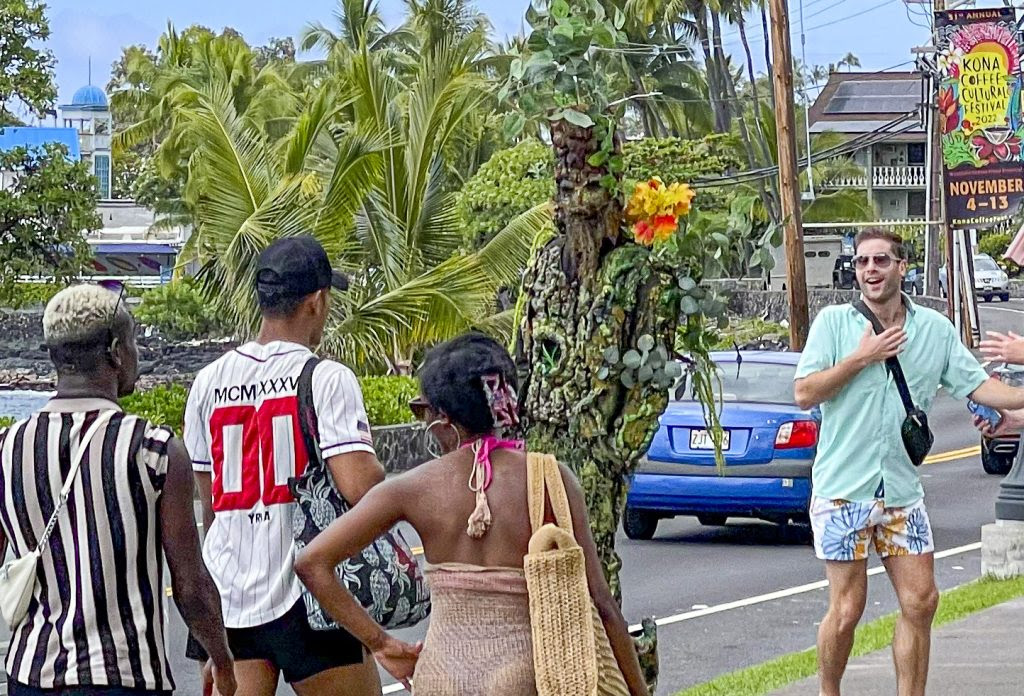 In Kona, people do double takes when they see a 7-foot towering green creation of spray foam, cardboard, two-by-fours, silicon and fake plants — and realize a real person is inside.