Aging, overcrowded Hilo Correctional Center is getting some overdue help.
Views expressed in this Hawaii Island News summary are those of the reporters and correspondents.  Accessed on 27 October 2022, 0118 UTC.
Content provided by email subscription to "BigIslandNow.com."
Please click link or scroll down to read your selections.
THURSDAY, OCTOBER 27, 2022
Aloha Thursday!
Our reporter Nathan Christophel visited Hawaii Community Correctional Center in Hilo. The aging facility has struggled with overcrowding for years. Read more about the jail's current renovations.
And don't forget, it's the Drug Take-Back Initiative this weekend. Dispose of unwanted or expired medications at police departments in Hilo and Kona.
Mahalo for your readership!
EAST HAWAII NEWS
Cramped, cluttered and under construction. That's the current situation at Hawai'i Community Correctional Center in Hilo.
Inmates watched through the reinforced glass of their cell doors on Wednesday as members of the media toured the facility.
EAST HAWAII NEWS
Big Island police are encouraging the public to turn in unused, unneeded or expired prescription medications and vape and e-cigarette devices as part of the National Drug Take-Back Initiative.
The goal of the event is to help reduce the risk of prescription drug abuse.
EAST HAWAII NEWS
Big Island police continue their pursuit to make the island's roadways safe from motorists who drive under the influence of an intoxicant. The Hawai'i Police Department reports that 14 motorists were arrested for DUI during the week of Oct. 17-23.
One of the drivers was involved in a traffic accident. None of the drivers were younger than 21.
NEWS
Hawaiʻi Island police are seeking the public's assistance with identifying a man responsible for an armed robbery Tuesday evening at a Kealakekua restaurant in West Hawaiʻi.
Kona patrol officers responding at 8:30 p.m. to a reported robbery at an eatery in the 81-6000 block of Māmalahoa Highway. Police declined to name the restaurant.
IN CASE YOU MISSED IT
A man found dead in a Hilo public pool was ruled to be a suicide, Hawai'i police reported Wednesday afternoon.
The 24-year-old victim was found in the early morning on Oct. 18 by lifeguards at the Charles Sparky Kawamoto Swim Stadium. Police received the report at 8:30 a.m. and responded to the pool. When first responders arrived on scene, they determined that County lifeguards had pulled the victim from the water.
EAST HAWAII NEWS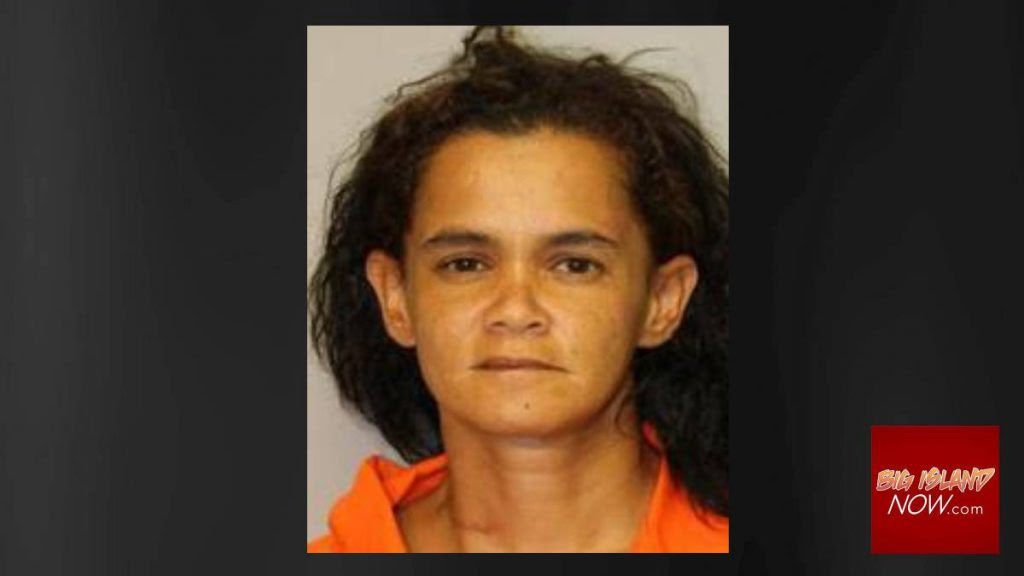 Hawai'i Island police have arrested and charged 34-year-old Tabree Pea, of Hilo, with several offenses following a domestic violent incident that resulted in a man being stabbed in their home on Monday morning.
The charges against Pea stem from an incident reported shortly before 9:30 a.m. Oct. 24, when South Hilo patrol officers responded to an unknown disturbance at the couple's Puueo Street residence. Officers found a man bleeding from his upper left leg. He told the officers he had been stabbed by Pea during an argument in their residence, according to a police news release.
The police did not reveal the identify of the man who was stabbed, or his condition.
NEWS
For his dedicated efforts in tracking down a wanted federal fugitive, Kona Patrol Officer Elijah Won was recognized by the Kona Crime Prevention Committee as Officer of the Month for October 2022.
This is the fifth time Officer Won has received this award during his three-year career.
At 3:44 a.m. on Feb. 7, 2022, while patrolling a portion of Walua Road in Keauhou known for drug activity, Officer Won and his beat partner Officer Curry McFadden saw a Honda sedan parked on the side of the road with an unidentified man asleep behind the wheel. Officers could see what appeared to be a meth pipe in the vehicle's center console.
As they were visually inspecting the exterior of the car, the man behind the wheel woke up and exchanged words with the officers. He refused to give Officer Won his name or provide identification and instead started his car. Ignoring the officers' commands and their safety, the man drove away, sideswiping Officer Won's police subsidized vehicle in the process.
Officer Won later determined the driver of the vehicle was Martin Medina, a federal fugitive from Mexico. Medina was suspected to be involved in criminal activity, including the stealing of vehicles and illegal narcotic distribution. He was also wanted on a federal deportation warrant by Homeland Security Investigations for illegally re-entering the country after being deported.
After the February encounter, Officer Won diligently gathered intelligence on Medina's whereabouts and other possible vehicles he might be operating. However, every time they attempted to apprehend Medina he evaded arrest by driving into traffic at a high rate of speed. Officers were unable to pursue him because Medina was creating a hazardous situation that put the public's safety at risk.
On April 20, 2022, while enroute to an unrelated call, Officer Won spotted the Honda sedan from the February incident at a gas station in Captain Cook. Upon closer inspection, he saw Medina pumping gas into a gas can.
BIG ISLAND WEATHER
MAUI
Krank Cycles will donate 50 bikes and repair any bike for free for keiki at Hale Makana O Waiale and Ka Hale A Ke Ola Resource Center Wailuku on Nov. 12, 2022.
The grant will help Hawaiʻi purchase 25 clean school buses that will accelerate the transition to zero emissions vehicles.
KAUAI
A cold front far north of the islands will move south towards Hawaii today. An upper level disturbance is forming over the region this morning as the front…
A series of rather small short period northerly swells are expected through Tuesday. A slightly larger and longer period northwest swell may arrive Sunday night…
For the latest Hawaii Island, West Hawaii, Hawaii State, and Hawaii Sports News, please check the blog sidebar and links.  Thanks for joining us today.