Check out the list of Halloween activities around Hawaii Island.
Views expressed in this Hawaii Island News update are those of the reporters and correspondents.  Accessed on 26 October 2022, 2330 UTC.
Content provided by email subscription to "BigIslandNow.com."
Please click link or scroll down to read your selections.
WEDNESDAY, OCTOBER 26, 2022
Aloha Wednesday!
Halloween is coming up and the Big Island has lots of activities to safely celebrate the spooky holiday. Check out our guide of events.
With elections coming up, residents will also have a chance to vote on three proposed amendments to the county charter. Find out what they are and learn more about them before mailing in your ballot or going to the polls.
Mahalo for your readership!
ACTIVITIES
There are Halloween activities around the Big Island — for keiki to adults. Check out the list that includes haunted houses, witches on the water, a menacing maze and Howl-ween with four-legged friends.
HalloQueen Boo Bash
When: Oct. 31, 5-7 p.m.
Where: Queens' Marketplace, 69-201 Waikōloa Beach Drive, Waikōloa
Click here for more information.
ACTIVITIES
As spine-chilling screams streamed from the bowels of the Hilo Axe Lounge on Sunday night,  a creepy cacophony seeped through to the floor above. Group after group descended into the darkness with ghouls lurking in the menacing maze.
"It was as scary as I was hoping it would be," said Victorya Rivera of Hilo.
ELECTION
The first Hawaiʻi County Charter became effective on Jan. 2, 1969, serving as the "constitution" of the government on the Big Island.
There is a mandatory charter review every 10 years. And during other years, amendment proposals can be brought before the electorate by the County Council.
EAST HAWAII NEWS
A Big Island man faces a slew of charges stemming from separate incidents that happened between Sept. 23 and Oct. 3
The Hawai'i County Office of the Prosecuting Attorney says 37-year-old Jeffrey DeCastro Jr. of Hilo was indicted for robbery, theft of a Toyota 4Runner that allegedly involved the use of a shotgun, habitual property crime, methamphetamine possession, felon in possession and assault against a law enforcement officer.
EAST HAWAII NEWS
Big Island police have initiated a coroner's inquest investigation following the death of a Big Island woman Tuesday afternoon at a convenience store in Puna. No foul play is suspected.
The Hawai'i Police Department reports that a 66-year-old Mountain View woman died Tuesday after experiencing a medical emergency while sitting in the passenger seat of a vehicle parked in the store's parking lot. Puna patrol officers responding to the 2:30 p.m. call determined Hawai'i Fire Department personnel had initiated lifesaving measures on the woman to no avail.
NEWS
High bacteria levels were detected in waters at Richardson Ocean Park and Onekahakaha Beach Park in Hilo.
According to the State Department of Health, levels of 406 per 100 mL were detected during routine beach monitoring. DOH officials are uncertain about the representativeness of the first sample and are retesting.
BUSINESS
Hawaiian Electric is accepting applications for its new three-year Charge Up Commercial pilot program, which has a goal of establishing up to 30 new electric vehicle charging sites on the Big Island, Maui and O'ahu.
Under the $5 million program, Hawaiian Electric will pay for and install equipment — including transformers, conduit and electric panels — to support customer-purchased charging stations.
EAST HAWAII NEWS
Due to damage caused by earthquakes on Mauna Loa's flank on Oct. 14, the Pāhala Public & School Library is temporarily closed until repairs can be made.
During this temporary closure, patrons of the Pāhala libraries, located at 96-3150 Pikake Street, are encouraged to visit nearby Nāʻālehu Public Library for services.
BUSINESS
One of West Hawai'i's busiest shopping centers, Kona Commons, has reached 100% occupancy.
The announcement came on Oct. 17 that the 320,000-square-foot shopping complex is fully leased with 27 national and locally owned service amenities, shops, and restaurants situated on 10 acres in Kailua-Kona. The four merchants who moved in this year include Island Naturals Market & Deli, Skechers, Majestic Nails, and most recently, Aloha Grown.
BIG ISLAND WEATHER
MAUI
Bill 21 amends Maui County's lighting ordinance to increase protections for Hawai'i's threatened and endangered seabirds and sea turtles by requiring outdoor light fixtures to limit blue light. It will be phased in over three years.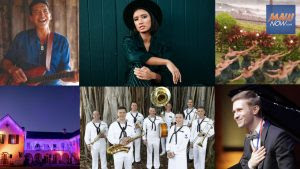 For a list of upcoming events, concerts, shows and entertainment for Oct. 27-Nov. 2, find our comprehensive listing HERE. This expanded listing also includes upcoming Halloween events.
KAUAI
Breezy easterly trades will continue today, then ease slightly and shift out of the northeast Thursday into the weekend as an upper disturbance moves over…
The current northwest swell will shift out of the north and peak this afternoon, before slowly subsiding Thursday through Saturday. A small north swell is…
For the latest Hawaii Island, West Hawaii, Hawaii State, and Hawaii Sports News, please check the blog sidebar and links.  Thanks for joining us today.