Hawaii police continue sobriety checkpoints as officers arrest 18 motorists for DUI.
Views expressed in this Hawaii Island News summary are those of the reporters and correspondents.  Accessed on 12 October 2022, 2036 UTC.
Content provided by email subscription to "BigIslandNow.com."
Source:
Please click link or scroll down to read your selections.
WEDNESDAY, OCTOBER 12, 2022
EAST HAWAII NEWS
Police continue their pursuit of keeping Big Island roadways safe from motorists who choose to drive under the influence of an intoxicant.
ACTIVITIES
West Hawai'i residents will have the chance later this month to meet with community police officers over a hot cup of joe.
FEATURED
Forty-four people have applied for the position of Hawaiʻi County's police chief, which has been vacant since the retirement of Chief Paul Ferreira on Sept. 1.
EAST HAWAII NEWS
Police think foul play could be involved in the death of a male victim whose badly decomposing body was discovered Tuesday at a Puna home.
EAST HAWAII NEWS
The public is advised to stay out of flood waters and stormwater runoff because of possible overflowing cesspools, sewer, manholes, pesticides, animal fecal matter, dead animals, pathogens, chemicals and associated flood debris.
BIG ISLAND WEATHER
MAUI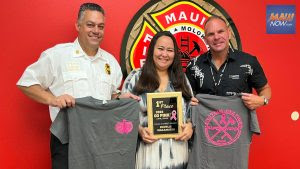 Supporters can join the Go Pink! Challenge by pledging to buy a t-shirt from your favorite public safety employee with all proceeds going to support free cancer services in Maui County.
There will be an in-person informational meeting today, Wednesday, Oct. 12, at the Kula Community Center on Lower Kula Rd in Kula, from 5:30 to 7:30 p.m.
KAUAI
Expect humid conditions with periods of heavy rainfall through tonight. Isolated thunderstorm are possible, especially during afternoon hours. A front will…
The current north swell will continue to slowly lower through Thursday. A new north swell will build late Thursday and Thursday night, and peak near…
For the latest Hawaii Island, West Hawaii, Hawaii State, and Hawaii Sports News, please check the blog sidebar and links.  Thanks for joining us today.