Hawaii commission to vet new bills to boost public access to government.
Views expressed in this Hawaii State News update are those of the reporters and correspondents.  Accessed on 04 October 2022, 2220 UTC.
Content provided by email subscription to "Hawaii Business Magazine Newsletters."
Source:
Please click link or scroll down to read your selections.
Locally Owned, Locally Committed Since 1955
10.4.2022
TOP STORIES
Hawai'i commission to vet new bills to boost public access to government
A commission to increase government transparency is set to vote on several measures Wednesday that would reduce the cost of public records, archive government board meetings, subject lawmakers to term limits, require certain legislative groups to abide by open meetings laws and require the state Office of Elections to publish a voters guide. Civil Beat.

Hawai'i coalition scores 'climate-smart' ag grant


A coalition of Hawai'i community groups and government entities received a federal grant that will bring up to $40 million to help farmers, ranchers and foresters implement "climate-smart" agricultural practices. The grant also aims to establish stronger markets for local commodities produced using methods that reduce greenhouse gas emissions or store carbon. Star-Advertiser.

HI-EMA assures Hawai'i of no threat from North Korean missile launch
North Korea fired a ballistic missile over Japan on Monday, escalating tests of weapons designed to strike key targets in regional U.S. allies amid stalled nuclear diplomacy. Although there was no threat to Hawai'i, Japan officials advised residents to take shelter. Star-Advertiser. Hawaii News Now. KHON2

Hawai'i to install EV stations along highways
Eleven electric vehicle fast-charging stations are slated for Hawai'i highways, according to the state Department of Transportation. Each station is required to offer four 150-kilowatt ports capable of charging four cars simultaneously within 20 minutes. Star-Advertiser. Hawaii News Now. KHON2. KITV4.

Project to control miconia with butterflies could roll out within year
The state Department of Agriculture and the state Department of Land and Natural Resources had proposed the field release of the butterfly (Euselasia chrysippe) on state lands as a way to mitigate the growth of the noxious weed native to Central and South America. Maui News.

Addressing mental health in public schools poses a challenge for staff and psychologists
Counselors are often the "go-to" source at schools for helping students academically and addressing mental or behavioral issues. Hawaii Public Radio.
HAWAII BUSINESS MAGAZINE
Sages Over 70
We interviewed five kūpuna who continue to serve Hawai'i after illustrious careers focused on public service, including Amy Agbayani, Robbie Alm, Tom Coffman… read more.
OʻAHU
Red Hill leader vows community inclusion
The military task force charged with defueling the Red Hill Fuel Storage Facility plans to begin draining the pipes to massive underground fuel storage tanks in two weeks — a first step in removing 100 million gallons of fuel. Star-Advertiser. Civil Beat. Hawaii News Now. KHON2. KITV4.

Voters to decide if construction interests have too much say in Honolulu planning
One proposed charter amendment would give voters a chance to weigh in on the makeup of a controversial city commission. Civil Beat.

Separate bomb scares disrupt Honolulu airport and Pearl Harbor-Hickam
Authorities are investigating two bomb scare incidents involving suspicious packages, including one at Daniel K. Inouye International Airport that led to the closing of part of several baggage claim areas and a couple of gates. Star-Advertiser. Hawaii News Now. KHON2. KITV4.

Harbor cargo capacity expansion slated for 2024 completion
A new ocean cargo container terminal at Honolulu Harbor long deemed a crucial state project supporting economic growth is on track for completion in early 2024 after nearly two decades of work that has included major delays. Star-Advertiser.

Lead detected near military's 'Ewa Beach shooting range, Surfrider says
High levels of lead were detected in soil samples taken near the military's Puuloa Range Training Facility in 'Ewa Beach earlier this year, some with up to 17 times the state safety standard for an industrial area, the Surfrider Foundation said Monday. Civil Beat. KITV4.
SPONSORED BY G70
Finding Purpose at Work | G70 Office Culture
A company's culture is the character and personality of an organization. In positive situations, it increases engagement, and can ensure employee happiness, productivity and retention… read more.
HAWAIʻI ISLAND
Panel to mull gun carry bill today
The bill would define sensitive locations on the Big Island where carry of a firearm is prohibited, consistent with an individual's 2nd Amendment right to bear arms in the wake of the U.S. Supreme Court's June ruling in the New York State Rifle & Pistol Association vs. Bruen. West Hawaii Today.

Ironman's two races in Kona could pump $100 million into economy — but is it worth it?
With more racers and race days, Ironman is expecting it to generate in excess of $100 million. Some of the businesses negatively affected say the event organizers should allocate a pot of money to be given to businesses that lose money during the races. Big Island Now.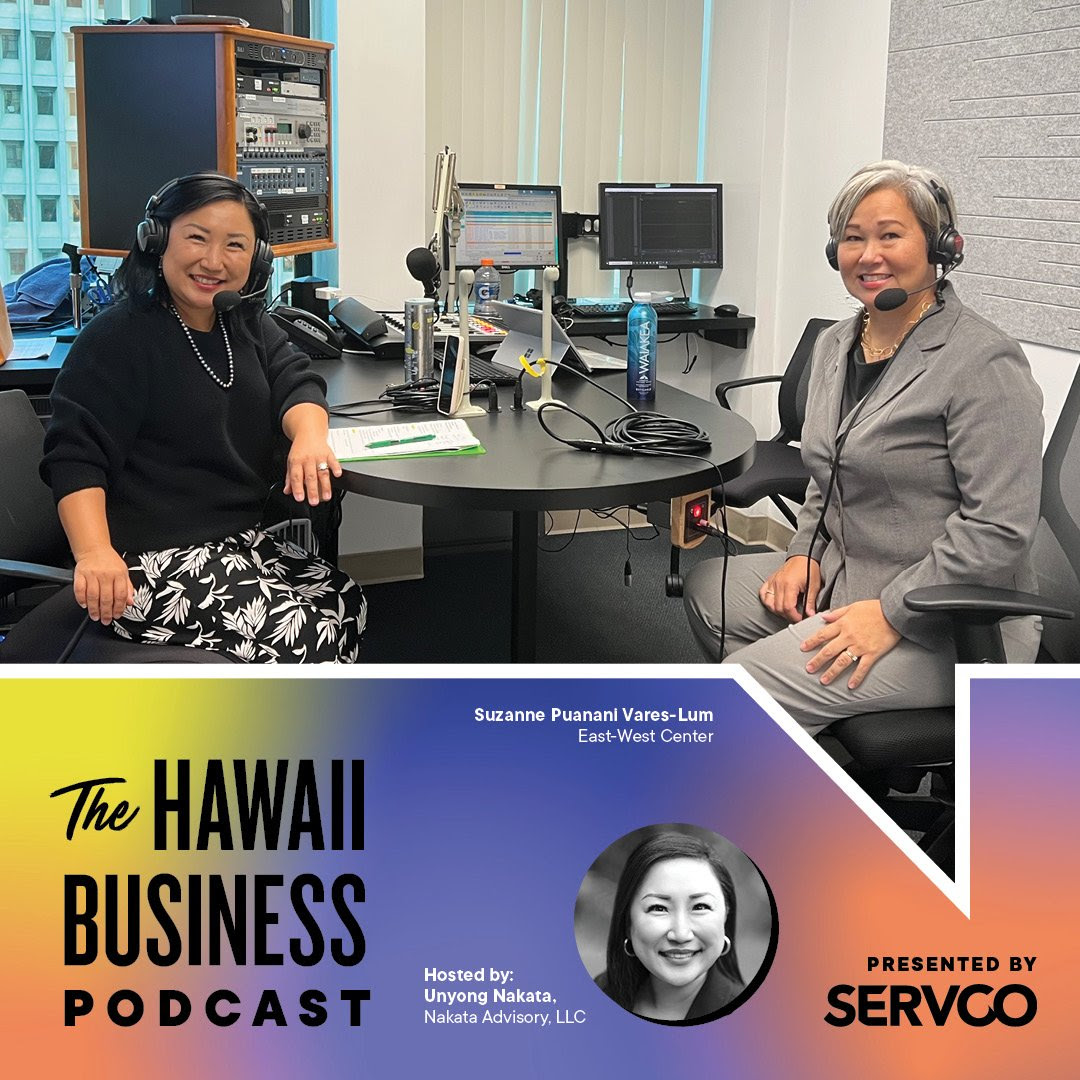 HAWAII BUSINESS MAGAZINE
New Episode: Suzanne Vares-Lum, East-West Center
This Wahiawa native and former Major General in the United States Army has her sights set on bringing the talent of all women to the forefront. In this episode of The Hawaii Business Podcast, Vares-Lum expresses joy and purpose in connecting like minded people and the benefits of collective action. Tune in now!
MAUI COUNTY
Maui group launches Safe Solar Projects effort leading up to Paeahu Solar case
Safe Solar alleges that Paeahu Solar Project, a solar energy and battery storage plant slated for 150 acres behind Maui Meadows in South Maui, could increase flooding, and spark cultural, archeological and environmental damage, among other issues. Maui Now.

Hāliʻimaile General Store, Gannon's Pacific View restaurants bought by Wyoming group
After establishing landmark Hāliʻimaile General Store and picturesque Gannon's Pacific View Restaurant, chef-owner Bev Gannon is selling the award-winning restaurants to Wyoming-based Gather Restaurant Group LLC. Maui Now.
KAUAʻI
Despite strong need, youth drug treatment center on Kaua'i sits empty 3 years after it was built
Construction on Kaua'i's Adolescent Treatment and Healing Center wrapped up three years ago. But the mostly taxpayer-funded project has yet to help a single child. Hawaii News Now.

Waimea wastewater project wins project award for county
On Friday, representatives from the county Department of Public Works and its Division of Wastewater Management received the American Society of Civil Engineers Hawai'i Section 2022 Outstanding Civil Engineering Achievement award for Best Small Project, at the Kahala Hotel and Resort on O'ahu. Garden Island. Kauai Now.

Partners needed to build affordable housing project in 'Ele'ele
The Kaua'i County Housing Agency is seeking a development partner to construct the first 38 single-family homes in the county's Lima Ola affordable housing subdivision in 'Ele'ele. Kauai Now.
SEPTEMBER ISSUE
Dive into some of our latest features!
"Home for Sale" Sometimes Means Renters are Displaced
Ka Leo, UH Mānoa's Student Newspaper, Turns 100
Could a Local Building Collapse Like the One in Florida?
Hawai'i's Most Profitable Companies 2022
Hawaii Business Magazine 
 1088 Bishop St. Ste. LL2
Honolulu, HI 96813
General Inquiries: (808) 537-9500
Advertising/Sponsorships: (808) 534-7124
For the latest Hawaii State, Hawaii Island, West Hawaii, and Hawaii Sports News, please check the blog sidebar, links, and twitter posts.  Thanks for joining us today.