Volcano Watch:  How Kilauea Volcano fills its craters.
Views expressed in this Hawaii Island News summary are those of the reporters and correspondents.  Accessed on 01 October 2022, 0240 UTC.
Content provided by email subscription to "BigIslandNow.com."
Source:
Please click link or scroll down to read your selections.
FRIDAY, SEPTEMBER 30, 2022
EAST HAWAII NEWS
Crater filling at Kīlauea is sometimes like pouring liquid into a mug, but more often it is like injecting haupia crème into a crispy malasada.
FEATURED
A jury found 45-year-old Joshua Masuda-Mercado of Kailua-Kona guilty of continuous sexual assault of a minor under the age of 14 and attempted sexual assault in the first degree on Wednesday in Kona Circuit Court.
FEATURED
Limited evacuations are underway near O'okala, 28 miles north of Hilo, as Hawai'i Fire Department works to gain control of a brush fire.
FEATURED
After a two-year hiatus due to the COVID-19 pandemic, the VinFast Ironman World Championship is back in Kailua-Kona, with a new two-day race format: the women's event is on Oct. 6 and the men compete on Oct. 8.
EAST HAWAII NEWS
The University of Hawai'i at Hilo women's soccer team didn't just climb in the most recent United Soccer Coaches NCAA Division II Top 25 rankings this week — the Vulcans leapt into the Top 10.
BIG ISLAND WEATHER
MAUI
Applicants are being sought from residents willing to provide public service on various Maui County boards, commissions, councils and committees.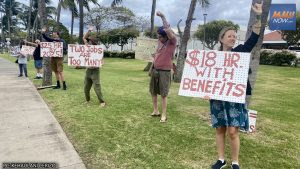 Minimum wage workers prepare for Oct 1. Increase to wage. Plus information on the upcoming increase and how the "tip penalty" works in practice.
KAUAI
A Grand Jury on Thursday indicted Lopaka Santos-Dasalia, 20, of Kōloa, with two counts of terroristic threatening in the first degree and one count of harassment for an incident involving a bomb threat made against Kōloa Elementary School on Sept. 26.
Kauaʻi County Mayor Derek S. K. Kawakami signed a bill on Monday that updates the county's Agricultural Dedication program to provide increased benefits to farmers and lessen the burdensome red tape.
For the latest Hawaii Island, West Hawaii, Hawaii State, and Hawaii Sports News, please check the blog sidebar, links, and twitter posts.  Thanks for joining us today.