Farewell:  KAPA-FM morning show hosts Jaz and Ka'ea announce retirement.
Views expressed in this Hawaii Island News summary are those of the reporters and correspondents.
Accessed on 27 July 2022, 2043 UTC.
Content supplied by email subscription to "BigIslandNow.com."
Source:
Please click link or scroll down to read your selections.
WEDNESDAY, JULY 27, 2022
KAPA CAFE
KAPA FM's weekly morning DJs of The Bolohead & Babes Show are retiring.
Jaz and Ka'ea Yglesias have been entertaining Hawai'i Island and beyond on Pacific Media Group's KAPA morning show since January 2011. Their last day on air will be Friday, July 29.
NEWS
A 4.1 magnitude earthquake struck Tuesday afternoon near Pāhala.
The National Weather Service stated that no tsunami warning is in effect. The earthquake occurred at 5:46 p.m. in the Southwest Rift Zone of Kīlauea Volcano.
EAST HAWAII NEWS
A Mountain View man is facing several sexual exploitation charges.
County Prosecuting Attorney Kelden Waltjen announced that 75-year-old Robert Goodwin was charged with commercial sexual exploitation of a minor and four counts of misdemeanor commercial sexual exploitation near schools or public parks in connection with an incident July 23 at Carlsmith Beach Park, also known as Four Mile, in Hilo that involved five minors.
NEWS
With island keiki heading back to school soon, the Hawai'i Police Department is encouraging motorists to drive safely when approaching school zones.
School areas have a high number of young pedestrians that interact with vehicle traffic. Hawai'i Island police encourage all pedestrians to use the crosswalks and follow the directions of the school crossing guards at schools. Adults can be great examples for children when they cross the roadways in a safe manner.
NEWS
Designed by Subaru Telescope to bring astronomy and STEM education to students and communities across Hawai'i Island, the brand new Subaru Stars program held its first event at Nā'ālehu Elementary School earlier this summer.
In partnership with the Hawai'i Science and Technology Museum, more than 50 students, faculty and administrative staff enjoyed a morning of hands-on, engaging activities to ignite an interest – and perhaps a future career – in astronomy, science, technology, engineering and mathematics-related fields.
BIG ISLAND WEATHER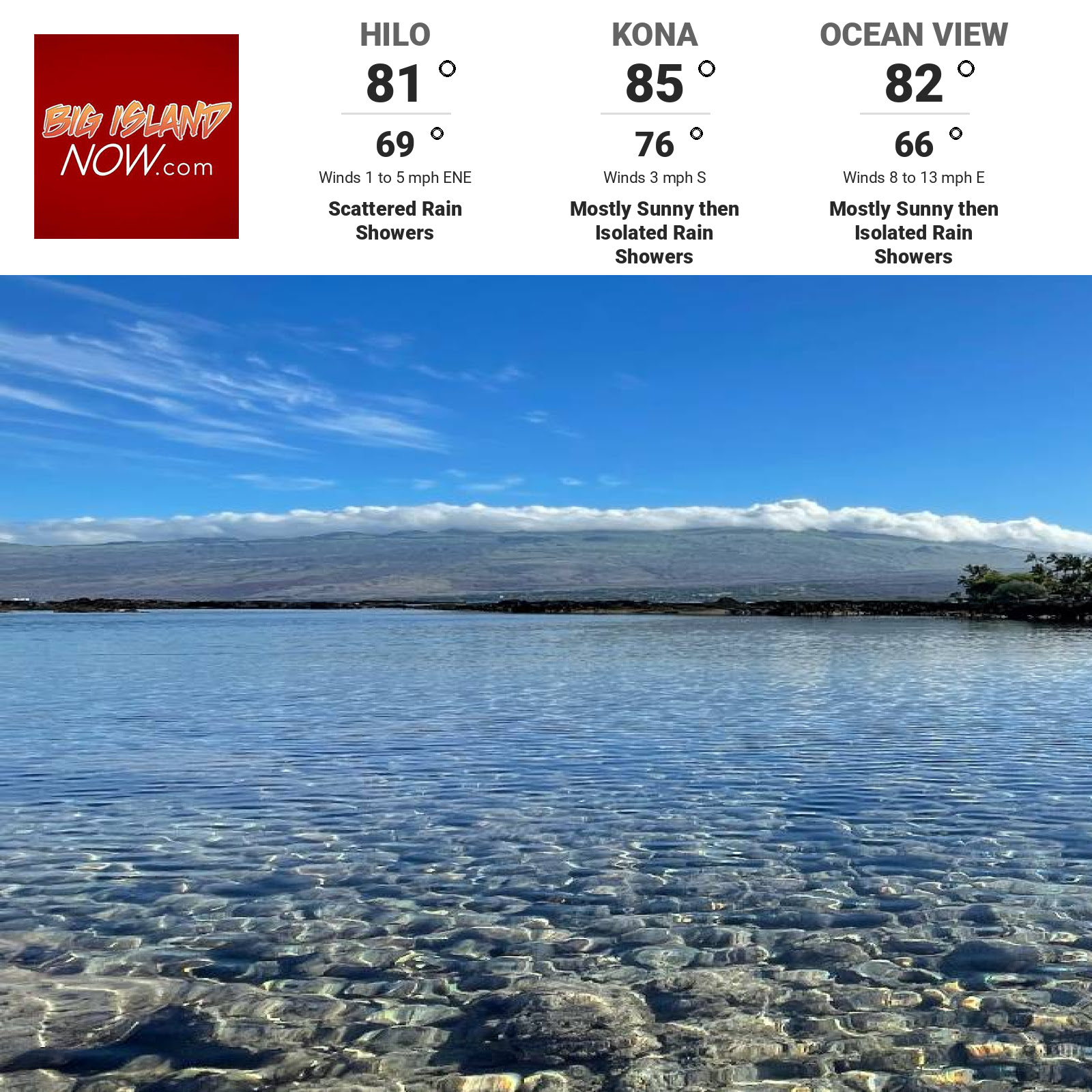 MAUI
In recent months, TSA lines for those without PreCheck are among the longest Kahului Airport has seen, and some residents are wondering if this is the new normal.
Maui Now's featured jobs from July 20 to 26, 2022.
KAUAI
The Department of Public Works and Goodfellow Bros. LLC., are announcing that sections of 'Akuli Street and Hanamāʻulu Road will be under short lane closures from Aug. 1 to Aug. 12, on weekdays, from 8 a.m. to 4:30 p.m.
Due to equipment issues, trash pick-up will be delayed in the Kilauea and Kawaihau areas.
For the latest Hawaii Island, West Hawaii, Hawaii State, and Hawaii Sports News, please check the blog sidebar, links, and twitter posts.  Thanks for joining us today.