PTA firefighters respond to vehicle fire at Gilbert Kahele Rest Area.
Views expressed in this Hawaii Island News summary are those of the reporters and correspondents.
Accessed on 29 June 2022, 2204 UTC.
Content provided by email subscription to "BigIslandNow.com.
Source:
Please click link or scroll down to read your selections.
WEDNESDAY, JUNE 29, 2022
NEWS
U.S. Army firefighters from Pohakuloa Training Area responded to a 911 call Tuesday after a local motorist coasted into Gilbert Kahele Rest Area at Mile Marker 34 along Daniel K. Inouye Highway in the Saddle Region after smelling smoke.
The mini-van experienced engine problems and ultimately caught fire.
EAST HAWAII NEWS
Big Island police are asking the public for its help with locating a missing man.
Police are looking for 39-year-old Jesus Sanchez, who was reported missing by his family. He was last seen Monday, June 27, in the area of the Ola'a Forest Reserve hunter station near the Volcano transfer station, wearing a hoodie and shorts.
EAST HAWAII NEWS
Two Big Island men face charges in connection with an agricultural theft investigation by the Hawai'i Police Department.
According to a media release from the Hawai'i Police Department, 32-year-old Jan Loren Aguinaldo of Hilo was arrested and charged with second-degree theft and 34-year-old Levin Padilla-Pelanca of Hilo was arrested and charged with second-degree theft and third-degree promoting a dangerous drug in connection with an agricultural theft case in Pāpa'ikou.
ACTIVITIES
Keauhou Shopping Center is providing the community with different ways to celebrate the fresh start of a new school year. Several upcoming events at the shopping center will allow guests to savor the last moments of summer and prepare for the 2022-23 school year in style.
"Keauhou Shopping Center is thrilled to help kids, families and educators in the Kailua-Kona community prepare for this coming school year," Colene DeMello, Keauhou Shopping Center general manager, said in a press release. "We are excited to work with our tenants to offer ways to celebrate the start of a new year in the classroom."
NEWS
All of the state's public libraries will be closed Saturday through Monday, July 2-4, in observance of the Fourth of July holiday.
All library support offices also will be closed.
BIG ISLAND WEATHER
MAUI
The Maui Hotel & Lodging Association's 25th Annual "Excellence in Education presented by Southern Glazer's Wine & Spirits" golf tournament raised $40,000 to support youth scholarships.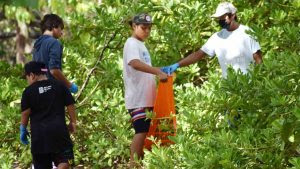 The trash included bottle caps, cigarette butts, wrappers, broken water balloons and other remnants of a party in the park as planes landed at nearby Kahului Airport.
KAUAI
The Kaua'i Police Department completed its first 2022 Police Investigations and Forensic Science Camp for incoming high school juniors to outgoing seniors and collegiate level.
There will be something for everyone this weekend during Fourth of July celebrations in Kekaha.
For the latest Hawaii Island, West Hawaii, Hawaii State, and Hawaii Sports News, please check the blog sidebar, links, and twitter posts.  Thanks for joining us today.