Governor David Ige includes 30 bills on list of intended vetoes.
Views expressed in this Hawaii Island News summary are those of the reporters and correspondents.
Accessed on 28 June 2022, 2019 UTC.
Content provided by email subscription to "BigIslandNow.com."
Source:  
Please click link or scroll down to read your selections.
TUESDAY, JUNE 28, 2022
NEWS
Gov. David Ige on Monday, June 27, informed state lawmakers about his intent to veto several of the measures they passed during the 2022 state legislative session.
Ige, during a news conference, said he has a list of 30 bills he intends to veto; there were a total of 343 measures passed this year by the state Legislature. He has until July 12 to make a final decision on whether he will veto them or allow them to become law.
NEWS
The University of Hawaiʻi is developing an engineered coral reef ecosystem, inspired by natural reefs, to help protect coastlines from flooding, erosion and storm damage.
UH will be awarded up to $25 million from the Defense Advanced Research Projects Agency for the five-year project, which is a joint effort between UH-Mānoa's School of Ocean and Earth Science and Technology and the UH Applied Research Laboratory. The goal is to create an engineered structure that dissipates wave energy while providing habitat for corals and other reef life.
NEWS
Hawai'i Island police arrested and charged 38-year-old Kakalia-Mika'ele Goeas of Pāpa'ikou on the strength of a bench warrant after an indictment stemming from a 2019 sex assault investigation.
Goeas turned himself in Monday morning, June 27 at the Hilo Police Station and posted $60,000 bail. His next court appearance is on Monday, June 27, at 1:30 p.m. in Hilo Circuit Court.
NEWS
A District Court judge agreed to hold a Kona man facing murder charges without bail.
Twenty-four-year-old Chito Asuncion is charged in connection with two separate murder incidents in Kona and two separate attempted murder incidents in Hilo. Asuncion appeared in Kona District Court on Monday, where the court granted Hawai'i County Deputy Prosecuting Attorney Chase Murray's request to not grant bail for the suspect, a press release from the prosecutor's office stated.
NEWS
Hawai'i Island police are renewing their request for the public's assistance in identifying the suspect responsible for an armed robbery at a Hilo pharmacy on the evening of March 14.
At 9:45 p.m., South Hilo Patrol officers responded to the Puainako Street business after callers reported a masked suspect brandishing a firearm had entered the store. The suspect demanded prescription medication and then left the scene in a silver-colored SUV-type vehicle.
BIG ISLAND WEATHER
MAUI
In order to qualify for funding, a cancer patient must need financial assistance, be a permanent Maui County resident, 18 years old or older and be diagnosed with cancer by a qualified medical doctor. Scholarship maximum is $500 and payments are made directly to health providers and not patients.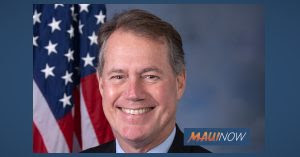 The US House Committee on Appropriations recently approved $29.8 billion for the FY 2023 Financial Services and General Government Appropriations bill, which includes funding for financial programs to help small businesses and middle class families struggling with the high costs of inflation.
KAUAI
A $1.9 million grant through the Department of Defense was awarded to the Garden Island to allow for the development of 200 acres of Open Floodable Space of Mānā plain with the Pacific Missile Range Facility, also known as PMRF.
Gov. David Ige on Monday, June 27, informed state lawmakers about his intent to veto several of the measures they passed during the 2022 state legislative session.
For the latest Hawaii Island, West Hawaii, Hawaii State, and Hawaii Sports News, please check the blog sidebar, links, and twitter posts.  Thanks for joining us today.