Police are looking for an endangered Pahoa man named Wayne Borreta.
Views expressed in this Hawaii Island News summary are those of the reporters and correspondents.
Accessed on 25 June 2022, 2102 UTC.
Content provided by email subscription to "BigIslandNow.com."
Source:
Please click link or scroll down to read your selections.
SATURDAY, JUNE 25, 2022
BIG ISLAND NEWS
Hawai'i Island police are seeking the community's assistance in locating 52-year-old Wayne Borreta of Pāhoa, who has been reported missing and is considered endangered as he has a medical condition that requires medication.
BIG ISLAND NEWS
The state Department of Transportation issued its weekly list of road and lane closures for June 25 to July 1.
BIG ISLAND NEWS
Hawai'i police are asking for the public's help locating Kakalia-Mika'ele Goeas of Pāpa'ikou.
BIG ISLAND NEWS
In his final address at the Kona-Kohala Chamber of Commerce annual luncheon, Gov. David Ige bid farewell to a group he's worked closely with during his eight-year governorship and recapped some of the major accomplishments his administration helped land on the Big Island – which have been many.
EAST HAWAII NEWS
Free Wi-Fi is coming to the Panaʻewa Park area as part of a scalable pilot program, the county announced Thursday.
BIG ISLAND NEWS
In 2016, George Stewart began experiencing abdominal pain and growling sounds in his abdomen. The symptoms worsened over the next several months.
BIG ISLAND WEATHER
MAUI
Talented musician, actor and producer Eric Gilliom has performed seven comedic "White Hawaiian" theatrical shows on Maui — all of them sold out — but then COVID-19 hit and the show paused in February 2022. Now, after consulting with show co-writer Brian Kohne, producer of comedic film "Get A Job," Gilliom is back, beginning a run of his family autobiographical show, this time at the ProArts Playhouse in Kīhei.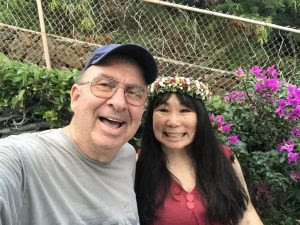 "It's understandable that it may be difficult to tell others you have cancer, but the journey is more difficult when you do it alone in silence," said Stewart. "Sharing my cancer story during my journey was like a pressure relief valve. It made the load lighter for me."
KAUAI
The state Department of Transportation issued its weekly road and lane closures for June 25 to July 1.
Fire Chief Michael Gibson assumed command of the Kaua'i Fire Department on Friday, June 24, in a Change of Command ceremony held at the Līhu'e Civic Center's Mo'ikeha Rotunda.
For the latest Hawaii Island, West Hawaii, Hawaii State, and Hawaii Sports News, please check the blog sidebar, links, and twitter posts.  Thanks for joining us today.