Governor David Ige's final term ends on a high note.
Views expressed in the Hawaii State News summary are those of the reporters and correspondents.
Accessed on 09 May 2022, 2153 UTC.
Content provided by email subscription to "Hawaii Business Magazine Newsletters."
Source:
Please click link or scroll down to read your selections.
Locally Owned, Locally Committed Since 1955
5.9.2022
TOP STORIES
Gov. David Ige is ending his time in office on a high note
Seven months remain in his second term, but the governor's final legislative session closes with historic levels of funding and a potential $500 million in savings for the next "rainy day." Star-Advertiser.
However, it's not clear which bills he will sign or veto in the coming weeks. Hawai'i Public Radio.

Legislators get a B+ this year, local policy expert says
While state lawmakers are congratulating themselves for infusing large funds into Native Hawaiian issues and raising the minimum wage, the budget surplus made their work easy, says Colin Moore, director of UH's Public Policy Center. Hawai'i Public Radio.

Will former lawmakers' bribery charges lead to broader government reform?
After J. Kalani English and Ty Cullen pleaded guilty to accepting bribes, lawmakers and voters will be looking to the Commission to Improve Standards of Conduct to tighten ethics laws and increase transparency ahead of the 2023 session. Civil Beat.

Ige to lead Hawai'i delegation to Japan
The governor will be accompanied by his wife; the director of the Department of Business, Economic Development & Tourism; the president and chair of the Hawai'i Tourism Authority; and the House speaker. Star-Advertiser. Big Island Video News.

It's official: Kai Kahele is leaving Congress for Hawai'i governor's race
U.S. Rep. Kai Kahele ended months of speculation Saturday by announcing that he is running for governor in the Aug. 13 Democratic primary. Star-Advertiser. Civil Beat. West Hawaii Today. Big Island Video News. Hawaii News Now. KITV4.

Jill Tokuda announces bid for U.S. House
Tokuda, who chaired the state Senate Ways and Means Committee, had been seeking the lieutenant governorship. But she pulled out of the race as it became clear that U.S. Rep. Kai Kahele would not be seeking a second term. Civil Beat. Star-Advertiser. Hawaii News Now.

Bill would OK agricultural lease extensions
Farmers whose land leases are set to expire within the next 15 years will be able to apply for extensions under a bill passed last week by the state Legislature. Tribune-Herald.

Health officials urge caution after Covid cases are linked to proms
Officials are asking people to take extra precautions during end-of-year celebratory events after Covid-19 and flu outbreaks were linked to two high school proms on O'ahu. The average case count last week was 485 cases per day statewide, up from 89 in mid-March. Civil Beat. Hawaii News Now.
HAWAII BUSINESS MAGAZINE
Can We Stop Illegal Fireworks from Entering Hawai'i?
Although Hawai'i has imposed strict laws such as banning most aerial fireworks and increasing fines up to $2,000 for violations, people still smuggle tens of thousands of illegal fireworks into the state each year… read more.
OʻAHU
Honolulu mayor leaves state on personal leave until Friday
Rick Blangiardi is scheduled to return to Honolulu Friday evening. Managing Director Michael Formby will serve as acting mayor. Star-Advertiser.

Kirk Caldwell's former chief of staff testifies before federal grand jury
Gary Kurokawa testified as a witness before a federal grand jury Thursday, a month after receiving a subpoena as part of an ongoing public corruption investigation by the U.S. Department of Justice. Star-Advertiser.

Department of Health order requires plan and schedule for Red Hill defueling
The DOH emergency order says the Navy must provide its independent contractor's assessment by May 15; a plan to defuel the storage tanks by June 30; and a plan for the closure of the facility by Nov. 1. Star-Advertiser.

Coalition aims to bring crime-reduction programs to Waikīkī
At a meeting last week, officials from the public and private sectors responded to a call to beef up initiatives after several high-profile violent crimes in the area. Star-Advertiser.

Owner of house that collapsed on North Shore beach could face a big fine
The structure has been pulled off the beach and stacked on top of pallets next to the lot's main house, where it has awkwardly remained for weeks. Star-Advertiser.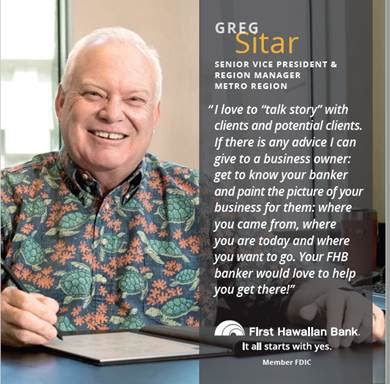 SPONSORED BY FIRST HAWAIIAN BANK
Helping Small Businesses Succeed
In celebration of Small Business Month, we are honoring innovative entrepreneurs and those thinking about making their business idea a reality. Here are some great tips from our Greg Sitar, Senior Vice President and Region Manager of First Hawaiian Bank. If you are interested in starting a new business or would like to learn about ways to expand your current operations, take advantage of FHB's free 30-minute consultations. Request an appointment today!
HAWAIʻI ISLAND
Council advances housing subsidies plan, but is unsure how to pay for it
The County Council voted last week to include moderate-income families making up to 120% of the average median income in its affordable housing plan. That means a family of three earning up to $92,520 annually could qualify for a two-bedroom home costing up to $539,000. West Hawaii Today.

The Food Basket plans to build agricultural park to help ease food insecurity
The proposed innovation park will allow the organization to promote locally grown foods from a strategic location. Tribune-Herald.

Kohala ahupua'a to become living scientific laboratory
The 'Iole Stewardship Center has been operating quietly for years on 2,400 acres in Kohala, with the goal of restoring the land using ancient Native Hawaiian practices. Star-Advertiser.
HAWAII BUSINESS MAGAZINE
Listen to Episode 1 of The Hawaii Business Podcast Featuring Arnold Martines
Arnold Martines, President and COO of Central Pacific Bank, joins us to talk story about innovation, culture, giving back, and the importance of remembering where you came from. He shares about CPB's commitment to innovation and meaningful culture from the ground up…all towards fostering "intrepreneurialism" that will strengthen the bank's agility for the future. Listen Now!
MAUI COUNTY
Helene Kau confirmed as water director
The Maui County Council voted to confirm Kau for the remainder of Mayor Michael Victorino's term, which ends this year. She served as deputy director under Jeffrey Pearson, who left for a state job. Maui News.

Hawaiian Electric may have to build a new oil-fired power plant on Maui
The shutdown of a spare parts supplier in Japan is threatening the ability of Maui's electric utility to keep a series of 1980s generators firing. Civil Beat.

State funds will aid Mā'alaea wastewater plan
Maui lawmakers have secured funds to help move the community away from its decades-long reliance on injection wells, Rep. Angus McKelvey announced. Maui News.

Election-year scramble looms as veteran lawmaker retires
Sen. Roz Baker, who has represented parts of west and south Maui for more than three decades in both the Senate and the House, is one of Maui's most seasoned politicians. Civil Beat.
KAUAʻI
Navy says it has discharged "forever chemicals" twice on Kaua'i's Westside
Officials have reported two releases of a toxic chemical — AFFF, or aqueous film forming foam — in Hawai'i in the past two years. Both were at the U.S. Navy Pacific Missile Range Facility, with the most recent occurring in February. Garden Island.
APRIL 2022 ISSUE
Dive into some of our latest features!
The Best of Small Business 2022
Hawai'i's Public Schools Are Battered But Working to Recover
Can We Stop Illegal Fireworks from Entering Hawai'i?
Hawaii Business Magazine 
 1088 Bishop St. Ste. LL2
Honolulu, HI 96813
General Inquiries: (808) 537-9500
Advertising/Sponsorships: (808) 534-7124
For the latest Hawaii State, Hawaii Island, West Hawaii, and Hawaii Sports News, please check the blog sidebar, links, and twitter posts.  Thanks for joining us today.