Hawaii drivers brace for higher gasoline prices as global energy markets remain uncertain.
Views expressed in this Hawaii State News summary are those of the reporters and correspondents.
Accessed on 04 March 2022, 2031 UTC.
Content provided by email subscription to "Hawaii Business Magazine Newsletters.
Source:
Please click link or scroll down to read your selections.
Locally Owned, Locally Committed Since 1955
3.4.22
TOP STORIES
Hawai'i drivers brace for higher gas prices
According to AAA, gas prices in Honolulu hit an all-time high on Thursday, and a state energy expert said prices are only expected to climb as the global energy markets remain uncertain due to the conflict between Russia and Ukraine. In Honolulu, gas averaged $4.55 a gallon, while prices on neighbor islands went even higher. KHON2.

Hawai'i oil refinery suspends buying Russian crude oil
The owner of Hawai'i's oil refinery said Thursday that island consumers should not expect oil supply disruptions or significant price increases as a result of its decision to suspend purchases of Russian crude oil in response to the war in Ukraine. Star-Advertiser. Tribune-Herald. Hawaii News Now. KITV4.

Fuel in water deepens Native Hawaiians' distrust of military
Using 2019 Census data, the Office of Hawaiian Affairs estimates that 3,439 Native Hawaiians across the United States serve in the armed forces, which is 0.8% of the total Native Hawaiian adult population in the U.S. West Hawaii Today.

Marines activate first littoral regiment
The Marine Corps has officially activated its first Marine Littoral Regiment as part of an ambitious restructuring of the service that's starting in Hawai'i. The new unit is set to be the blueprint for what Marine fighting units will look like in the future, with the emphasis on operations in island and coastal regions, particularly in the Pacific. Star-Advertiser.

$600 million investment plan for Hawaiian homesteads advances
Pivotal Hawai'i lawmakers have pushed ahead a monumental pledge by leaders in the Legislature to invest $600 million in the development of several thousand homesteads for Native Hawaiians. Star-Advertiser. Civil Beat. KITV4.

Bill to make police shooting review board permanent advances
The Law Enforcement Officer Independent Review Board will end in July if House Bill 1329 is not passed this legislative session. Civil Beat.

Board of Education will start accepting applications for school superintendent
The appointed board approved a revised job description on Thursday after lengthy debate over whether to require a master's degree for eligibility. Former Waipahu High Principal Keith Hayashi has been serving in the position on an interim basis since last August. Civil Beat.

Bill would allow government agencies to reduce their newspaper advertising
The measure would allow state and county governments to publish certain public notices on their web sites. Departments say they can save hundreds of thousands of dollars per year if they are allowed to buy fewer newspaper ads, but moving the ads to government web sites would deal yet another financial blow to Hawai'i's newspapers. Civil Beat.
HAWAII BUSINESS MAGAZINE
Many Say a Rule Change Would Persuade More People to Volunteer
Members of key state boards must disclose their finances to the public. If a new law is passed, they would still need to disclose the sources of income and debts and what they own, but not the amounts and values… read more.
OʻAHU
Hawai'i officials lift 'do not drink' water order for 3 more areas on O'ahu
The Hawaii Department of Health on Thursday lifted its "no not drink" advisory for three more zones on the Navy's water system, which includes McGrew, Hālawa, Camp Smith and a portion of Aliamanu Military Reservation. The area includes more than 1,100 homes. Star-Advertiser. Civil Beat.

With some schools still unable to use their tap water, BOE takes stand on Red Hill tanks
The Board of Education voted unanimously to support defueling the Red Hill tanks. In their resolution Thursday, the board also called on the military to reimburse schools for what they've spent to respond to the crisis. Hawaii News Now.

City officials address spike in O'ahu traffic fatalities
O'ahu is now on pace for 82 traffic fatalities this year, which would exceed its 48 fatalities last year, 54 in 2020 and 51 in 2019, and would be the most in the City and County of Honolulu since a reported 88 fatalities in 2006, according to the state Department of Transportation. Star-Advertiser. KITV4.

Outdoor masking rule divides Kailua community
Confusion and division in the community over whether masks still should be worn outdoors at Hawai'i public schools has led some parents at Mokapu Elementary School to launch a petition drive to end the requirement at their campus. Star-Advertiser.
SPONSORED BY PATSY T. MINK CENTER FOR BUSINESS & LEADERSHIP
Expand Your Leadership Impact with the Patsy T. Mink Leadership Alliance Cohort 7
The Patsy T. Mink Center for Business and Leadership is now accepting applications for its Leadership Alliance Cohort 7 – a program designed for professional women leaders and entrepreneurs who are committed to personal growth, professional impact, and community leadership… read more.
HAWAIʻI ISLAND
Kona Bay hotel purchased for $21M
A West Coast-based private equity firm recently purchased the iconic Kona Bay Hotel in the heart of Kailua Village. Shapery Enterprises, which operates out of San Diego, doled out $21 million for the 122-room hotel on just over 2 acres of fee-simple, hotel-resort zoned property in Kailua-Kona. West Hawaii Today.
HAWAII BUSINESS MAGAZINE
My Job Is Preserving Damaged Scrolls and Precious Art
Sakurai, born in Kyoto, Japan, says she decided to become an artist at age 3. After earning a bachelor's degree in architecture and design from Kyoto Institute of Technology, she resumed her focus on art. "If I don't keep doing this technique and using traditional materials, this type of art could die out... read more.
MAUI COUNTY
Maui condos hit record high $730,500; median for homes at $1.1M
Maui condominium sales spiked to a new record of $730,500 last month — and almost half sold above list price, recent reports show.  Maui Now.
KAUAʻI
DeCosta spearheads bills to streamline agricultural land-designation process
Councilmember Billy DeCosta introduced three bills last week that would sunset certain agricultural tax-relief programs, which he claims are outdated and potentially disadvantageous to Kaua'i food farmers. Garden Island.
FEBRUARY 2022 ISSUE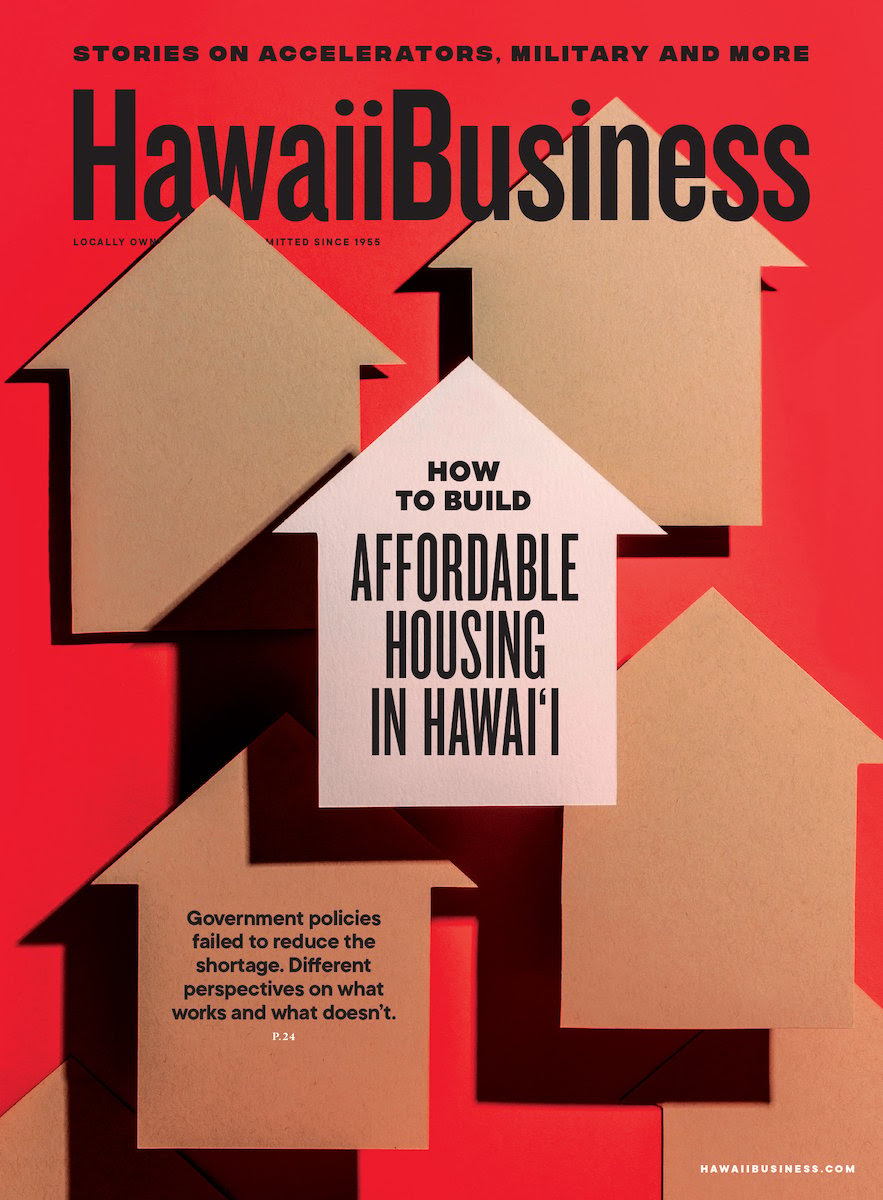 Dive into some of our latest features!
My Job Is Preserving Damaged Scrolls and Precious Art
EV Sales in Hawai'i Are Up 30.6%, and Many Buyers Say They're Glad They Made the Switch
Here's How Affordable Housing Policies Have Impacted Hawai'i's Housing Supply

Many Hawai'i Defense Jobs Are Not Going to Locals. Advocates Want to Change That.
Hawaii Business Magazine 
 1088 Bishop St. Ste. LL2
Honolulu, HI 96813
General Inquiries: (808) 537-9500
Advertising/Sponsorships: (808) 534-7124
For the latest Hawaii State, Hawaii Island, West Hawaii, and Hawaii Sports News, please check the blog sidebar, links, and twitter posts.  Thanks for joining us today.