University of Hawaii unveils public portal for information on climate.
Views expressed in this Hawaii State News summary are those of the reporters and correspondents.
Accessed on 03 March 2022, 2228 UTC.
Content provided by email subscription to "Hawaii Business Magazine Newsletters."
Please click link or scroll down to read your selections.
Locally Owned, Locally Committed Since 1955
3.3.22
TOP STORIES
University of Hawai'i unveils public portal for information on climate
The Hawai'i Climate Data Portal — set to go live today — is an open-source platform with easy public access to reams of climate data and information along with data products, climate tools, links and more. Star-Advertiser.

Jury trials resume after long pause due to Covid
A spokesperson for the Hawai'i State Judiciary said although there was a pause, there have been about 100 jury trials during the pandemic. However, legal experts have said those were mostly less serious cases. KHON2.

State Capitol to reopen to public Monday
Visitors to the state Capitol will have to provide photo identification and proof of Covid-19 vaccination or a negative test within 72 hours to get inside the Capitol when it's scheduled to reopen to the public on Monday. Star-Advertiser. Hawaii Public Radio.

Bill to replace University of Hawai'i stewardship of Mauna Kea advances
Three state House committees advanced a bill Wednesday that would create a new entity to oversee the state-managed lands of Mauna Kea, including the world-class observatories on Hawai'i's tallest mountain. Star-Advertiser. Civil Beat. Tribune-Herald. Big Island Video News.

Lawmakers to hear public testimony on proposed $600M for Hawaiian Home Lands
Hawaiʻi lawmakers will hear public testimony Thursday on a proposal to invest $600 million into long-term affordable housing for Native Hawaiians. Hawaii Public Radio. Tribune-Herald.

Bill requiring more info on police arrests and use of force dies in Hawai'i Senate
Senate Bill 2318 is dead after four committees failed to hold a hearing on the bill supporters say would improve police transparency. Civil Beat.

DOH revises interim administrative rules for medical cannabis dispensary licensing program
The Hawai'i State Department of Health revised interim administrative rules for the medical cannabis licensing program went into effect on Feb. 24. Big Island Now.

Connors: Covid fraud crackdown a priority
The top federal law enforcer in Hawai'i said Wednesday that President Joe Biden's announced crackdown on those responsible for stealing billions in coronavirus relief funds is a priority for her as well. Tribune-Herald.
HAWAII BUSINESS MAGAZINE
3 Women-led Accelerators Are Funding the Next Generation of Entrepreneurs
Blue Startups, Elemental Excelerator and Mana Up are working to diversify Hawai'i's economy. "We've seen over the last two years that diversifying the economy here is as important as ever," says Chenoa Farnsworth, managing partner at Honolulu-based accelerator Blue Startups… read more.
OʻAHU
Native Hawaiians waited years for homes on their ancestral land. Then the problems began
Given questions about the department's responsibilities to Hawaiians and its approach to construction oversight, the Star-Advertiser and ProPublica undertook to find out how satisfied beneficiary homeowners were. The news organizations canvassed the two most recent homesteading subdivisions in Kapolei, a region of former sugar cane land where much of O'ahu's single-family housing has been built the past several decades. Star-Advertiser.

Judge in conspiracy case OKs deposition of terminally ill ex-budget director
Three former Honolulu officials facing federal indictment believe Nelson Koyanagi can provide information that helps their defense. Civil Beat.

Honolulu climate change lawsuit against oil companies will proceed, judge rules
The case is the first of its kind to reach the discovery phase in which oil companies will have to share documents, the city said. Civil Beat.

Amid staffing shortages, HPD eyes 12-hour shifts for patrol officers
Honolulu's interim police chief and the SHOPO union have met three times in recent weeks to address staffing shortages in patrol divisions. Hawaii News Now. KHON2.

Mayor Rick Blangiardi considering contract allowing media access to first-responder radio
City attorneys are reviewing the legality of restoring public access to first ­responder radio traffic after Mayor Rick Blangiardi expressed interest in a contractual agreement with Honolulu media outlets permitting them to listen in. Star-Advertiser.
HAWAII BUSINESS MAGAZINE
Many Hawai'i Defense Jobs Are Not Going to Locals. Advocates Want to Change That.
Despite its tarnished reputation amid the Red Hill water crisis, many think the U.S. military is the best bet for revitalizing the local economy. Here's what local advocates say needs to be done to create a workforce and private sector that serves the military's needs while strengthening… read more.
HAWAIʻI ISLAND
Kahele tours Kona: Congressman visits multiple sites, gets update on airport plans
Plans and visions for Ellison Onizuka Kona International Airport at Keahole were presented Tuesday to U.S. Rep. Kai Kahele during his multi-day tour of West Hawai'i sites. West Hawaii Today.

Russian, Belarusian athletes banned from upcoming Ironman events
The Ironman Group is banning Russian and Belarusian athletes from all upcoming events this year, including May's world championship in Kona. Hawaii News Now.
HAWAII BUSINESS MAGAZINE
Here Are 5 Ways That Small Businesses Get Sued. Would Your Insurance Plan Protect You?
Without the right coverage, crashes, hacks and honest mistakes can leave you vulnerable. Homeowners insurance may not cover business-related liabilities, even for those working from home. To protect business investments, the right coverage is essential... read more.
MAUI COUNTY
This company wants to sell you a second home on Maui — or at least a piece of one
A startup that buys luxury houses and sells shares in them to buyers interested in owning second homes has started operating on Maui, alarming some local residents who are tired of wealthy investors buying up property on the island. Civil Beat. Maui Now.

Despite criticism from former commanders, MPD chief stands by changes to training, staffing
Eleven weeks into his new position, Maui Police Chief John Pelletier is defending a host of changes that have prompted some of his commanders to leave. Hawaii News Now.

Kīpahulu Campground reopens with new online reservation system, March 16
Campsites now can only be reserved using the new online reservation system, which is required for all campsites in the campground. Maui Now.
KAUAʻI
Kaua'i OPA requests funds for drug, domestic violence cases
County Prosecuting Attorney Rebecca Like requested Kaua'i County Council approval last week to receive federal grant funds to aid in the county's ongoing efforts to prosecute drug crimes and domestic violence. Garden Island.

KIUC board of directors election ballots go out
Kaua'i Island Utility Cooperative members who are receiving ballots for the 2022 Board of Directors election are alerted to a contractor error on the "Instruction to Voters" section of the ballot. Garden Island.
FEBRUARY 2022 ISSUE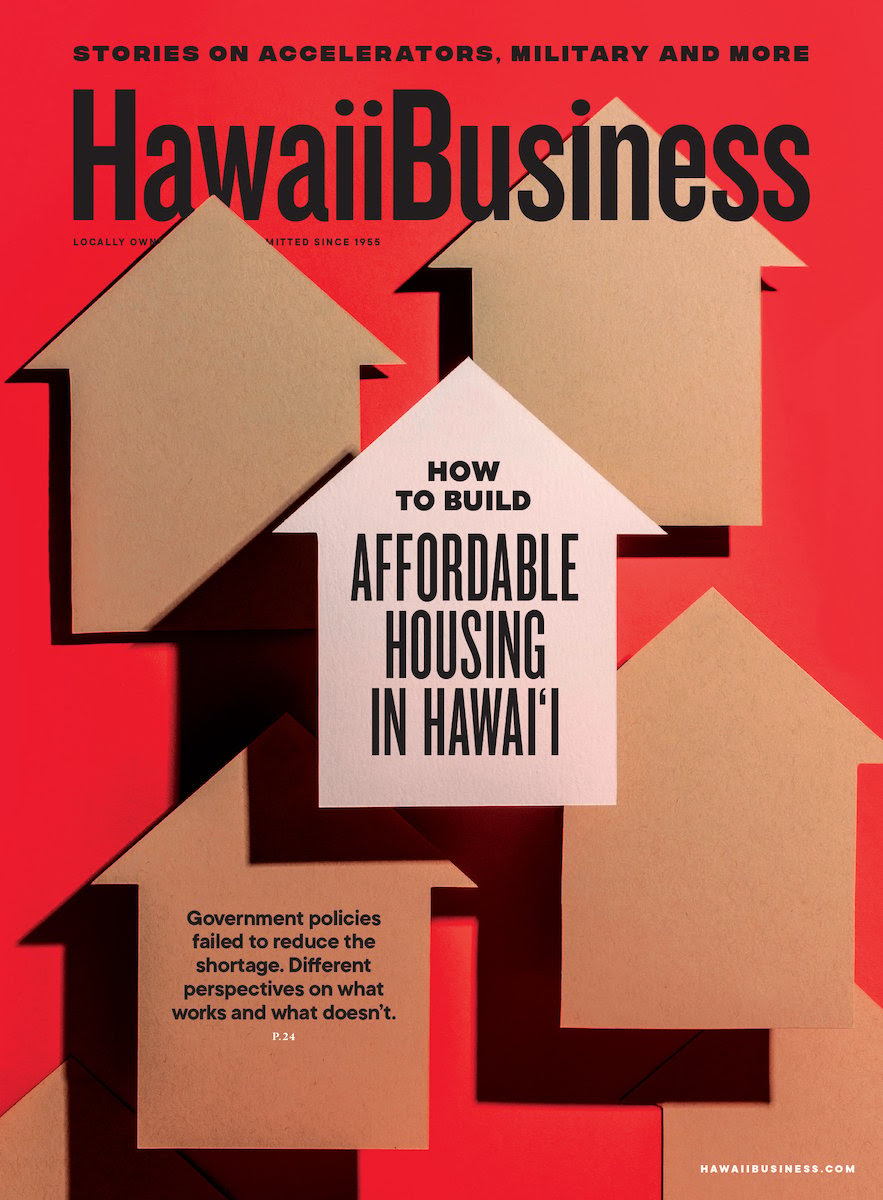 Dive into some of our latest features!
My Job Is Preserving Damaged Scrolls and Precious Art
EV Sales in Hawai'i Are Up 30.6%, and Many Buyers Say They're Glad They Made the Switch
Here's How Affordable Housing Policies Have Impacted Hawai'i's Housing Supply

Many Hawai'i Defense Jobs Are Not Going to Locals. Advocates Want to Change That.
Hawaii Business Magazine 
 1088 Bishop St. Ste. LL2
Honolulu, HI 96813
General Inquiries: (808) 537-9500
Advertising/Sponsorships: (808) 534-7124
For the latest Hawaii State, Hawaii Island, West Hawaii, and Hawaii Sports News, please check the blog sidebar, links, and twitter posts.  Thanks for joining us today.