Hawaii holds onto mask mandate as state awaits news CDC guidance.
Views expressed in this Hawaii State News summary are those of the reporters and correspondents.
Accessed on 26 February 2022, 0117 UTC.
Content provided by "Hawaii Business Magazine Newsletters."
Source:
Please click link or scroll down to read your selections.
Locally Owned, Locally Committed Since 1955
2.25.22
TOP STORIES
Hawai'i holds onto mask mandate as loosened U.S. Centers for Disease Control and Prevention guidance looms
As daily coronavirus cases in Hawai'i and nationwide continue to trend down, the debate over mask mandates has become a hot- button issue, particularly in the Aloha State, the last holdout with a statewide indoor mask mandate in place and no announcements on when it will end. Star-Advertiser. KHON2.

Candidate filing period put on hold due to lawsuit over redrawn voter maps


The Hawai'i Supreme Court late Thursday issued an injunction temporarily stopping candidate filing that was to start Tuesday until it can consider a petition filed by 11 residents from three islands questioning the process by which the state Reapportionment Commission drew legislative boundary maps. West Hawaii Today. Star-Advertiser. Civil Beat. Hawaii News Now.

Bills on excessive police force, hike in fireworks fines advance
Bills that would require law enforcement officers to intervene and report colleagues using excessive force and increase fines for fireworks violations passed out of the state Senate Ways and Means Committee on Thursday. Star-Advertiser.

Moving forward: Coffee labeling bill clears House committees
A bill that would set tighter limits on using Hawai'i location names to sell coffee cleared its last state House committee Wednesday, sending it back for a vote on the full house floor before crossing over to the Senate for further consideration. West Hawaii Today.

Mililani Trask named new OHA trustee for Hawai'i Island
Native Hawaiian rights activist and lawyer Mililani Trask has been voted to become Hawai'i Island's trustee for the Office of Hawaiian Affairs. Star-Advertiser. Civil Beat. Big Island Now.
HAWAII BUSINESS MAGAZINE
Vintage Mu'umu'u "Transcends Generations"
Marion Jones displays vintage dresses from her personal collection at the Mu'umu'u Shop and Swap. The event at Queen Emma Summer Palace helped kick off January's Mu'umu'u Month, which celebrates the unique style… read more.
OʻAHU
Environmental Protection Agency launching investigation into Navy's Red Hill fuel facility
The head of the U.S. Environmental Protection Agency announced Thursday that he's launching an investigation into the Navy's Red Hill fuel facility, telling reporters gathered in downtown Honolulu that it's important the agency plays "its strong, independent role" in upholding environmental laws and regulations. Star-Advertiser. Hawaii News Now.

Regulators were watching the Navy's Red Hill Fuel facility. What went wrong?
Martha Guzman, the Environmental Projection Agency's regional administrator, said they had been preparing for a crisis similar to one in 2014. However, the leaks suspected of contaminating the water last year allegedly spewed from pipelines, not the tanks. And the second one released thousands of gallons of jet fuel almost directly into the water supply via a pipeline the Navy has said it didn't know was there. Civil Beat.

Property raided over illegal dumping allegations
Pressure is mounting for a Hau'ula property owner who has been accused of illegal dumping on his land, as law enforcement raided his property early Thursday. KHON2. Hawaii News Now.

Kapi'olani Community College is struggling with lingering irrigation issues
Broken pumps and electrical issues are causing native plants to die, which has impacted student learning, school officials said. Administrators say the issues are not about a lack of funding but rather lengthy inspection periods, including in-house inspections and contractor procurement. Civil Beat.
HAWAII BUSINESS MAGAZINE
Hawai'i's Ultra High-End Homes: $1.1 Billion in 2021 Sales
Hawaiʻi ranked ninth in the nation in sales volume last year for residential properties that sold for $10 million or more, according to a recent report by the real estate firm Compass. Seventy-eight Hawai'i sales closed in that stratosphere in 2021, more than three times the number that sold in 2020… read more.
HAWAIʻI ISLAND
Waipi'o Valley road to close to pedestrians
Hawai'i County will shut down Waipi'o Valley Road to pedestrians for safety reasons after the results of a geotechnical study on the steep, crumbling roadway was made public Thursday night. The road will be open for valley resident traffic only. Big Island Now.
HAWAII BUSINESS MAGAZINE
A Professional Coach Can Help You and Your Company
It's no secret that many executives leverage professional coaches to catapult them ahead in their careers. However, you don't have to be in the C-suite to benefit from coaching and it might happen at any point in your career... read more.
MAUI COUNTY
Residents, industry reps debate plan to cap Maui visitor units
Some residents backed a plan to cap Maui's transient accommodations, while industry testifiers questioned whether a ceiling would have unintended legal and financial consequences during a Maui County Council committee meeting Wednesday. Maui Now. Maui News.

Kihei wants long-term solutions to chronic flooding
The community has been prodding the county to take action on a report it commissioned more than a year ago that's filled with cost-effective and environmentally friendly ideas. Civil Beat.

Maui Police Department 'matriarch' dies in Pukalani crash while chasing purse snatcher
A 55-year-old Maui Police Department employee died in a motor vehicle collision on Maui as she was chasing someone who had reportedly stolen her purse. Star-Advertiser. Maui Now. Hawaii News Now. KHON2. KITV4.

State agrees to pay $550,000 to settle lawsuit over inmate suicide at Maui jail
The 26-year-old female prisoner warned jail staff she was contemplating suicide, but the facility did not place her on suicide watch. Civil Beat.

Options to control wave energy explored as beach loss continues at "Sugar Cove" near Pāʻia
Sugar Cove, a pocket beach near Pā'ia, is home to a privately funded beach restoration effort that's been ongoing for nearly three decades. Maui Now.
KAUAʻI
Like, Iseri make final push for Prosecuting Attorney Special General Election
There are only two days left to cast ballots for the Prosecuting Attorney Special General Election between Acting Prosecutor Rebecca Like and former Prosecutor Shaylene Iseri. Garden Island.
FEBRUARY 2022 ISSUE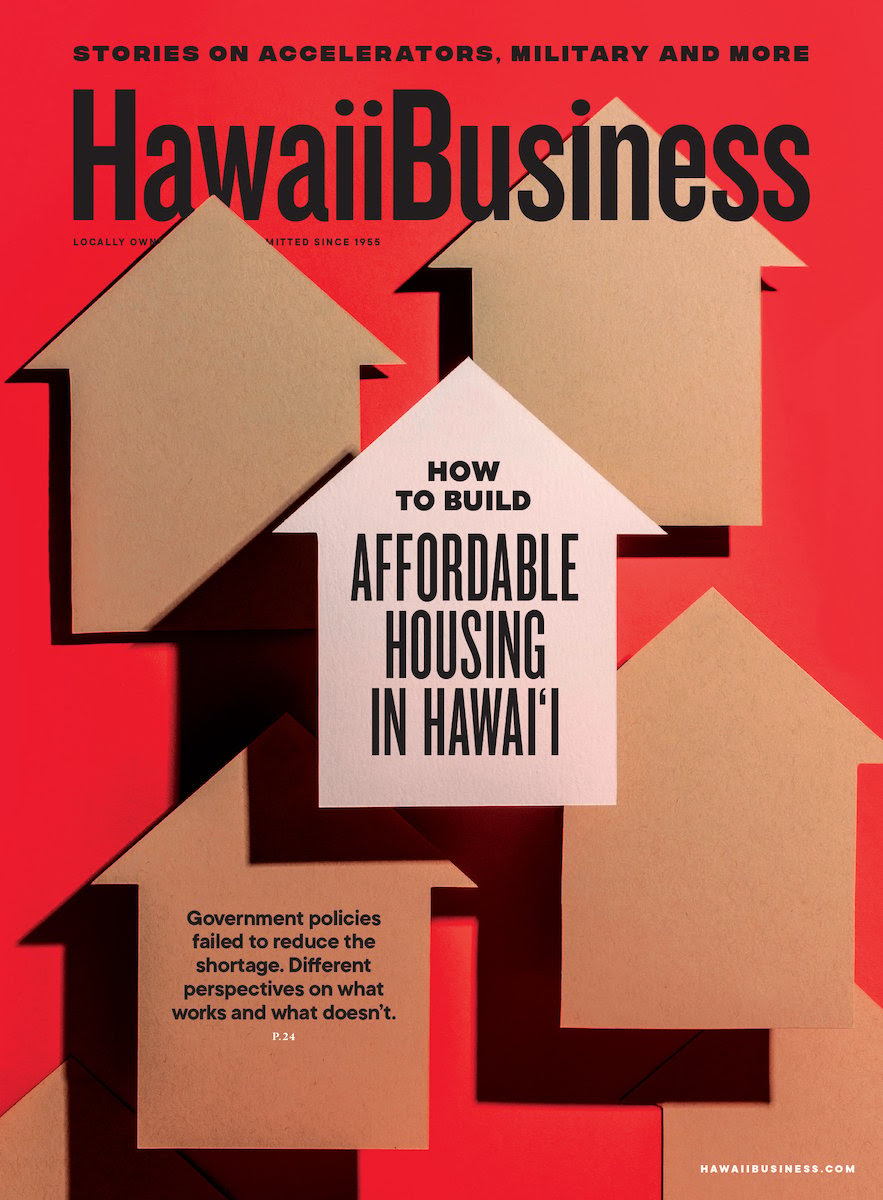 Dive into some of our latest features!
My Job Is Preserving Damaged Scrolls and Precious Art
EV Sales in Hawai'i Are Up 30.6%, and Many Buyers Say They're Glad They Made the Switch
Here's How Affordable Housing Policies Have Impacted Hawai'i's Housing Supply

Many Hawai'i Defense Jobs Are Not Going to Locals. Advocates Want to Change That.
Hawaii Business Magazine 
 1088 Bishop St. Ste. LL2
Honolulu, HI 96813
General Inquiries: (808) 537-9500
Advertising/Sponsorships: (808) 534-7124
—–
For the latest Hawaii Island, Hawaii State, West Hawaii, and Hawaii Sports News, please check the blog sidebar, links, and twitter posts.
Russ Roberts (https;//hawaiinewsdigest.net).