Four civilian contractors were killed in a helicopter crash at the Navy's Pacific Missile Range Facility.
Views expressed in this Hawaii State News summary are those of the reporters and correspondents.
Accessed on 24 February 2022, 0008 UTC.
Content supplied by email subscription to "Hawaii Business Magazine Newsletters."
Source:
https://mail.google.com/mail/u/0/#inbox/FMfcgzGmvBqpKWSXcrQSQJhNSGJTBNvg
Please click link or scroll down to read your selections.
Locally Owned, Locally Committed Since 1955
2.23.22
TOP STORIES
4 killed in Kaua'i helicopter crash
A helicopter crash Tuesday at the Navy's Pacific Missile Range Facility on Kaua'i killed four civilian contractors. A PMRF spokesman said the Sikorsky S-61N helicopter, one of two contracted by the facility, crashed at about 10 a.m. Star-Advertiser. Civil Beat. Hawai'i Public Radio. Big Island Now. Maui Now. Garden Island. Hawaii News Now. KHON2. KITV4.

Hawai'i Senate panel passes ban on fundraisers during session
The bill is one of several measures aimed at addressing corruption after two former legislators pleaded guilty in connection with a bribery scandal. Star-Advertiser. KITV4.

Heidi Haunani Tsuneyoshi announces run for governor as Republican
First-term Honolulu Councilwoman Tsuneyoshi said that if she wins the Republican Party primary election Aug. 13 and the Nov. 8 general election, she would focus on getting more beneficiaries onto Hawaiian home lands, transparency in government and fiscal responsibility. Star-Advertiser. Civil Beat. Hawaii News Now.
Candidate filings with the Hawai'i Office of Elections begin March 1 and end June 7. Civil Beat.

Navy expects 27 countries to attend RIMPAC this summer
A Navy news release said 42 ships, five submarines, more than 170 aircraft and nearly 25,000 personnel are expected to participate in RIMPAC in waters off Hawai'i and San Diego. Star-Advertiser.

Last defendant sentenced in scheme to defraud Hawai'i housing programs
The last participant in a scheme that defrauded local housing programs of more than $100,000 was sentenced in Hawai'i's U.S. District Court on Tuesday. The scheme ran from approximately April 2015 to August 2017 and involved four people, all of whom have now been sentenced for their participation, including IHS housing specialist Leopoldo Bitte, Jr. Star-Advertiser.

There are widespread reports of sex trafficking, so why no convictions?
Although state agencies have received hundreds of reports of sex trafficking in Hawai'i in recent years, state prosecutors have failed to convict a single person of the crime since legislators formally outlawed the practice in 2016, a review of state and local records found. Civil Beat.

Lawmakers consider stiffer penalty for some drunken drivers in fatal crashes
A measure that would impose a stiffer penalty on a person convicted of first-degree negligent homicide while driving under the influence of an intoxicant passed its only committee hearing Friday. West Hawaii Today.

Queen's, Kaiser Permanente ease visitor restrictions amidst declining Covid-19 cases
Both The Queen's Health Systems and Kaiser Permanente Hawai'i have eased visiting guidelines as daily coronavirus cases and positivity rates in the state continue to decline. Star-Advertiser.

HAWAII BUSINESS MAGAZINE
20 for the Next 20 2010: Where Are They Now?
After a two-year hiatus, Hawaii Business Magazine began again to identify emerging leaders in the Islands. We have published 20 for the Next 20 every year since… read more.
OʻAHU
O'ahu's Covid-19 restrictions coming to an end on March 5, Blangiardi says
The days of carrying a Covid-19 vaccination card or negative test result to go out on the town will soon be over — Safe Access O'ahu will sunset on March 5. KITV4.

Sen. Hirono calls for closing Red Hill facility through the state permitting process
U.S. Sen. Mazie Hirono defended her decision Tuesday not to sign onto a congressional bill that would mandate the permanent shutdown of the Navy's Red Hill fuel facility, telling reporters that she was focused instead on a state permitting process that could accomplish the same goal, but faster. Star-Advertiser. Civil Beat.  Hawaii News Now.

Commission considers adjustment to property tax exemptions
The O'ahu Real Property Tax Advisory Commission is considering changes to the city's property tax rates and exemptions — notably, for historic homes, for-profit child care centers and primary residences. Star-Advertiser.

Council chair: Media access to emergency scanners a matter of public safety
City Council Chair Tommy Waters wants to restore the news media's ability to listen in when first responders are called to emergencies. Hawaii News Now.
HAWAII BUSINESS MAGAZINE
O'ahu's Priciest Homes Sell Fast – Often Above Asking Price
The demand is strong, Realtors say, but there are few homes for sale at the highest end of the local market. Demand will likely increase when international buyers return… read more.
HAWAIʻI ISLAND
Higa sentenced to 46 months in prison
Former County Councilman and Na Leo TV CEO Stacy Higa was sentenced Tuesday to 46 months in prison for embezzling from AmeriCorps and also for offering a bribe in return for federal coronavirus relief funds. West Hawaii Today. Star-Advertiser. Big Island Now. Hawaii News Now. KHON2. KITV4.

Council bill would require EV charging stations for new parking lots
A Hawai'i County Council member hopes to legally require developers to include electric vehicle charging stations in new parking lots. Tribune-Herald.

HPD looking for recruits for 'rewarding career'
Starting salary for a police officer is $65,652 a year, with benefits including paid holidays, vacation, sick leave, military leave, health insurance, group life insurance, a uniform and equipment stipend, automobile subsidy and retirement. Tribune-Herald. Big Island Now.
HAWAII BUSINESS MAGAZINE
Love Roller Coasters? Then Join the Local Restaurant Business
2021 was a wild ride of exhilarating ups and terrifying downs, unexpected twists and turns, and high supply and labor costs. The forecast for 2022 is better: more customers plus growth in takeout and delivery... read more.
MAUI COUNTY
Major 670-acre housing project in Wailea aims to move ahead; groups intervene
A long-debated master planned community proposed for 670 acres in Wailea called Honuaʻula sought the next phase of county approval today — but two groups are challenging it. Maui Now.

Final assessment for Honokowai project released
The state Department of Hawaiian Homelands has published its final environmental assessment for its Honokowai Homestead Community Master Plan, which will include hundreds of residential homesteads, multifamily residential units and subsistence agricultural homestead lots on nearly 800 acres in West Maui. Maui News.

Plan to beautify a shoreline parcel on Maui has hit yet another obstacle
A lot near Kahului Harbor is finally cleared of homeless and ready for food trucks thanks to a local nonprofit organization. But it's got a pretty foul neighbor — a sewage discharge station. Hawaii News Now.
KAUAʻI
Waitlists, affordability obstacles in Hawai'i housing crisis
Hawai'i leaders met Tuesday to address the public about the state's on-going housing crisis, recommending a multi-pronged approach to address rising home costs. Garden Island.

Princeville resort part of state's 'regenerative tourism' push
The Cliffs at Princeville resort is donating a portion of guests' bills to local conservation efforts through a new partnership with the hotel-booking website Kind Traveler. Garden Island.
FEBRUARY 2022 ISSUE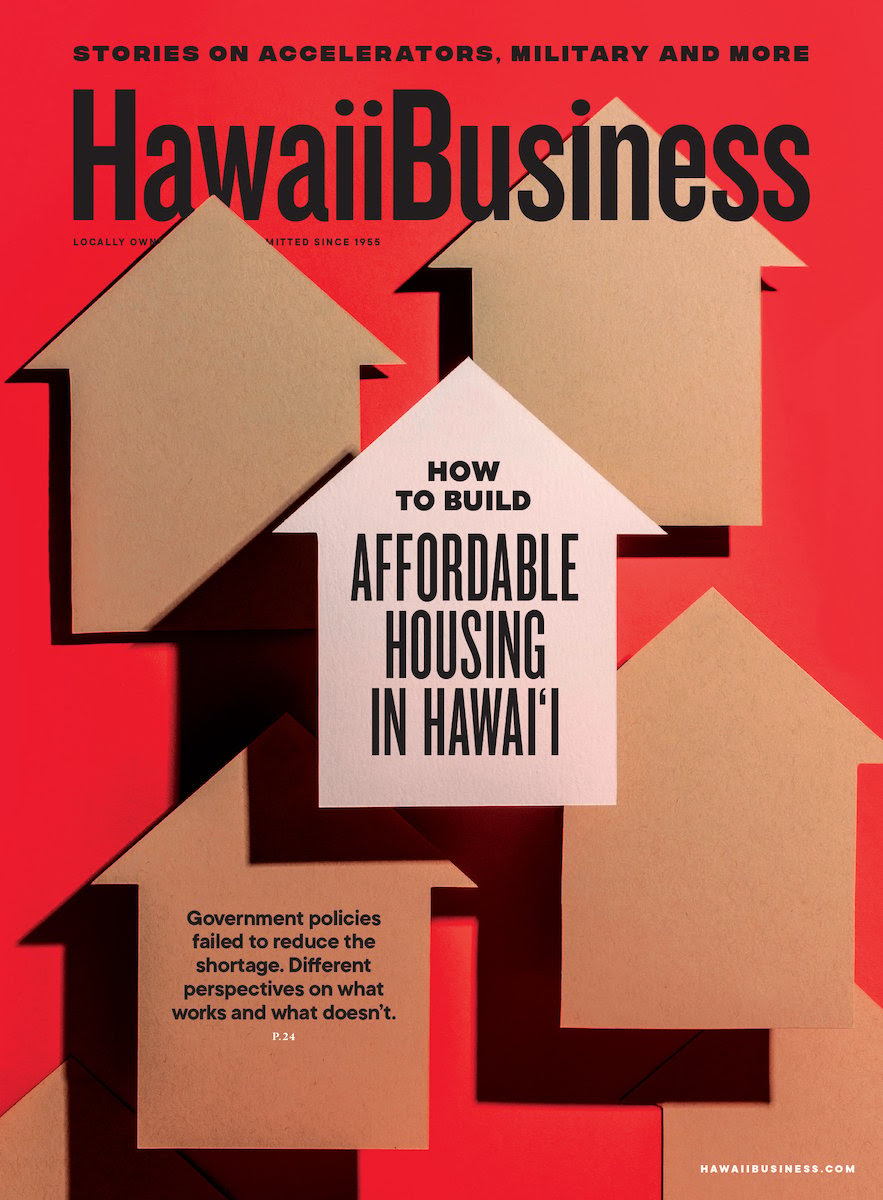 Dive into some of our latest features!
My Job Is Preserving Damaged Scrolls and Precious Art
EV Sales in Hawai'i Are Up 30.6%, and Many Buyers Say They're Glad They Made the Switch
Here's How Affordable Housing Policies Have Impacted Hawai'i's Housing Supply

Many Hawai'i Defense Jobs Are Not Going to Locals. Advocates Want to Change That.
Hawaii Business Magazine 
 1088 Bishop St. Ste. LL2
Honolulu, HI 96813
General Inquiries: (808) 537-9500
Advertising/Sponsorships: (808) 534-7124
For the latest Hawaii State, Hawaii Island, West Hawaii, and Hawaii Sports News, please check the blog sidebar, links, and twitter posts.