Federal bill approves funding to drain Red Hill fuel tanks.
Views expressed in this Hawaii State News summary are those of the reporters and correspondents.
Accessed on 18 February 2022, 1907 UTC.
Content provided by email subscription to "Hawaii Business Magazine Newsletters."
Source:
Please click link or scroll down to read your selections.
Locally Owned, Locally Committed Since 1955
2.18.22
HAPPY PRESIDENTS DAY
In observance of Presidents Day, Today's Hawaii News will not publish on Monday. We will resume on Tuesday.
TOP STORIES
Federal bill OK'd with funding to drain Red Hill fuel tanks
The U.S. Senate on Thursday passed a short-term funding bill that includes a provision that pushes the Department of Defense to abide by a state emergency order to drain the tanks at the Navy's underground Red Hill Bulk Fuel Storage Facility and provides $100 million in funding for the process. Star-Advertiser. Hawaii News Now.

Top state investigator says white collar crime unit sat on government corruption cases
One of Hawai'i's top law enforcement officials says state prosecutors have done nothing with cases of white collar crime and government corruption forwarded to them by investigators during the last several years. Civil Beat.

Hawai'i creates conduct commission
The state House of Representatives on Thursday created a commission that will recommend how to boost the effectiveness of state ethics, lobbying and campaign finance laws after two former lawmakers earlier this week pleaded guilty in connection with their acceptance of bribes. Hawaii Tribune Herald. Hawaii News Now.

Pay raises negotiated for Hawai'i public worker union
State labor negotiators have come to terms with one of Hawai'i's larger public workforce unions on a new four-year contract that provides roughly 4% to 5% pay raises in each of the next three fiscal years. Star-Advertiser.

Not in the cards: Gambling bills among dead proposals at the Hawai'i Legislature
The Legislature has considered gambling proposals for decades but none has succeeded. Hawai'i and Utah are the only two states that prohibit all forms of gambling. Bills targeting the state auditor's office and measures to shield the state from inmate lawsuits also failed this year. Civil Beat. Hawaii News Now.

Hawai'i Senate recommends passing bill allowing anyone 65 or older to use cannabis for medical purposes
This bill seeks to amend the current verbiage from "qualifying patient" to anyone 65 or older to use cannabis medicinally regardless of whether they have been diagnosed with a condition that would make them eligible. KHON2.

State agencies were tasked with buying more local food. Can Hawai'i supply it?
All 18 state departments were charged with increasing their spending on Hawai'i grown produce last year as part of Act 176, which works on a graduated scheme that would eventually see their consumption increase to at least 50% by 2050. The report shows seven of the 18 departments bought local produce last year, spending a combined $2.6 million. Civil Beat.

DOE plan for virtual school gets thumbs down from board for lack of details
While stressing the importance of in-person instruction, the DOE said it needs to offer an array of learning opportunities, including a virtual option. The plan called for spending $5.4 million in the 2022-23 school year to establish a virtual school that would serve roughly 774 students across the state. Civil Beat.

Vaccine booster not required for University of Hawai'i students, staff
University of Hawai'i students, faculty and staff will not be required after all to get booster shots for Covid-19, UH President David Lassner announced Thursday. Star-Advertiser. Civil Beat. KITV4.
HAWAII BUSINESS MAGAZINE
20 for the Next 20: Mark Wasielewski, Diagnostic Laboratory Services
The pandemic created huge challenges for Diagnostic Laboratory Services: Demand for the company's services skyrocketed just as its mainland suppliers were suffering shortages. "Almost overnight, it felt like the demand tripled," recalls Mark Wasielewski, president of DLS… read more.
OʻAHU
Mayor says Safe Access O'ahu program for eateries, gyms will likely be dropped in March
The city is poised to drop vaccine-or-test requirements for patrons of restaurants, bars gyms, movie theaters and other venues in early March, the mayor said Thursday. Hawaii News Now.

Millions unspent as HPD patrol staffing lags and police actions decline
HPD said last year's unusually large amount of lapsed funds – nearly $18 million – was more than usual because of pandemic-related factors. KHON2.

Deputy sheriff who was fired after nearly 40 years of service files wrongful termination suit
In the lawsuit, deputy Sheriff Tommy Cayetano alleged that former DPS Director Nolan Espinda fired him in 2020 ― despite having 38 years of service without any disciplinary actions. Hawaii News Now.

Lawyers disagree over legality of HART board's confidentiality rules
The state Department of the Attorney General has issued an opinion that the board overseeing the city's troubled rail project has no legal authority to treat board members differently and require legislative appointees to the Honolulu Authority for Rapid Transportation to sign new confidentiality agreements. Star-Advertiser.

Honolulu to resume normal Covid-19 testing operations at airport; testing added at Honolulu Hale, Kapolei Hale
The City and County of Honolulu's free Covid-19 testing will continue to be available to all O'ahu residents at the Daniel K. Inouye International Airport, but will return to normal operating hours after they were extended in January. Star-Advertiser.

Hawai'i businesses face challenging economic climate
Global Village, a small boutique offering apparel, handcrafted jewelry and accessories from around the world, is closing its bricks-and-mortar shop for good and transitioning to an online business full time. Star-Advertiser.
HAWAII BUSINESS MAGAZINE
Pusong Filipinx Showcases Millennial Entrepreneurs and Creatives
Lalaine Ignao and Eric Ganding wear traditional clothing at Pusong Filipinx's Dec. 12 market at the Bishop Museum. The event gathered 33 vendors selling clothing, art, food – any type of Filipino-inspired product… read more.
HAWAIʻI ISLAND
Recent luxury eco-resort proposal near Hilo has residents questioning decades-old zoning maps
Resort designations have been on county land use maps for Keaukaha since the 1971 Hawaiʻi County General Plan. But many residents in Keaukaha were blindsided by a proposal the county rejected for a 36-unit luxury eco-resort fronting Chock's Beach, a popular spot for local families, fishermen and surfers. Hawaii Public Radio.

Ige nominates Big Island engineer to serve on State BLNR
Big Island engineer Riley Smith is among several people from throughout the state picked by Gov. David Ige to serve on the Hawai'i Board of Land and Natural Resources. Big Island Now.

Pandemic, animal control issues exacerbate cat overpopulation
The Big Island's stray and feral cat population has reached a "critical stage" because the Covid-19 pandemic and animal control problems have reduced spay and neuter opportunities and limited the intake of felines. Tribune-Herald.
HAWAII BUSINESS MAGAZINE
8 Things Hawaiʻi Companies Should Know About Hiring Interns
Internships are a valuable path to full-time jobs. The National Association of Colleges and Employers reports that 66.4% of 2020 interns received job offers from the companies they interned at, provided they were qualified... read more.
MAUI COUNTY
Maui Police Chief Pelletier highlights first 60 days in office, says morale is good
Maui Police Chief John Pelletier discussed his first 60 days in office during Wednesday's regularly scheduled Police Commission meeting, summarizing what is being done, and the upcoming plans he has for the department. Maui Now. Maui News.

As MPD faces staffing crisis, county is in desperate need of more 911 dispatchers
The Maui Police Department is facing a staffing crisis with a vacancy rate of approximately 25%. However, one section in particular is desperately short staffed: 911 dispatchers. Hawaii News Now.

Should Maui hotels pay more for water? This council member thinks so
Both homeowners and general users ranging from mom-and-pop shops to schools to luxury hotels pay largely the same prices for water. Civil Beat.
KAUAʻI
Balloon prompts jet scramble over Kaua'i, Air Force says
The Air Force says it is tracking an "unmanned balloon without observable identification markings" after it was spotted over Kaua'i on Monday. Star-Advertiser. Garden Island.
FEBRUARY 2022 ISSUE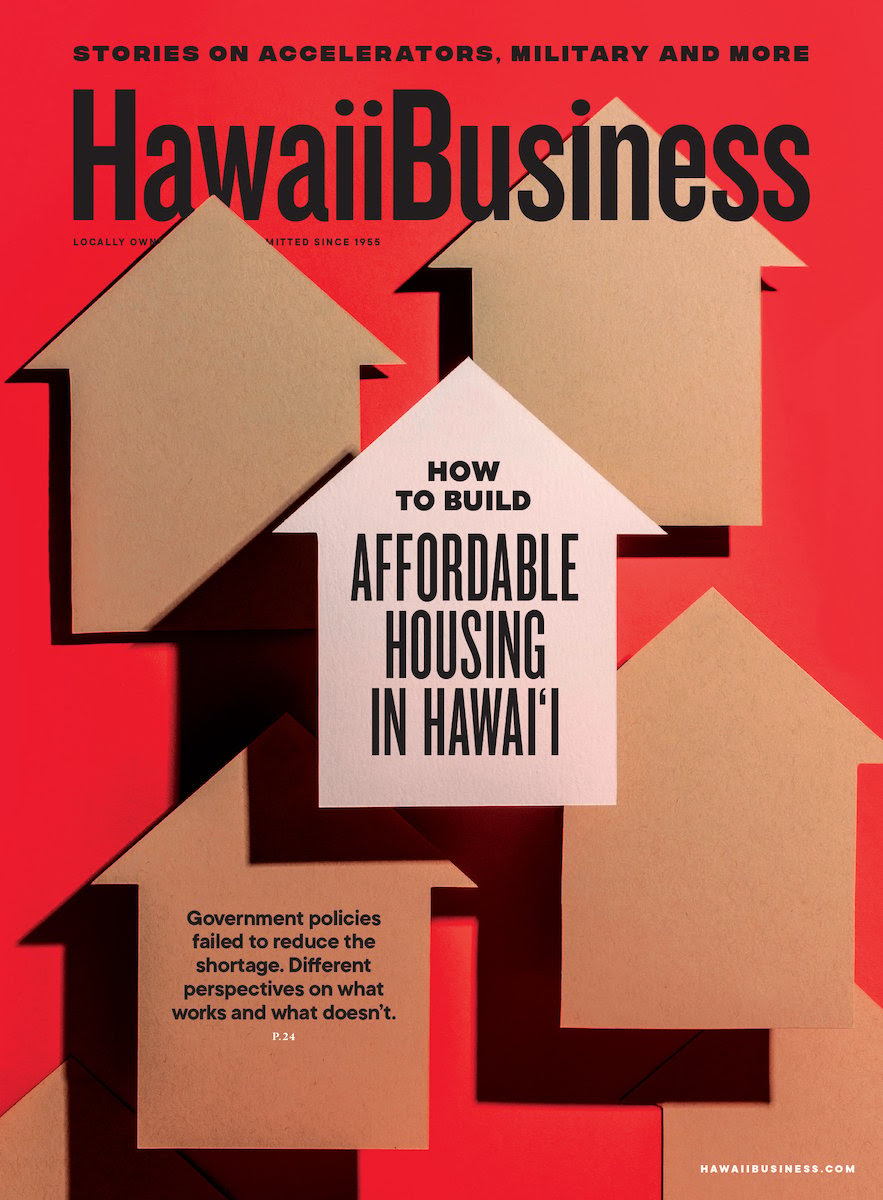 Dive into some of our latest features!
My Job Is Preserving Damaged Scrolls and Precious Art
EV Sales in Hawai'i Are Up 30.6%, and Many Buyers Say They're Glad They Made the Switch
Here's How Affordable Housing Policies Have Impacted Hawai'i's Housing Supply

Many Hawai'i Defense Jobs Are Not Going to Locals. Advocates Want to Change That.
Hawaii Business Magazine 
 1088 Bishop St. Ste. LL2
Honolulu, HI 96813
General Inquiries: (808) 537-9500
Advertising/Sponsorships: (808) 534-7124
For the latest Hawaii State, Hawaii Island, West Hawaii, and Hawaii Sports News, please check the blog sidebar, links, and twitter posts.
Thanks for joining us today.