Despite changing policies elsewhere, Hawaii public schools continue COVID-19 mask mandates.
Views expressed in this Hawaii State News summary are those of the reporters and correspondents.
Accessed on 17 February 2022, 2016 UTC.
Content supplied by email subscription to "Hawaii Business Magazine Newsletters."
Source:
https://mail.google.com/mail/u/0/#inbox/FMfcgzGmvBjsRFxhCJBQSjQjrMfZLmZB
Please click link or scroll down to read your selections.
Locally Owned, Locally Committed Since 1955
2.17.22
TOP STORIES
Despite changing policies elsewhere, Hawai'i public schools are sticking to mask mandate
School districts around the country are dropping mask requirements. But Hawai'i's Education Department said there are no plans to change their masking policies. Hawaii News Now.

Lawmakers plan to reopen Hawai'i State Capitol to the public on March 7. 


The Capitol has been closed since March 2020 after state Sen. Clarence Nishihara tested positive for Covid-19. The House also intends to create a panel to review existing laws and propose ethics and campaign finance reforms. Civil Beat. Maui Now. Garden Island. Hawaii News Now.

Hawai'i's effort to lower the impaired driving limit is bolstered by a federal report
The Senate Judiciary Committee is scheduled to hold a public hearing Friday on Senate Bill 2096, which would drop the threshold for the crime of "operating a vehicle under the influence on an intoxicant" to a blood alcohol concentration of .05 grams per deciliter, down from the current standard of .08 g/dL. Star-Advertiser.

Biden approves federal disaster declaration in wake of severe December storm
President Joe Biden granted Hawaiʻi's request Tuesday for a disaster declaration in the wake of severe storms that tore through parts of the state late last year. A powerful Kona low weather system brought heavy rains, flooding, high winds and landslides to the state in December. Hawaii Public Radio.

Former First Lady Michelle Obama leads roundtable in Hawai'i with 8 girls from O'ahu
Former First Lady Michelle Obama met with eight girls from O'ahu for a roundtable conversation on Tuesday to learn more about their future aspirations and career goals. It was part of the first-ever Girls Opportunity Alliance roundtable discussion in Hawai'i. Hawaii News Now.
HAWAII BUSINESS MAGAZINE
20 for the Next 20: Matthew C. Shannon, Bays Lung Rose Voss
Matthew C. Shannon, 39, was hired by Bays Lung Rose Voss in 2008 after graduating from UH's Richardson School of Law. After seven years in the competitive fields of real estate, construction and complex commercial litigation, he became one of the firm's youngest partners… read more.
OʻAHU
Honolulu Ethics Commission rules out gift disclosure for city employees
However, the ethics commission is planning to propose that the Honolulu City Council consider lowering the cap on the value of gifts from $200 to $25. Civil Beat.

Killing in front of Kapolei police station sparks outrage
A schizophrenic man with a lengthy arrest record allegedly beat a 48-year-old woman to death with a tree trunk in front of the Kapolei police station Tuesday evening, shortly after he was released pending investigation for attacking a police officer. Star-Advertiser. Hawaii News Now. KHON2. KITV4.

HPD chief disputes 'inaccurate' SHOPO patrol staffing criticism
Honolulu Police Department Interim Chief Rade Vanic pushed back Wednesday against what he described as false claims by the state's police union that the department is endangering O'ahu residents by failing to staff enough police patrols. Civil Beat.

HART board appointees declined to sign a confidentiality agreement that calls for 'criminal penalties' for violating the pact
Two members of the board that oversees the city's troubled rail project have declined to sign a new confidentiality agreement that calls for "criminal penalties" for violating the agreement. Star-Advertiser.

Condominium owners request more time from City Council to comply with fire safety codes
Condominium owners are asking for more time and more oversight from the Honolulu City Council to comply with a law that requires them to install fire sprinklers or pass a life-safety evaluation test. Star-Advertiser.

Olomana Trail is one of O'ahu's most popular hikes. It's also one of the most treacherous
The thrill of hiking to O'ahu's steepest peaks entices thousands to Olomana Trail. But many people who decide to make the trek have no idea what the hike entails. Hawaii News Now.
HAWAII BUSINESS MAGAZINE
Big Brothers Big Sisters Helps At-Risk Youth Achieve Their Full Potential
Big Brothers Big Sisters Hawai'i aims to create meaningful one-to-one relationships between adults and at-risk children. Mike Hinkley was inspired to become a big brother as a way to serve his Kāne'ohe community… read more.
HAWAIʻI ISLAND
Concerns over axed eco-resort at Hilo beach spark community engagement discussions
Plans have been axed for a proposed 36-unit luxury eco-resort fronting a popular Hilo beach on Hawaiʻi Island. Concerns over shoreline development near Chock's Beach in Keaukaha are prompting discussions by residents in this small coastal community. Hawaii Public Radio.

Neighbors of Kona brush fire say homeless camps reason for recent string of blazes
Neighbors of the brush fire Wednesday in Kailua-Kona that closed two highways and evacuated multiple subdivisions said there have been several brush fires in the area recently that they believe are started in the nearby homeless camps that go unchecked. Big Island Now.

Charges against BJ Penn dropped
The state has dropped charges of DUI and reckless driving against former UFC lightweight and welterweight champion BJ Penn. Tribune-Herald.
HAWAII BUSINESS MAGAZINE
Four Programs That Inspire and Teach Kidpreneurs
Steve Sue likes to start young when nurturing the next generation of public-spirited entrepreneurs. He launched Lemonade Alley in 2011, a lemonade stand challenge for children in kindergarten through high school... read more.
MAUI COUNTY
752-unit affordable housing project proposed in Waiehu
A 752-unit, 100-percent affordable housing project proposed in Waiehu could use roundabouts to calm traffic, include a transit center and be designed to fit the character of the area, the Maui Planning Commission recently suggested. Maui News.

Feds propose lifeline for 44 endangered species in Maui County
The U.S. Fish and Wildlife Service is seeking public comment on a draft recovery plan for imperiled plants and animals on Maui, Moloka'i and Lana'i. The draft plan maps out a pathway to downlist these species to a less-precarious status. Civil Beat.
KAUAʻI
KFD urges hiker safety, nine rescues in 2022
In the wake of several rescues, the Kaua'i Fire Department has taken to social media to advise the public about the dangers of hiking. Garden Island.
FEBRUARY 2022 ISSUE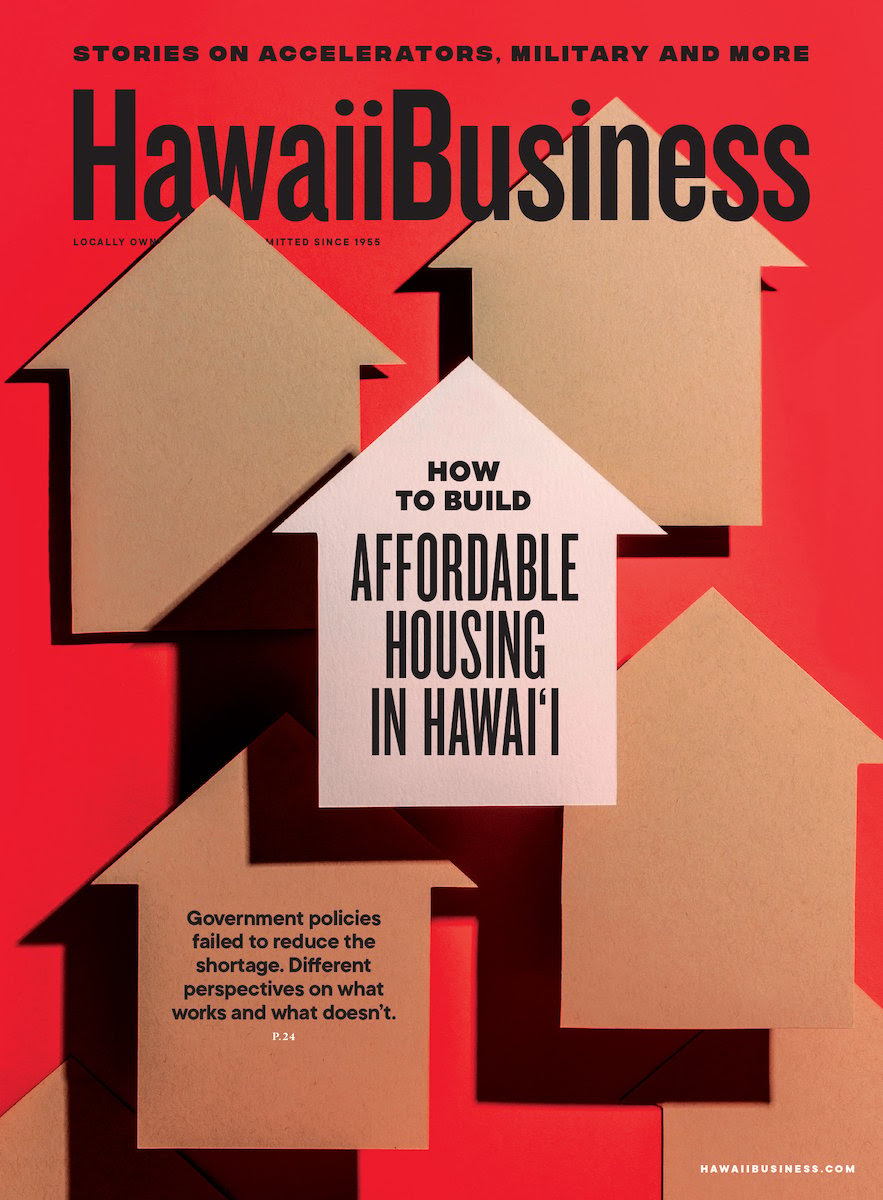 Dive into some of our latest features!
My Job Is Preserving Damaged Scrolls and Precious Art
EV Sales in Hawai'i Are Up 30.6%, and Many Buyers Say They're Glad They Made the Switch
Here's How Affordable Housing Policies Have Impacted Hawai'i's Housing Supply

Many Hawai'i Defense Jobs Are Not Going to Locals. Advocates Want to Change That.
Hawaii Business Magazine 
 1088 Bishop St. Ste. LL2
Honolulu, HI 96813
General Inquiries: (808) 537-9500
Advertising/Sponsorships: (808) 534-7124
For the latest Hawaii State, Hawaii Island, West Hawaii, and Hawaii Sports News, please check the blog sidebar, links, and twitter posts.