Hawaii is getting over $10 million in federal money for wildlife management, conservation.
Views expressed in this Hawaii State News summary are those of the reporters and correspondents.
Accessed on 15 February 2022, 2017 UTC.
Content supplied by email subscription to "Hawaii Business Magazine Newsletters."
Source:
Please click link or scroll down to read your selections.
Locally Owned, Locally Committed Since 1955
2.15.22
TOP STORIES
Hawai'i getting over $10M in federal money for wildlife management, conservation
The funding is from a U.S. Fish and Wildlife Service program that received a record $1.5 billion this year. The USFWS Wildlife and Sport Fish Restoration program will support scientific research, educational programs, and habitat restoration and protection, among other initiatives. Star-Advertiser.

Hawaiian Electric says 38% of the energy it generated last year came from renewable resources
The utility last week announced it increased its renewable energy generation by 4% in a year, and nearly quadrupled it since 2010. Hawaii Public Radio.

Guidelines urge boats to slow down near whales
It's peak season for kohola, the North Pacific humpback whales that migrate from Alaska to Hawai'i each winter, and new guidelines ask that watercraft slow down to 15 knots during general travel in whale season and 6 knots when within 400 yards of the species, which is protected under the Marine Mammal Protection Act. Star-Advertiser. Big Island Video News. Big Island Now. Maui Now.

Vessel strike likely killed humpback whale calf found off O'ahu, NOAA Fisheries says. Hawaii News Now.

Lt. Gov. Josh Green sees restrictions easing in coming weeks
Green, who recently declared his candidacy for Hawai'i governor, said he would recommend ending Safe Travels Hawaii — a program originally intended to mitigate Covid-19 spread from travelers — in mid-March if these downward trends continue. Star-Advertiser. Tribune-Herald.

Bill would require emotional support animal suppliers to issue disclaimer
A bill is advancing in the state Senate that would require sellers or providers of "emotional support animals" to issue a written disclaimer that an emotional support animal isn't a service animal under the law. Tribune-Herald.

Hawai'i long-Covid sufferers get back on track
Some initial studies, including one by Yale Medicine, have found long-haulers reporting improvements after receiving the Covid-19 vaccines, but this is not necessarily the case for everyone. Star-Advertiser.
HAWAII BUSINESS MAGAZINE
20 for the Next 20: Dayna Matsumoto, Central Pacific Bank
Dayna Matsumoto started at Central Pacific Bank as a part-time teller while in college and earned her way up. She credits her family for her work ethic and determination. Matsumoto and her team were instrumental in the bank's PPP initiative in 2020, in which CPB processed about… read more.
OʻAHU
Department of Planning and Permitting employee pleads guilty to accepting bribes
A building inspector in the city Department of Planning and Permitting pleaded guilty Monday to an indictment accusing him and others of accepting bribes to accelerate building projects. Star-Advertiser. Hawaii Public Radio.

Hawai'i health officials lift drinking water advisory for Red Hill housing
State health officials announced Monday that residents in Red Hill housing can resume drinking and cooking with their tap water. The zone, labeled I1 by the Navy, includes 135 Army-managed homes and Red Hill Elementary School. Star-Advertiser. Civil Beat. Hawaii News Now. KHON2.

2 candidates emerge to fill Hawai'i House seat vacated by Ty Cullen
The former head of the Hawai'i teacher's union and a Honolulu doctor are expected to be in the running to fill former state representative Ty Cullen's Central O'ahu seat. KITV4.
HAWAII BUSINESS MAGAZINE
Read About Past CEOs of the Year
Recent honorees include Micah Kāne, Bettina Mehnert, Mark Fukunaga, and Bob Harrison. Earlier CEOs successfully led Hawaiian Airlines, Hawaiian Telcom and Central Pacific Bank out of bankruptcies…. read more.
HAWAIʻI ISLAND
Mauna Kea telescope to be decommissioned by year's end
Officials said the removal and site restoration of the Caltech Submillimeter Observatory at the mountain's summit will start this summer. Star-Advertiser. Civil Beat. Maui Now.

Judge rules gate lawsuit to continue
Hawai'i County was unsuccessful Monday getting a Kona judge to agree with its motion to dismiss a lawsuit filed over its revocation and stay of a building permit to build a gate across Kaiolu Drive, but it's unlikely the gate can be constructed without further legal action. West Hawaii Today.

Lease extension granted for KIA property
After months of delays and complaints, the Board of Land and Natural Resources has authorized a tentative agreement for a 30-year extension for a lease in the Kanoelehua Industrial Area. Tribune-Herald.

The man known as "Hilo's welfare doctor" has won another legal battle with the state
The Intermediate Court of Appeals on Friday set aside a lower court ruling ordering Dr. Frederick Nitta to return $205,000 in Medicaid reimbursements paid to his primary care practice. Hawaii News Now.
HAWAII BUSINESS MAGAZINE
How to Maintain a Company's Culture for 100 Years or More
The CEO of Goodfellow Bros. describes a code of conduct that emphasizes employees, customers and community. Civil construction is difficult work both mentally and physically, and it is imperative that we as leaders appreciate... read more.
MAUI COUNTY
Bill would ban Hawai'i film officials from appearing in films
A Hawai'i lawmaker is trying to crack down on what he says was improper behavior by the Maui County film commissioner, who accepted a substantial part in a television movie being shot on the island, despite the commissioner's involvement facilitating the industry. Civil Beat.

Rising seas could lead to the relocation of Moloka'i's only college campus
Lawmakers are considering a proposal to move the Moloka'i Education Center to higher ground and cover relocation costs. Civil Beat.
KAUAʻI
Rebecca Like and Shaylene Iseri face off in general election for Kauaʻi prosecuting attorney
Kauaʻi voters will be voting again for the next county prosecuting attorney. Ballots were mailed out earlier this month for the special general election, and residents have until Feb. 26 to decide. Hawaii Public Radio. Garden Island.

Officials: Decline in cases, high test positivity
While the county's once again seeing a down-trend in Covid-19 infection case counts, it leads the state in per-population case rates and test-positivity rate. Garden Island.
FEBRUARY 2022 ISSUE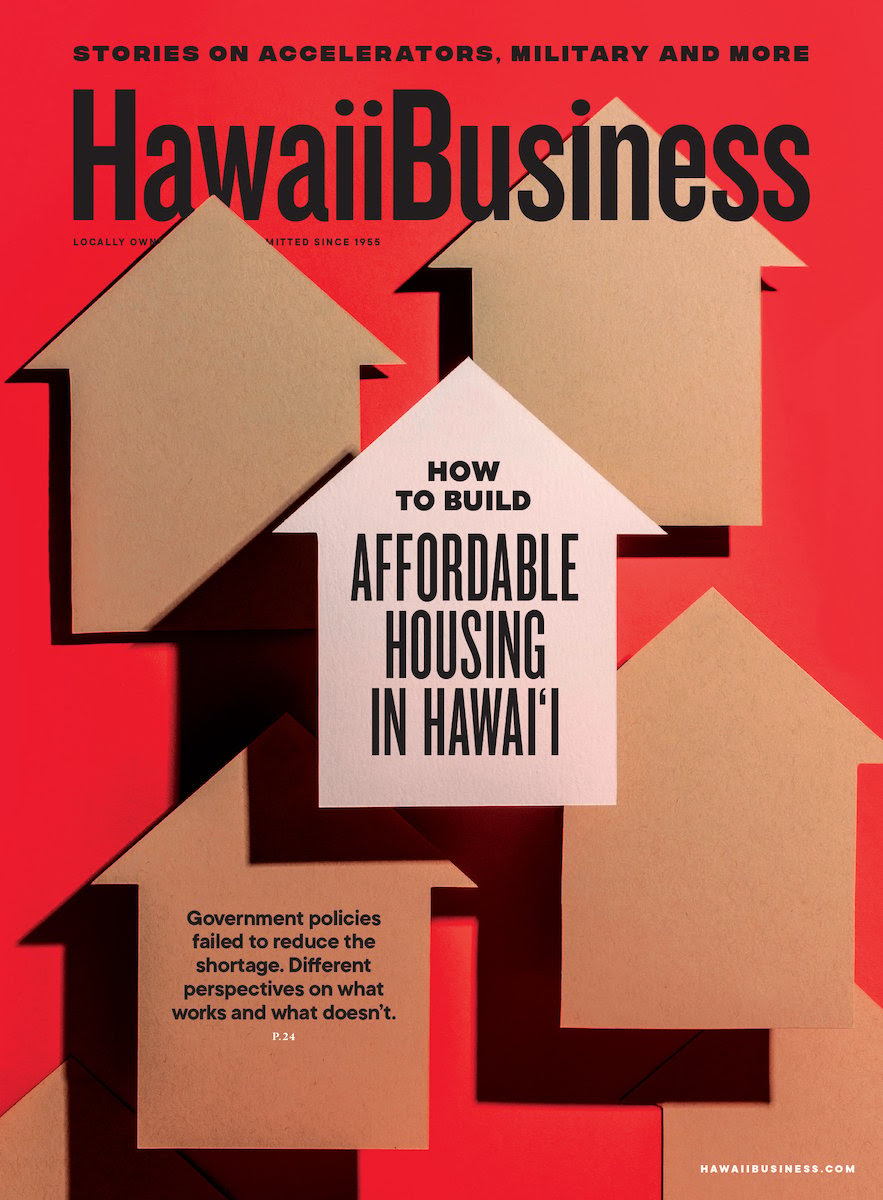 Dive into some of our latest features!
My Job Is Preserving Damaged Scrolls and Precious Art
EV Sales in Hawai'i Are Up 30.6%, and Many Buyers Say They're Glad They Made the Switch
Here's How Affordable Housing Policies Have Impacted Hawai'i's Housing Supply

Many Hawai'i Defense Jobs Are Not Going to Locals. Advocates Want to Change That.
Hawaii Business Magazine 
 1088 Bishop St. Ste. LL2
Honolulu, HI 96813
General Inquiries: (808) 537-9500
Advertising/Sponsorships: (808) 534-7124
For the latest Hawaii State, Hawaii Island, West Hawaii, and Hawaii Sports News, please check the blog sidebar, links, and twitter posts.