Secretary of State meets with Japanese and South Korean counterparts in Hawaii.
Views expressed in this Hawaii State News summary are those of the reporters and correspondents.
Accessed on 14 February 2022, 2025 UTC.
Content provided by "Hawaii Business Magazine Newsletters."
Source:
Please click link or scroll down to read your selections.
Locally Owned, Locally Committed Since 1955
2.14.2022
TOP STORIES
U.S. Secretary of State meets with Japanese and South Korean counterparts in Hawai'i
Antony Blinken met his counterparts over the weekend to discuss nuclear-armed North Korea. The Biden administration also released a new Indo-Pacific strategy to counter China's efforts to expand its influence. Star-Advertiser. Civil Beat.

Hawai'i Senate wants to beef up its corruption-fighting efforts
Lawmakers hope to create two new divisions in the state Attorney General's Office that would be responsible for investigating fraud and political corruption. Civil Beat.
Corruption thrives when there's lack of oversight and accountability, says a retired UH criminologist. Star-Advertiser.

Legislation would help victims exit sex trade with $2,000 per month
Victims of sex trafficking in Hawai'i would receive monthly payments to leave, in what the bill's proponents call the first pilot project of its kind. Star-Advertiser.

Bill would fund study of possible DHHL casino
HB 1962 requires the Department of Hawaiian Homelands to assess a casino's financial and health impacts. Tribune-Herald.
Another proposed bill would legalize online sports gambling in Hawai'i, one of two states that outlaws all gambling. KHON2.

Bills to combat fireworks include increased fines, permit costs
Five of seven bills introduced by the House this session cleared their initial committee hurdle, with amendments, while two were shelved. Tribune-Herald.

Should the counties be allowed to require fire sprinklers in new homes?
It's illegal for counties to require fire sprinklers in single-family homes and duplexes in Hawai'i. A new draft law would change that. Civil Beat.

Legislative committee pursuing investigation against state Rep. Sharon Har
A special House committee has decided to continue investigating whether the state representative should face sanctions for a drunken driving arrest nearly a year ago. KITV4.

Hawai'i residents share their struggles with long Covid
The Queen's Medical Center and UH's John A. Burns School of Medicine are collaborating on a national study to determine why some people develop chronic symptoms. Star-Advertiser.
HAWAII BUSINESS MAGAZINE
20 for the Next 20: Yoh Kawanami, Hawaiian Electric Co.
Kawanami hopes to help Hawai'i become a model for how to produce renewable energy, in part using customer-sited resources like rooftop solar panels. "It wasn't about energy, but it was bringing new tech into Hawaiian Electric"… read more.
OʻAHU
Proposal for Hawai'i to build and sell leasehold condos judged unfeasible
A report produced by the nonprofit Hawai'i Budget and Policy Center says that a key element of the plan — selling condos on state land with 99-year leases — isn't workable, dimming hopes that this big, unconventional idea could end O'ahu's affordable-housing shortages. Star-Advertiser.

Red Hill's firefighting system was damaged long before contamination crisis
The system would deploy water automatically in case of a fire at the Navy's fuel facility, but firefighting foam would have to be turned on manually, a spokeswoman said. Civil Beat.

HAWAII BUSINESS MAGAZINE
Sport of Climbing Continues to Rise in Hawai'i
Climbing has gained popularity in Hawai'i and around the world in recent years, culminating in the sport's debut at the delayed 2020 Tokyo Olympics. In 2018, Climbing Business Journal reported about a 12% increase in the commercial… read more.
HAWAIʻI ISLAND
Roth is considering charging tourists to visit beach parks, zoo
Mayor Mitch Roth said the fees would help pay for facilities. He also said a pay-as-you-throw garbage charge is under consideration again. West Hawaii Today.

Acting HR director named to permanent post
Waylen Leopoldino was awarded the permanent position, eight months after he assumed the acting role when the former director retired. West Hawaii Today.

Hawai'i Volcanoes National Park plans restoration of summit facilities
Nearly four years after earthquakes from the 2018 Kīlauea eruption crippled buildings and roads, the National Park Serv­ice is proposing a multimillion-dollar plan to rebuild the park's summit region. Star-Advertiser.
HAWAII BUSINESS MAGAZINE
My Job: I'm Underwater With Sharks, Polar Bears, Walruses
This marine biologist works everywhere from the tropics to the poles. His goal: To understand and protect the ocean for the benefit of all. "I realized how important healthy oceans were to people and the encyclopedic knowledge within... read more.
MAUI COUNTY
Commission mulls pay hike for police chief
The Maui County Salary Commission heard testimony from more than a dozen people, most opposing a recommended 29% pay raise — from $158,851 to $205,000 — for new Police Chief John Pelletier. Maui News.

MEO to start youth programs on Molokaʻi
Maui Economic Opportunity is bringing its tobacco, alcohol, drugs, bullying and suicide prevention curriculum to high school and intermediate kids on Moloka'i. The Kāohi program is expected to get underway soon. Maui Now.
KAUAʻI
CC&R bill moves through County Council
Kaua'i lawmakers are pushing legislation that would prevent new housing developments from locking out lower-income families through strict covenants, conditions and restrictions (CC&Rs), which often exceed the county's own zoning ordinances. Garden Island.

Kauaʻi taro farmers spearhead a measure to streamline the water lease process
State lawmakers are considering simplifying the process of securing freshwater for crops — a complex and time-consuming task that often requires a lawyer. Hawai'i Public Radio.
FEBRUARY 2022 ISSUE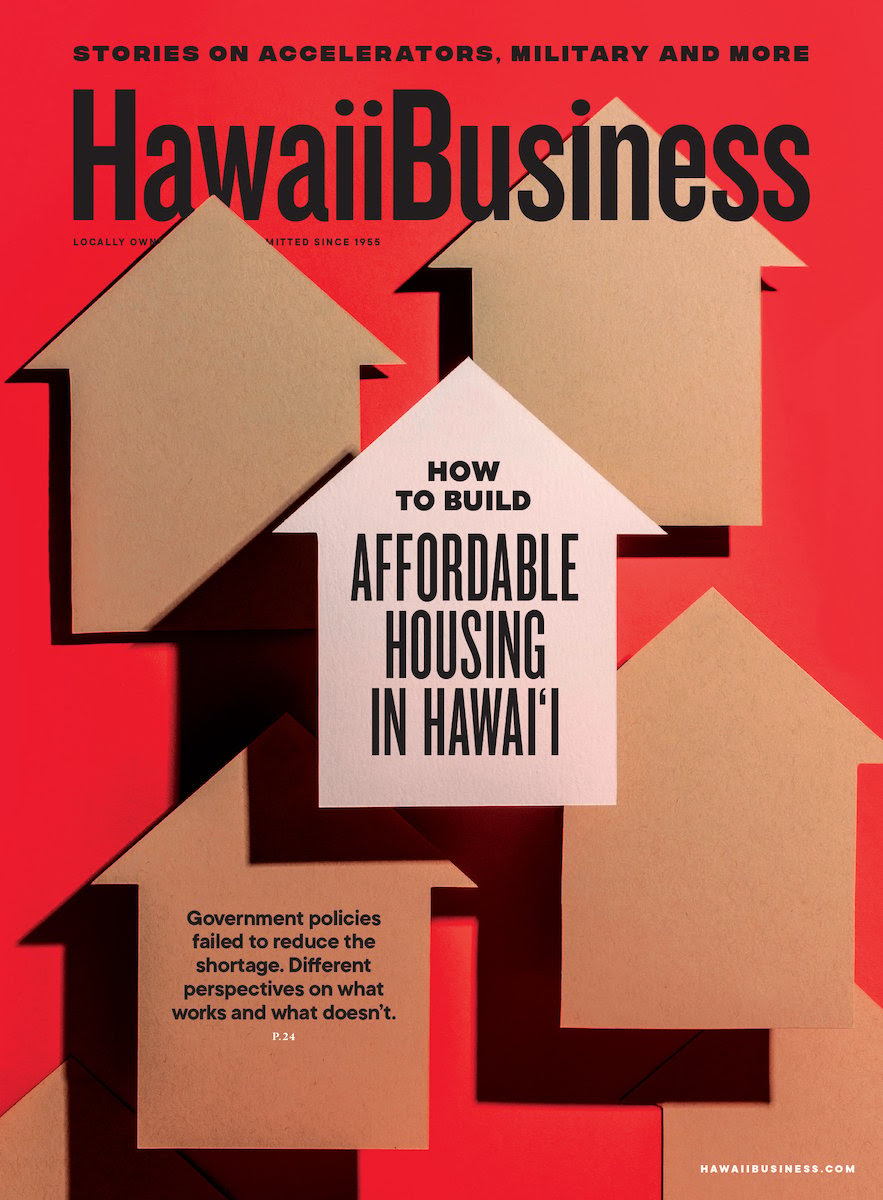 Dive into some of our latest features!
My Job Is Preserving Damaged Scrolls and Precious Art
EV Sales in Hawai'i Are Up 30.6%, and Many Buyers Say They're Glad They Made the Switch
Here's How Affordable Housing Policies Have Impacted Hawai'i's Housing Supply

Many Hawai'i Defense Jobs Are Not Going to Locals. Advocates Want to Change That.
Hawaii Business Magazine 
 1088 Bishop St. Ste. LL2
Honolulu, HI 96813
General Inquiries: (808) 537-9500
Advertising/Sponsorships: (808) 534-7124
For the latest Hawaii State, Hawaii Island, West Hawaii, and Hawaii Sports News, please check the blog sidebar, links, and twitter posts.