Hawaii House speaker favors tough penalties to deter bribery.
Views expressed in this Hawaii State News summary are those of the reporters and correspondents.
Accessed on 10 February 2022, 2350 UTC.
Content provided by "Hawaii Business Magazine Newsletters."
Source:
Please click link or scroll down to read your selections.
Locally Owned, Locally Committed Since 1955
2.10.22
TOP STORIES
Hawai'i House speaker favors tough penalties to deter bribery
The speaker of Hawai'i's House of Representatives said Wednesday he supports stronger ethics laws and penalties to prevent bribery at the Legislature after federal prosecutors this week alleged two former lawmakers took bribes in exchange for shaping legislation while in office. Hawaii Tribune Herald. Hawaii News Now.

Former Hawai'i lawmakers J. Kalani English and Ty J.K. Cullen stand to lose half of their pensions if convicted of bribery. Star-Advertiser.

Bribery allegations against two former legislators could affect mid-term election turnout
The seats of the entire Hawai'i Legislature will be up for a vote on this year's election ballot and party leaders said they are doing what they can to have a strong voter turnout, despite bribery allegations against two former legislators. KHON2.

Expanded ethics training up for hearing in wake of Capitol corruption
Momentum is building to widely expand mandatory ethics training and further crackdown on influence-peddling in the wake of high-profile corruption cases. KHON2.

Hawai'i House considers bill to relax gift rule as watchdog group calls for culture shift
Common Cause Hawaii plans to submit testimony in strong opposition to House Bill 1871 bill, which aims to relax the rules when it comes to legislators accepting gifts by allowing things like gifts of aloha and foreign protocol gifts. KITV4.

Company at center of legislative bribery scandal a big political donor
State campaign spending records show that since 2014, company employees and officers, its owner and his relatives and related businesses and their workers have donated nearly $300,000 to more than 50 political candidates in Hawai'i. Hawaii News Now.

Bribery scandal could focus discussion on closing cesspools, environmentalists say. Hawaii News Now.

Lawmakers consider bill to fund an emergency sex trafficking shelter for minors
HB1700 would provide funding for nonprofit or nongovernmental organizations to operate sex trafficking emergency shelter for children during the next fiscal year. Hawaii Public Radio.

Kahele hints strongly at 2022 run for Hawai'i governor
U.S. Rep. Kai Kahele has represented Hawai'i's 2nd Congressional District for barely a year, indicated on the Honolulu Star-Advertiser "Spotlight" program Wednesday that he is seriously considering entering the contest. Civil Beat.

Rising harassment of public school employees sparks bill to make it a misdemeanor
Harassment of Hawai'i public school employees is on the rise, the state schools superintendent says, and that is why his department wants the state Legislature to classify it as a misdemeanor crime. Star-Advertiser.

More cruise ships scheduled to arrive at Hawaii ports as Covid-19 cases continue to trend down
In a sign that Hawai'i has reopened its economy, dozens of cruise ships have been scheduled to arrive at Hawai'i ports this year and through the summer of next year, despite the ongoing coronavirus pandemic. Star-Advertiser.
HAWAII BUSINESS MAGAZINE
20 for the Next 20: Sandra Fujiyama, Pacific Asian Center for Entrepreneurship at UH Mānoa
Sandra Fujiyama believes a job description is only a starting point. "You're not in a job just to do your job, you're in a job to figure out how to make the greater community work and move forward in an efficient manner," says Fujiyama… read more.
OʻAHU
Cameras positioned to record Red Hill fuel leaks inoperable, Hawaii Congressman Kai Kahele says
Hawai'i Congressman Kai Kahele says that the Navy's Red Hill fuel facility is lined with surveillance cameras, two of which were perfectly positioned to record the May and November fuel spills that are believed to have led to jet fuel contaminating residents' tap water. Star-Advertiser.

Experts say HPD report fails to review tactics used in deadly 2020 standoff
A long-awaited Honolulu Police Department report detailing a deadly police standoff two years ago fails to address how future tragedies could be avoided, two independent law enforcement experts say. HPD increased training following the Hibiscus Drive shooting but did not update its policies. Civil Beat.

Lawmakers progress 4 measures aimed at preventing another Red Hill fuel contamination crisis
The House committees on Health, Human Services and Homelessness, and Energy and Environmental Protection held a joint hearing on four bills related to the Red Hill water crisis. Hawaii Public Radio.
HAWAII BUSINESS MAGAZINE
AIA Honolulu's Mentoring Program Is Being Adopted Nationally
The American Institute of Architects' 5x5x5 program connects small groups of architects and designers with seasoned professionals. "The hope is that by participating in this program, mentees will gain value in their personal career and provide some leadership development for the next generation of design professionals… read more.
HAWAIʻI ISLAND
Homeless earmark bill advances
Most of an extra tax property owners already pay on their multimillion-dollar residential homes would be earmarked for homeless projects, under a bill advanced Wednesday by the County Council Finance Committee. West Hawaii Today.

Puna access road bill advances for 'ongoing discussion'
The state House Transportation Committee on Wednesday passed, with amendments, a bill that would require site surveys to identify the most suitable location for a Puna Makai Access Road to relieve traffic congestion on Highway 130. Tribune-Herald.

Officials: Hilo's sewage plant in danger of failure that could trigger environmental disaster
Officials at Hilo's Wastewater Treatment Plant warn the facility is in danger of complete failure, saying if the plant goes down it could trigger an environmental disaster. Hawai'i County says it urgently needs $100 million to replace the facility. Hawaii News Now.

HPD seeks $2M for animal control
The Hawai'i Police Department has requested $2 million from the county to purchase a new animal shelter in Puna in order to improve its animal control capabilities. Tribune-Herald.
HAWAII BUSINESS MAGAZINE
Inside the Vault at 'Ulu'ulu Archives
"What makes film archives really unique places is the ability to make history much more engaging," says Janel Quirante, head archivist at 'Ulu'ulu, which means collections, assembly or gathering. "Being able to see people's faces and hear their voices telling their stories is a much more visceral way of experiencing history... read more.
MAUI COUNTY
New Kaupō center took ʻlots of alohaʻ to build; E. Maui project gains approvals
Saying it took many years and "lots of aloha," Kaupō community leaders highlighted the significance of their new community resource center on remote, historic East Maui grounds, which gained approvals Tuesday at Maui Planning Commission. Maui Now.

Tree poaching reported at Lelekea Beach in Kīpahulu district of Haleakalā National Park
The National Park Service is requesting assistance in identifying anyone responsible for poaching trees at Lelekea Beach in the Kīpahulu District of Haleakalā National Park. Maui Now.
KAUAʻI
Public pushes Kaua'i County Council to pass feral cat feeding ban
Speakers from throughout the island, state and mainland urged Kaua'i lawmakers to ban the feeding of feral cats on county property, at Wednesday's County Council meeting. Garden Island.

State, Kauai face suit over alleged pollution discharge into ocean
Environmentalists are threatening to sue the state and Kaua'i County over claims they are discharging untreated drainage water into the ocean in Kekaha. Hawaii News Now.
FEBRUARY 2022 ISSUE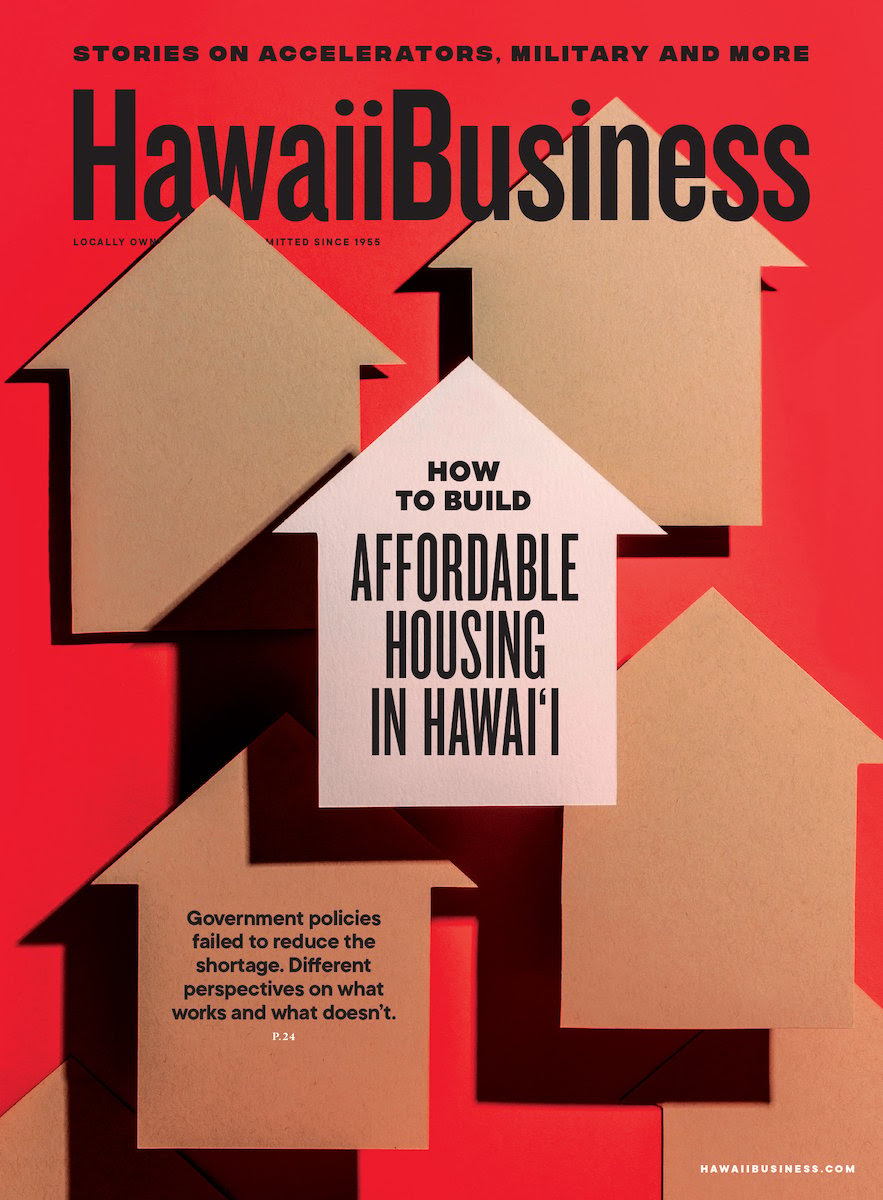 Dive into some of our latest features!
My Job Is Preserving Damaged Scrolls and Precious Art
EV Sales in Hawai'i Are Up 30.6%, and Many Buyers Say They're Glad They Made the Switch
Here's How Affordable Housing Policies Have Impacted Hawai'i's Housing Supply

Many Hawai'i Defense Jobs Are Not Going to Locals. Advocates Want to Change That.
Hawaii Business Magazine 
 1088 Bishop St. Ste. LL2
Honolulu, HI 96813
General Inquiries: (808) 537-9500
Advertising/Sponsorships: (808) 534-7124
For the latest Hawaii State, Hawaii Island, West Hawaii, and Hawaii Sports News, please check the blog sidebar, links, and twitter posts.
Thanks for joining us today.