Two Hawaii lawmakers are accused of taking thousands of dollars in bribes.
Views expressed in this Hawaii State News summary are those of the reporters and correspondents.
Accessed on 09 February 2022, 2135 UTC.
Content provided by email subscription to "Hawaii Business Magazine Newsletters."
Source:
Please click link or scroll down to read your selections.
Locally Owned, Locally Committed Since 1955
2.9.2022
TOP STORIES
Two Hawai'i lawmakers are accused of taking thousands of dollars in bribes
The U.S. Department of Justice has filed charges against former state Sen. J. Kalani English and state Rep. Ty Cullen for allegedly taking thousands of dollars in bribes to promote and kill legislation related to cesspool and wastewater policy to benefit a Hawai'i industrial services company and its affiliated businesses. Star-Advertiser. Civil Beat. Hawaii Public Radio. Hawai'i Tribune-Herald. Big Island Now. Maui Now. Hawaii News Now. KITV4.
Hawai'i GOP says indictments show 'system is rigged.' Star-Advertiser.
The bribery scandal is spurring calls for more transparency and public involvement at the state Capitol. Hawaii News Now. KHON2.

Bribery stymies efforts to fix Hawai'i's massive cesspool problem
Those affected by the alleged bribery schemes against two lawmakers include people working in good faith to solve one of Hawai'i's most pressing environmental threats: cesspools and their 53 million gallons-a-day of untreated sewage. KHON2.

Governor to appoint representative to fill House District 39 seat following bribe allegations
Former Rep. Ty Cullen resigned on Feb. 8. The work to replace him comes as the legislative session is underway, causing concern for some residents. KHON2.

Hawai'i governor, citing drop in Covid-19 cases, will not mandate booster for travelers
The state, will, however, keep its indoor mask mandate in place, along with other rules that have helped Hawai'i manage the pandemic while reopening the economy. Star-Advertiser. Civil Beat. Maui Now. Garden Island. Hawaii News Now.

Hawai'i residents weigh in on limiting tourism, minimum wage increase
Hawai'i voters are divided over whether they want to cap tourism arrivals, but overwhelmingly want to charge visitor fees at certain state parks, according to the Honolulu Star-Advertiser's Hawaii Poll. Star-Advertiser.
Hawai'i residents strongly back minimum wage increase, poll finds. Star-Advertiser.

Bill proposes funding for DOE to make surfing a statewide interscholastic sport
House Bill 2277 would provide an unspecified dollar amount to the state department to promote and support surfing as an interscholastic sport in all the state's high school athletic leagues. West Hawaii Today. Star-Advertiser.

Hawai'i inmate deaths are the highest in 10 years, but the state can't say why
Corrections officials still aren't providing a cause of death for 20 of the 23 prisoners who died in Hawai'i prisons and jails last year. Civil Beat.

OHA delegation travels to Germany to bring ancestral remains back to Hawai'i
The body overseeing Berlin's museums this week began the process of handing over over Hawaiian ancestral remains collected by a German naturalist in the 19th century to authorities in Hawai'i. Star-Advertiser. Hawaii Public Radio. Big Island Video News. Maui Now. Hawaii News Now. KHON2.

HAWAII BUSINESS MAGAZINE
20 for the Next 20: Guy Churchill, Bank of Hawaii
The Bank of Hawaii executive VP and director leads the bank's sustainable finance group, which focuses on affordable housing and renewable energy. Guy Churchill says his family inspires him to bring enthusiasm and joy to his job… read more.
OʻAHU
Bills to shut down Red Hill fuel facility move forward at Hawai'i Legislature
As the federal government fights the state's shutdown order in court, city and state lawmakers are making moves to close the facility through legislation. Civil Beat.

Chronic water pollution found in Honolulu, Kāneʻohe and Haleʻiwa
The Surfrider Foundation's Blue Water Task Force found high concentrations of bacteria in fresh water sources and beaches around Honolulu, Kāneʻohe and Haleʻiwa. Hawaii Public Radio.
HAWAII BUSINESS MAGAZINE
From Kona's Natural Energy Lab, Hatch Invests in Aquaculture Startups Around the Globe
The global accelerator Hatch uses its Kona branch as part of its mission to reduce the footprint of farmed and alternative seafood. Co-founder and partner Wayne Murphy calls Hatch the world's first aquaculture accelerator. "There's an amazing array of aquaculture technologies… read more.
HAWAIʻI ISLAND
County officials provide council panel update on testing contract
Hawai'i County officials said Tuesday they are satisfied with the performance of TrueCare24 Inc., the company contracted for county-sponsored Covid testing, despite reports of lost tests and late results. West Hawaii Today.

Roth, Magno explain response to last month's tsunami threat
Hawai'i County Civil Defense and Mayor Mitch Roth on Tuesday defended the county's response last month to a tsunami threat triggered by the eruption of a volcano in Tonga. Tribune-Herald.

County rolls out new Covid testing program for businesses
The county will administer the program in partnership with Community First Hawaiʻi through its Our Kuleana Pledge Partners to help prevent workplace spread of Covid-19 through travel-related testing. Big Island Now.
HAWAII BUSINESS MAGAZINE
Kāne Connections Helps Men Forge Bonds with Their Families
While working at the Aloha House residential treatment center in Makawao, Maui, David "Kawika" Mattos realized a lot of the men did not have the skills or insight to nurture their own children, especially if they were coming out of prison... read more.
MAUI COUNTY
Rep. Kai Kahele visits Maui, giving 'serious thought' to run for governor
Democratic US Rep. Kaialiʻi Kahele continued making his rounds on Maui as he updated various government and community organizations on issues pending before Congress. Maui Now.

Maui saw nearly 2.3 million visitors in 2021
Maui saw nearly 2.3 million visitors last year who spent a total of $4 billion, closer to pre-pandemic numbers but still lagging behind 2019, according to a recent report of preliminary visitor statistics. Maui News.
KAUAʻI
County of Kaua'i 'troubled' by lessee's pollution on Waimea 400 land
On Monday, the state Department of Health fined Maui Asphalt X-IV, LLC $107,500 for discharging pollutants into state waters without a permit or pollution-control methods. Maui Asphalt operates on about four acres of the county's 417-acre property on a lease term that currently expires at the end of this year. Garden Island.

First Rapid ʻŌhiʻa Death reported on Kauaʻi's Alakaʻi Plateau; beetle repellent may help
The first case of Rapid ʻŌhiʻa Death in the Alakaʻi Plateau forest on Kauaʻi was found in a dead tree during a helicopter survey by the state Department of Land and Natural Resources. Maui Now. Garden Island. Hawaii News Now.
FEBRUARY 2022 ISSUE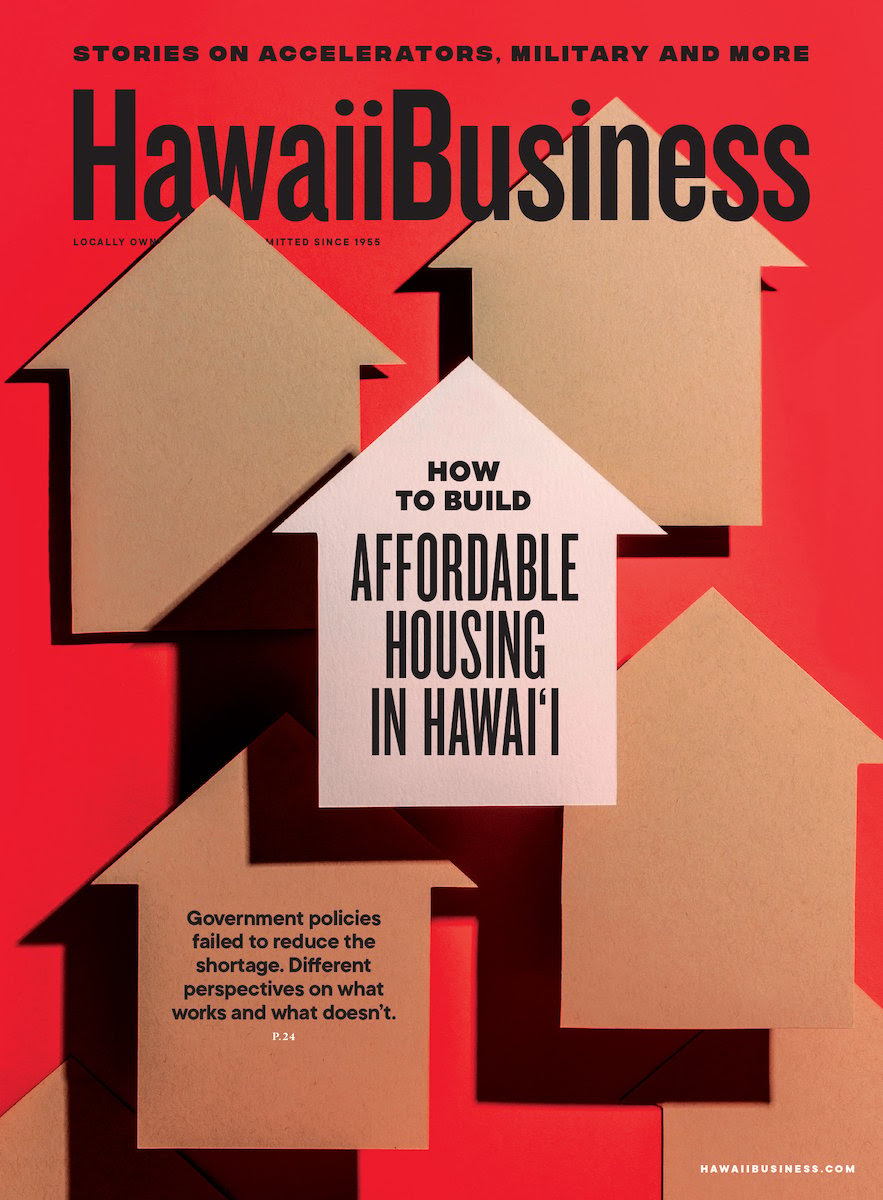 Dive into some of our latest features!
My Job Is Preserving Damaged Scrolls and Precious Art
EV Sales in Hawai'i Are Up 30.6%, and Many Buyers Say They're Glad They Made the Switch
Here's How Affordable Housing Policies Have Impacted Hawai'i's Housing Supply

Many Hawai'i Defense Jobs Are Not Going to Locals. Advocates Want to Change That.
Hawaii Business Magazine 
 1088 Bishop St. Ste. LL2
Honolulu, HI 96813
General Inquiries: (808) 537-9500
Advertising/Sponsorships: (808) 534-7124
For the latest Hawaii State, West Hawaii, Hawaii Island, and Hawaii Sports News, please check the blog sidebar, links, and twitter posts.