Josh Green's approval ratings climb in Hawaii governor's race.
Views expressed in this Hawaii State News summary are those of the reporters and correspondents.
Accessed on 07 February 2022, 2145 UTC.
Content provided by "Hawaii Business Magazine Newsletters."
Source:
Please click link or scroll down to read your selections.
Locally Owned, Locally Committed Since 1955
2.7.2022
TOP STORIES
Josh Green's approval ratings surge in Hawai'i governor's race
Lt. Gov. Josh Green has a commanding 65% overall approval rating among voters, and 70% approval for his handling of the pandemic, a Star-Advertiser poll shows. Star-Advertiser.
But a huge chunk of undecided voters means every candidate still has a path to victory. Star-Advertiser.
Gov. David Ige and Honolulu Mayor Rick Blangiardi polled lowest among the nine politicians. Star-Advertiser.

Bill banning more sunscreen chemicals advances
SB 3001 is scheduled to be heard by a Senate committee today, while the House version of the bill is scheduled for Tuesday.  Star-Advertiser. 

U.S. Secretary of State to stop in Hawai'i
Antony Blinken will visit next week after a trip to Australia and Fiji, when he plans to push back on "aggression and coercion" in the Indo-Pacific region. Star-Advertiser.

Should Hawai'i gamble on online sports betting? 
Measures that would regulate online betting could generate some tax revenues for the state, but experts worry easy access could fuel gambling addictions. Civil Beat.

House bill spurred by murder of young Waimānalo girl moves forward
The House Committee on Health, Human Services and Homelessness passed a bill that would boost protection for adopted children by allowing more check-in visits from the state. Hawai'i Public Radio.

Hawai'i civil rights agency grapples with solving long-delayed cases
The Hawai'i Civil Rights Commission is down to just four investigators to work on a backlog of 300 cases. While funding for hiring has been restored, positions remain unfilled. Civil Beat.

Board of Education weighs qualifications for tough superintendent job
Keith Hayashi has been acting as the interim state superintendent of public schools for six months, but the head of the search team says they're still looking for the next permanent superintendent. Star-Advertiser.

Hawai'i's blood shortage triggers tax incentive bill for donors
The state Legislature is considering tax breaks for people who give blood because of low donor numbers in recent months. Star-Advertiser.
HAWAII BUSINESS MAGAZINE
20 for the Next 20: Trevor Asam, Cades Schutte
The Cades Schutte partner discovered his affinity for tax law while studying at Duke University School of Law. Long before Trever Asam became a sought-after tax attorney, he spent three years teaching middle school social studies at Paul Public Charter School in Washington, D.C… read more.
OʻAHU
Pressure to further ease Covid rules mounts as cases decline
The city's restrictions on large gatherings of 1,000 or more lapsed last week, and Mayor Rick Blangiardi said no new restrictions are planned. Hawaii News Now.

Poll shows that most residents want the Red Hill facility shut down 
An overwhelming majority of Hawai'i respondents say the Navy should permanently shut down its Red Hill fuel tanks, according to a Star-Advertiser poll. Star-Advertiser.

Honolulu Police Commission calls for public input on next police chief
The commission has issued an online survey to gauge the public's view of the police department and the qualities desired in the next chief. The survey runs until Feb. 13. Civil Beat.

Caldwell says former city officials are innocent
Former Mayor Kirk Caldwell says his one-time corporation counsel, managing director and chair of the police commission did not break the law while arranging a $250,000 retirement settlement for the former police chief, Louis Kealoha, that bypassed City Council review. Star-Advertiser.

Bill would establish state park along Kaiwi Coast
Senate Bill 2799 would create the Kaiwi Coast State Park, comprised of about 360 acres that include Makapu'u Point Lighthouse Trail and Wāwāmalu Beach. The bill would transfer the city land to the state Department of Land and Natural Resources. Star-Advertiser.
HAWAII BUSINESS MAGAZINE
Vaccine Resistance and Red Hill Crisis Share a Common Thread: "Social Weakness"
What seems like awful timing for a story on civilian jobs is a side-effect of in-depth reporting that takes months to complete. Rather than hold the article, I published it. But I want to connect Red Hill, vaccine resistance and the way forward for Hawai'i and the armed forces… read more.
HAWAIʻI ISLAND
County Council to get update Tuesday on contracts for Covid testing and spending
TrueCare24 Inc., which lost more than 400 test samples last month, was the lowest bidder and the least compliant with bidding requirements, according to an analysis of bid documents and purchase agreements. West Hawaii Today.

Banyan Drive redevelopment bill proposed
A House bill would create the Waiakea Peninsula Redevelopment District and planning committee for the public lands on Banyan Drive. Big Island Video News.

Effort to secure new hospital for North Kona renewed
A House bill to fund a site assessment for a new hospital passed its first committee hearing last week. West Hawaii Today.
HAWAII BUSINESS MAGAZINE
How and Why This Central Pacific Bank Executive Mentors Others
Mentoring is a strong value in Kisan Jo's job and life, and he frequently offers his knowledge and experience to employees seeking help. "It's not a secret sauce where you keep it to yourself and no one else knows. I think mentorship is passing on the information you have... read more.
MAUI COUNTY
Maui County drops its booster requirement to be considered "fully vaccinated"
Starting Monday, Feb. 7, the county is relaxing its requirement that business patrons show that they've received a booster shot. KITV4.

Airbnb removes 1,300 unlicensed Maui rentals under new county agreement
The company said it recently removed the vacation rentals under an agreement it made last year with the county. Hawai'i Public Radio.

Study shows Maui's polystyrene ban had a limited impact on beaches
Of five beaches studied, only two showed a minor reduction in polystyrene debris after the ban, said the co-director of the Hawaiʻi Pacific University Center for Marine Debris Research. Hawai'i Public Radio.
KAUAʻI
Kauaʻi sponsors sought for summer food programs
The U.S. Department of Agriculture's Summer Food Service Program is seeking sponsor organizations to help provide children in low-income communities with free meals. Garden Island.

Nonprofits invited to apply for Kauaʻi United Way funding
Organizations should contact Lori Almarza, KUW acting director, by Feb. 18 to indicate their intent to apply. Garden Island.
JANUARY/FEBRUARY 2022 ISSUE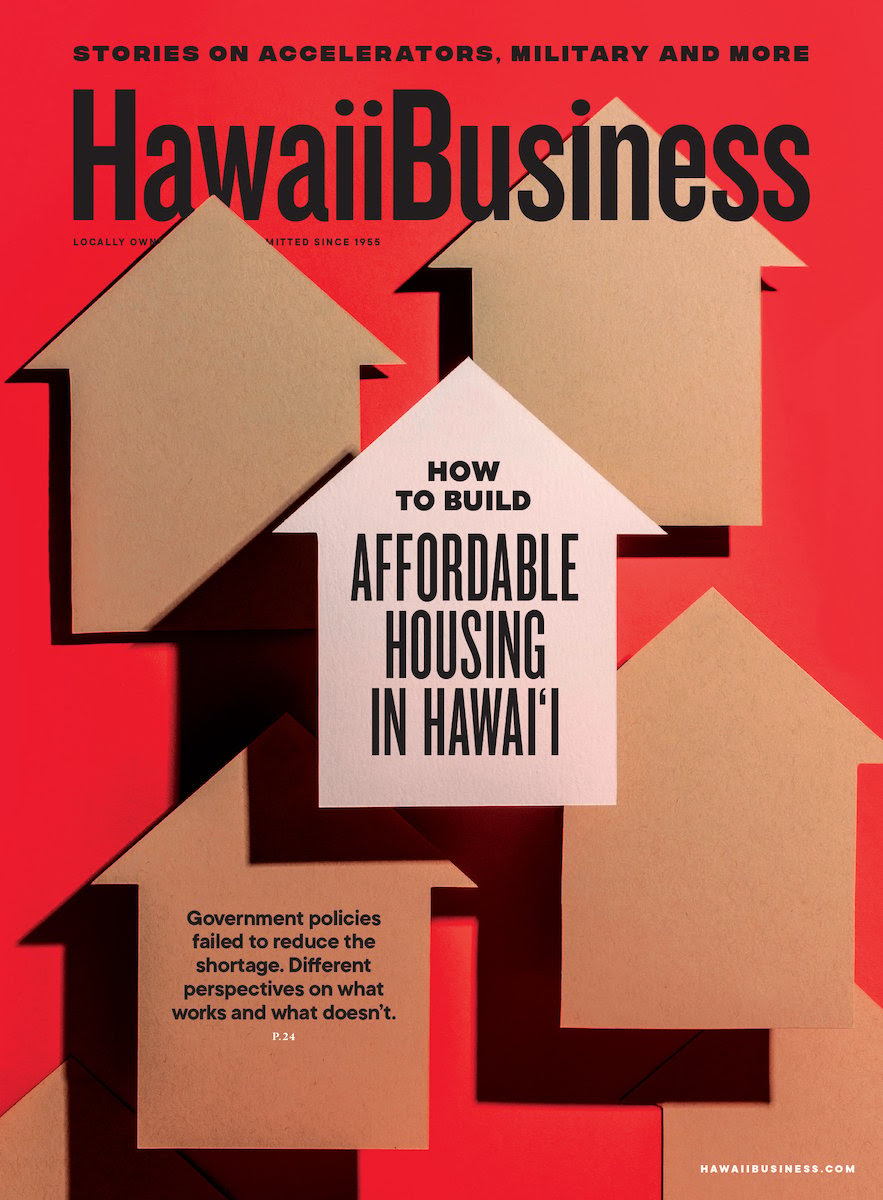 Dive into some of our latest features!
My Job Is Preserving Damaged Scrolls and Precious Art
EV Sales in Hawai'i Are Up 30.6%, and Many Buyers Say They're Glad They Made the Switch
Here's How Affordable Housing Policies Have Impacted Hawai'i's Housing Supply

Many Hawai'i Defense Jobs Are Not Going to Locals. Advocates Want to Change That.
Hawaii Business Magazine 
 1088 Bishop St. Ste. LL2
Honolulu, HI 96813
General Inquiries: (808) 537-9500
Advertising/Sponsorships: (808) 534-7124
For the latest Hawaii State, Hawaii Island, West Hawaii, and Hawaii Sports News, please check the blog sidebar, links, and twitter posts.