Hawaii legislators will consider money reward for those who report illegal fireworks.
Views expressed in this Hawaii State News summary are those of the reporters and correspondents.
Accessed on 04 February 2022, 2025 UTC.
Content provided by email subscription to "Hawaii Business Magazine Newsletters."
Source:
Please click link or scroll down to read your selections.
Locally Owned, Locally Committed Since 1955
2.4.22
TOP STORIES
Money reward for people who report illegal fireworks among list of proposed bills Hawai'i legislators will consider Friday
To address the issues of illegal fireworks that disrupt and harm Hawaiʻi's communities, the House Committee on Consumer Protection & Commerce will be holding a hearing Friday, Feb. 4 at 2 p.m. to consider seven bills. One bill aims to raise fines for fireworks-related violations and another will mandate each county to offer a money reward to people who report illegal fireworks. Maui Now. KHON2.

Hawaiian homestead bills advance at state Legislature
Separate committees in the state House and Senate unanimously voted to advance a pair of bills aimed at delivering $600 million this year to the state Department of Hawaiian Home Lands so the agency can dramatically reduce an immense backlog of around 28,700 beneficiaries waiting for homesteads. Star-Advertiser. Hawaii Public Radio.

Hawai'i lawmakers consider changing fine for using your phone while driving
The bill was introduced by Rep. Henry J.C. Aquino (D) Waipahu, and he said that every person who violates this shall be subject to a fine that should be deposited into the state highway fund. KHON2.

Bills urge DLNR to recognize importance of game animals
House Bill 1872 and Senate Bills 2069 and 3299 urge the Department of Land and Natural Resources to recognize the value of game animals and birds as a sustainable resource and integrate local hunting and fishing industries into food security and sustainability programs. Tribune-Herald.

State Legislature weighs flavored tobacco ban
Valerie Saiki remembers walking her son to school with a group of kids when a passing car filled the air with the smell of cotton candy-flavored e-cigarette smoke. Garden Island.

Measure to legalize water cremation in Hawai'i moves forward
Despite strong opposition, a measure to legalize water cremation in Hawai'i is moving forward. The bill in support of alkaline hydrolysis — using water to cremate bodies — just passed the state Health, Human Services and Homelessness Committee. Hawaii News Now.
HAWAII BUSINESS MAGAZINE
Affordable Walk-up Apartments Are Coming Back, Thanks to Honolulu's Bill 7
A five-story walk-up with 25 affordable rental units is being built on a 5,000-square-foot lot in Liliha, the former site of an abandoned single-family home built in the 1940s. The new building at 311 Puuhue Place is the first project constructed under Honolulu's Bill 7… read more.
OʻAHU
Hawai'i health officials review drinking water standards after Red Hill fuel crisis
Five years ago, the state health department increased the acceptable level of diesel in drinking water. The Honolulu Board of Water Supply says that was a mistake. Civil Beat.

Army clarifies events in water flushing video circulating on social media
The U.S. Army clarified what's happening in a video circulating on social media that has raised alarm among some residents of the Aliamanu Military Reservation and Red Hill. Hawaii Public Radio. Hawaii News Now.

Feds object to requested deposition of former Honolulu budget director
An attorney for Honolulu's former top attorney Donna Leong wants to depose the retired city budget director to help her fight a federal conspiracy charge, but federal prosecutors argued she shouldn't be allowed to do that. Prosecutors question whether the former budget director has the "ability and competency to testify." Civil Beat. Star-Advertiser.

Destruction of historic walls in Niu Valley leads to finger-pointing between agencies
In Niu Valley, residents and historians are upset that parts of historic walls along a ridge have been destroyed by a home construction project. The owners had the right permits and that's led to finger pointing between government agencies. Hawaii News Now.

Proposal for affordable housing on shuttered Stadium Bowl-O-Drome's location continues forward
DHHL and Stanford Carr Development released an environmental assessment, which includes 278 affordable units across 22 floors of livable space, seven townhomes as well as commercial space. KHON2.

West O'ahu region has large segment of registered medical cannabis patients
The growing West O'ahu community now has its first medical cannabis dispensary with Thursday's opening of Cure Oahu's 2,200-square-foot facility in Kapolei. Star-Advertiser.

Principal who received disturbing threats says DOE isn't taking her safety seriously
A Hawai'i middle school principal targeted with a series of disturbing threats of violence said the state isn't doing enough to protect her, her family, and others at the school. Katherine Balatico is the principal at Stevenson Middle School in Honolulu. Hawaii News Now.
HAWAII BUSINESS MAGAZINE
My Job Is Preserving Damaged Scrolls and Precious Art
Sakurai, born in Kyoto, Japan, says she decided to become an artist at age 3. After earning a bachelor's degree in architecture and design from Kyoto Institute of Technology, she resumed her focus on art. "If I don't keep doing this technique and using traditional materials, this type of art could die out… read more.
HAWAIʻI ISLAND
Ka'u Coffee farmers grab land — and control of their futures
Many are former sugarcane plantation workers who, when their employer went bust, started one of the most renowned coffee regions of the world. After years of uncertainty, dozens of Ka'u coffee farmers are now buying the land they've worked for more than two decades. Civil Beat.

Native Hawaiian non-profit appoints new executive director
Kawehi Inaba, founder of Mokulele Airlines and former Hawaiʻi County Research and Development director, will head the Kealakehe non-profit Laʻiʻōpua 2020. Its mission is to "provide social, recreational, vocational, economic, educational, and cultural opportunities and infrastructure to Native Hawaiians."  Big Island Video News.
HAWAII BUSINESS MAGAZINE
Horses are Healers at this Kaua'i Nonprofit
Healing Horses Kauai uses riding therapy to improve their patients' physical, cognitive and emotional health. The nonprofit welcomes riders of all abilities, providing an environment where healing and having fun can happen... read more.
MAUI COUNTY
Here's how county leaders think Maui can get tourism under control
From capping the number of hotels to requiring tourists to make reservations for popular spots like hiking trails and waterfalls, a group of Maui County leaders tasked with finding new ways to control over-tourism has released its list of ideas. Civil Beat.

Measure would set weight limits, user fees for tourism-related vehicles on 2 Maui highways
House Bill 1632 would set these limitations – as well as user fees – for certain vehicles and tour operators on Hana and Haleakala highways. Hawaii Public Radio.

Council wants to secure East Maui water leases sought by Alexander & Baldwin
The Maui County Council wants to secure the long-term water leases for East Maui that are pending before the state Board of Land and Natural Resources. Hawaii Public Radio.

Haleakalā National Park to develop new distance-learning program in Hawaiian
A team is developing a new distance-learning program in Hawaiian for Hale­akalā National Park. The project is considered one of the first in the National Park Service to offer this level of virtual programming and in a language other than English. Star-Advertiser.
KAUAʻI
Flags to fly half-staff in memory of former Kauaʻi state legislator
U.S. and state flags throughout Hawaiʻi will fly at half-staff Friday, Feb. 4, to pay respect to former state Rep. Ezra Kanoho. He died last week at the age of 94. Big Island Now. Star-Advertiser. Maui Now. Garden Island. KITV4.
JANUARY/FEBRUARY 2022 ISSUE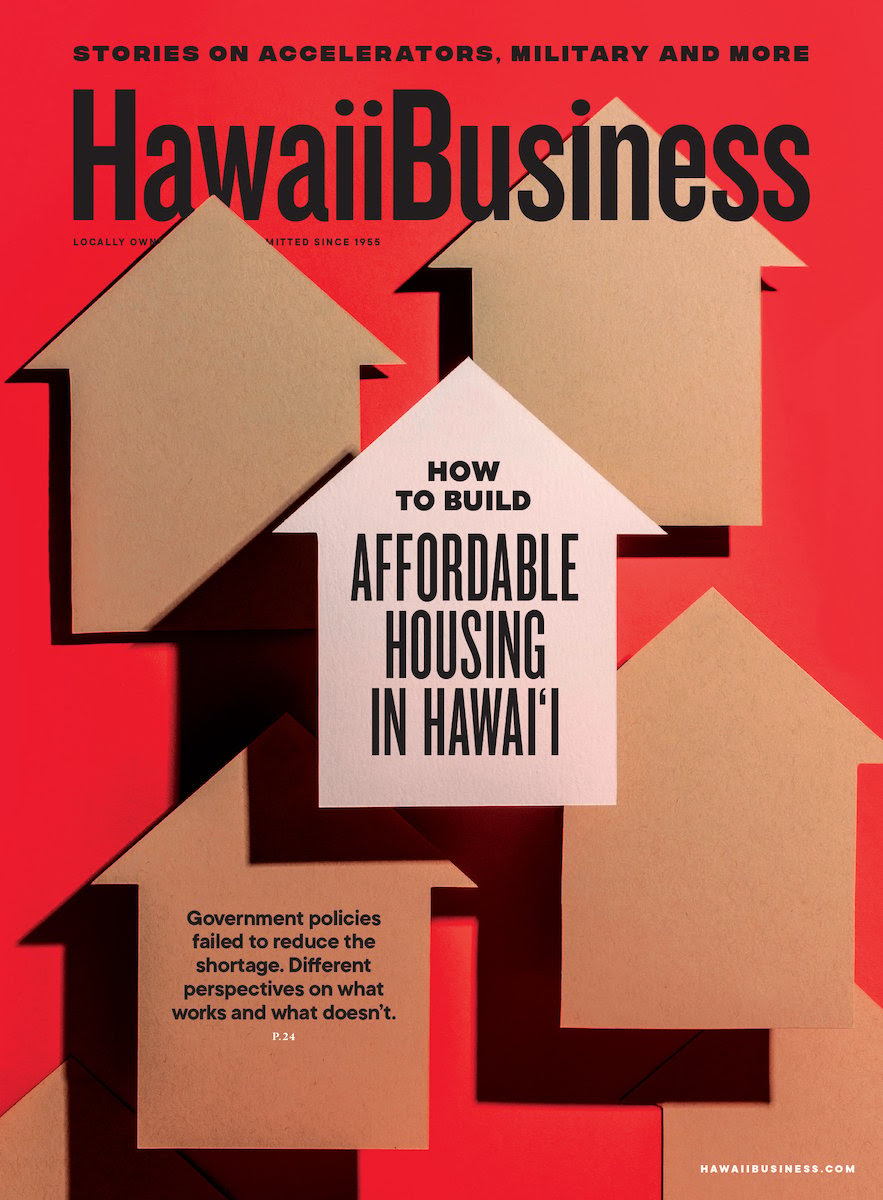 Dive into some of our latest features!
My Job Is Preserving Damaged Scrolls and Precious Art
EV Sales in Hawai'i Are Up 30.6%, and Many Buyers Say They're Glad They Made the Switch
Here's How Affordable Housing Policies Have Impacted Hawai'i's Housing Supply

Many Hawai'i Defense Jobs Are Not Going to Locals. Advocates Want to Change That.
Hawaii Business Magazine 
 1088 Bishop St. Ste. LL2
Honolulu, HI 96813
General Inquiries: (808) 537-9500
Advertising/Sponsorships: (808) 534-7124
For the latest Hawaii State, Hawaii Island, West Hawaii, and Hawaii Sports News, please check the blog sidebar, links, and twitter posts.
Thanks for joining us today.