Missing master keys lead to an expensive "security fiasco" at the State Capitol building.
Views expressed in this Hawaii State News summary are those of the reporters and correspondents.
Accessed on 03 February 2022, 2026 UTC.
Content provided by email subscription to "Hawaii Business Magazine Newsletters."
Source:
Please click link or scroll down to read your selections.
Locally Owned, Locally Committed Since 1955
2.3.22
TOP STORIES
Missing master keys lead to an expensive security fiasco at the state Capitol building
In an expensive security fiasco at the state Capitol, state lawmakers are spending $250,000 to change every lock in their offices because master keys have gone missing. Hawaii News Now.

Hawai'i lawmakers seek to rein in unpaid internships
Students would largely be barred from working for free outside academic settings under a measure introduced in the state Senate. While internships are a gateway to get experience in a student's chosen career field, some feel that working for free is unethical and benefits those with more financial backing.  Civil Beat.

Judge denies request by Hawaiian Airlines employees to halt vaccine mandate
U.S. District Court Judge Jill Otake said the plaintiffs had met none of the four requirements needed to obtain the requested temporary restraining order or injunctive relief. She also granted the airlines' request to strike from the record a declaration submitted by a purported expert for the plaintiffs, saying the declarant's "qualifications as an expert in this subject matter are questionable." Civil Beat. Hawaii Public Radio.

'You need to protect it': Lawmakers renew efforts to strengthen coffee labeling requirements
State lawmakers have renewed efforts to set tighter limits on using Hawai'i location names to sell coffee. However, only one of five bills introduced this session aimed at protecting the $60 million industry has gained traction. West Hawaii Today.

Lawmakers weighing tougher criminal penalties for assaults of retail workers
Employees say they are scared of some customer reactions while enforcing Covid-19 health requirements. Lawmakers are considering a bill that would make assaulting a retail worker a class C felony in Hawai'i. Civil Beat.

Hawai'i bill looks to outlaw small complimentary toiletries at hotels
Lawmakers are looking at a bill that would do away with single-use plastic toiletries at hotels and instead encourage them to provide things like shampoo, conditioner, and soap in bulk dispensers. KHON2.

Project Reset: Lawmakers push for program that gives criminals a second chance
The Project Reset bill is moving through the legislature and aims to offer better opportunities for those in prison looking to put a reset on their life. KHON2.

New NOAA satellite to monitor weather in Hawai'i region
Officials say the GOES-T satellite and will focus on monitoring the western continental U.S., Hawai'i, and Alaska. They say it will provide fast, accurate data for tracking destructive wildfires, lightning, dense fog, and Pacific Ocean-based storm systems. KITV4.
HAWAII BUSINESS MAGAZINE
How Collaboration Creates New Ideas and Projects
Ideas on how the right blend of collaboration, mentorship, infrastructure and information sharing can turn Hawai'i into a more creative, innovative and prosperous place. "It's important to look at your network and outside of that to see who would be willing to help… read more.
OʻAHU
Feds take Hawai'i to court over Red Hill defueling order
The federal government is taking Hawai'i to court over its emergency order requiring the Navy to drain its massive, underground fuel tanks at Red Hill, filing appeals in state and federal courts on Wednesday that argue the state overstepped its authority when it tried to shutter the aging fuel farm that has contaminated O'ahu's groundwater. Star-Advertiser. Civil Beat. Hawaii Public Radio. Hawaii News Now.

Top EPA official visits Hawaiʻi to oversee Navy flushing process and ensure accurate water sampling
The U.S. Environmental Protection Agency's number two official arrived in Honolulu from Washington this week to see firsthand the cleanup of the fuel-tainted water at Red Hill. Hawaii Public Radio.

Honolulu Police Department releases summary report on 2020 Hibiscus Drive killings
Two years after two Honolulu police officers responding to a 911 call of suspicious behavior were ambushed and killed by a sniper, the department released the official account of what happened that morning on Hibiscus Drive. Star-Advertiser. KHON2.

State approves 390-unit affordable housing development in Kapolei
The project will be the first residential project development on the more than 500-acres of the former Barbers' Point Naval Air Station. A portion of the households would be set aside for family's earning 140% of the area median income. Civil Beat.
SPONSORED BY ACCREDO
Accredo Expands Specialty Pharmacy Services to Hawaiʻi
Patients and physicians in Hawaiʻi now have another pharmacy option for specialty medications. Accredo, a full-service specialty pharmacy, has been serving patients from their Honolulu location since 2019… read more.
HAWAIʻI ISLAND
Bill aims to speed up lease extension approvals in Kanoelehua Industrial Area
With some Hilo business owners having a hard time getting their leases of state land extended, a bill in the state Legislature seeks to cut the Board of Land and Natural Resources out of the process entirely. Tribune-Herald.
HAWAII BUSINESS MAGAZINE
Do's and Don'ts of Using Grandparents for Child Care
Several of the working parents we interviewed say their relationships with their parents and in-laws improved when the older relatives helped with their keiki. But parents caution against taking older relatives' help lightly and to recognize the trade-offs that grandparents must make... read more.
MAUI COUNTY
Maui Police Commission suggests salary bump for Chief from $158,000 to $205,000
The Maui Police Commission voted unanimously to recommend a $47,000 bump in pay for the Maui Police Chief. The recommendation requests an increase in pay from the current $158,851 to $205,000 (+29%) as a new base salary. Maui Now. Hawaii News Now.

State to investigate as Maui residents, mansion owner clash over shoreline access
A popular spot for swimming and cliff jumping, Hawea Point this weekend also became a meeting place for hundreds of people to stand together in solidarity against alleged actions by a neighboring mansion owner to control access to the area.  Maui News. Hawaii News Now.

Days after getting evictions, Lana'i teachers are told they can stay in state-run housing
A big sigh of relief for some teachers on Lana'i who were told they were being evicted from state-run housing. After several days of confusion and fear, state Department of Education officials said they can stay. Hawaii News Now. KITV4.
KAUAʻI
How this Kaua'i community is benefiting from hosting the island's landfill
The west Kaua'i community has received more than $2 million through a benefits fund that residents have used for solar projects, youth sports and more. Civil Beat.
JANUARY/FEBRUARY 2022 ISSUE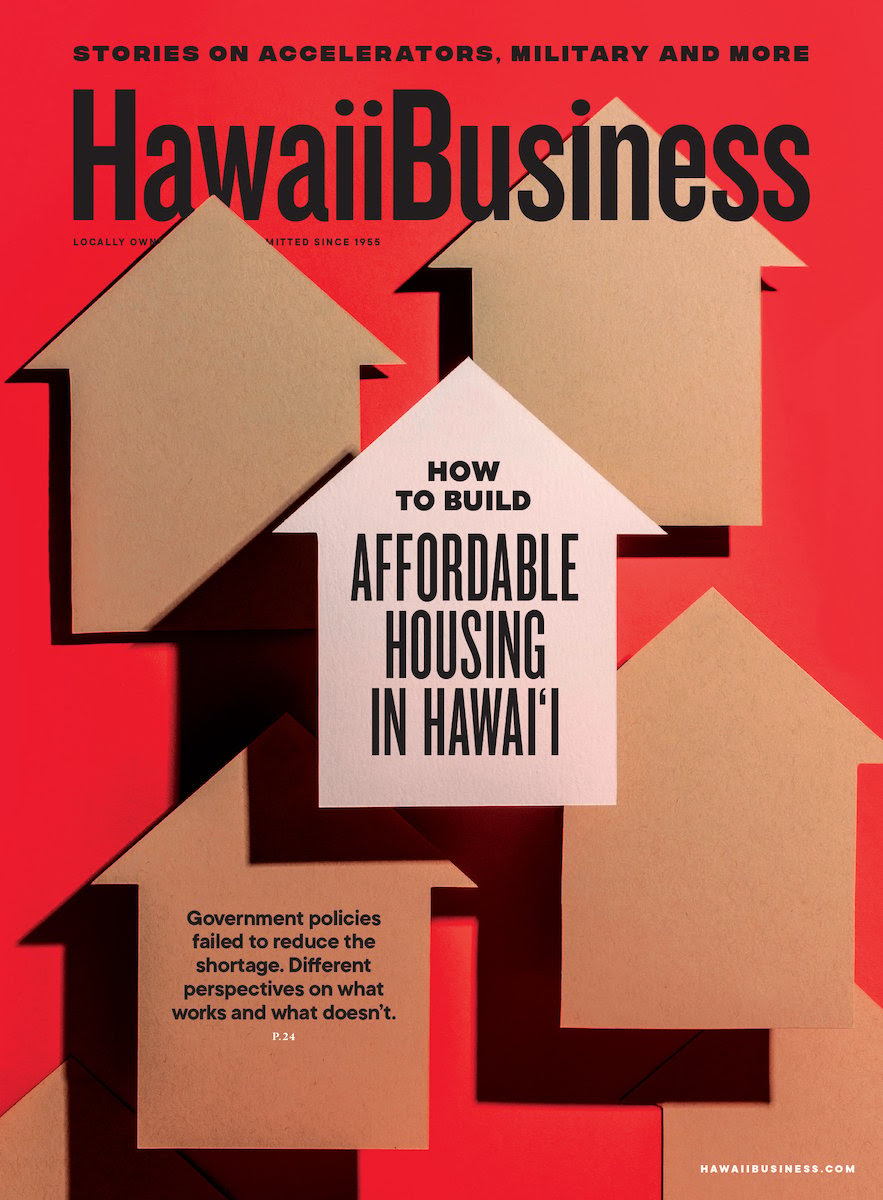 Dive into some of our latest features!
My Job Is Preserving Damaged Scrolls and Precious Art
EV Sales in Hawai'i Are Up 30.6%, and Many Buyers Say They're Glad They Made the Switch
Here's How Affordable Housing Policies Have Impacted Hawai'i's Housing Supply

Many Hawai'i Defense Jobs Are Not Going to Locals. Advocates Want to Change That.
Hawaii Business Magazine 
 1088 Bishop St. Ste. LL2
Honolulu, HI 96813
General Inquiries: (808) 537-9500
Advertising/Sponsorships: (808) 534-7124
For the latest Hawaii State, Hawaii Island, West Hawaii, and Hawaii Sports News, please check the blog sidebar, links, and twitter posts.
Thanks for joining us today.