State's $160M psychiatric facility sits empty months after completion.
Views expressed in this Hawaii State News summary are those of the reporters and correspondents.
Accessed on 03 February 2022, 0156 UTC.
Content provided by email subscription to "Hawaii Business Magazine Newsletters."
Source:
Please click link or scroll down to read your selections.
Locally Owned, Locally Committed Since 1955
2.2.22
TOP STORIES
State's $160M psychiatric facility sits empty months after completion
Officials say a variety of issues are preventing patient admissions, including repairs to the showers and door fixtures. It could take up to two years for the state to start admitting new patients. Hawaii News Now.

Bill would require DOE to provide free menstrual products in schools
The state Senate Committee on Education has advanced a bill that addresses menstrual equity and "period poverty" in Hawai'i. Tribune-Herald.

Cannabis industry calls for reduced regulations amid concerns over future of dispensaries
According to a new report from the industry, sales have plummeted in recent years. The industry blames regulation, citing tax burdens, limits on the number of retail and production locations, and a "cumbersome" medical ID verification process. Hawaii News Now.

As lawmakers look to add mileage tax to electric vehicles, critics worry it'll deter sales
State lawmakers are proposing a mileage tax for electric vehicle owners who are currently able to skirt the gas tax. A rate has not been set, but Senate Bill 3313 would charge owners annually during safety checks. Hawaii News Now. KITV4.

Hawai'i's high electric costs could be helped with new technology rollout
Hawaiian Electric is in the process of implementing advanced meters to help customers monitor and possibly reduce their use and bills. KHON2.

Longtime corrections officer elected to lead United Public Workers
Kalani Werner was elected state director of the union in a runoff contest, replacing longtime UPW leader Dayton Nakanelua. Civil Beat.

Key ruling on Hawaiian Airlines vaccine mandate is expected this week
A federal judge will decide whether to issue an order temporarily stopping Hawaiian Airlines from enforcing a Covid-19 vaccine mandate on seven plaintiffs who have sued the company for allegedly violating federal law by imposing the vaccine requirement. Civil Beat.

Brian Schatz enjoys $3.9M campaign war chest for senate reelection
Schatz, who was appointed to his seat in December 2012 and has since twice won reelection, received about two-thirds of his contributions from individuals and about one-third from political action committees. Civil Beat.
HAWAII BUSINESS MAGAZINE
3 Women-led Accelerators Are Funding the Next Generation of Entrepreneurs
Blue Startups, Elemental Excelerator and Mana Up are working to diversify Hawai'i's economy. "We've seen over the last two years that diversifying the economy here is as important as ever," says Chenoa Farnsworth, managing partner at Honolulu-based accelerator Blue Startups… read more.
OʻAHU
Green light nearing for red-light camera program on O'ahu
A system to issue traffic tickets for running red lights using automated cameras at problematic Honolulu intersections should be ready for use in May after a nearly yearlong delay. Star-Advertiser. Hawaii News Now. KHON2.

Navy water contamination crisis highlights flaws In early warning system
Of the 700 households that have reported contamination impacts to Armed Forces Housing Advocates, a nonprofit advocacy group, more than one in 10 were experiencing physical ailments for weeks, and sometimes months. Civil Beat.

Prosecutors offer another round of DUI plea deals
Instead of allowing scores of DUI cases to be dismissed, the city Prosecutor's Office is once again offering plea deals to some suspected drunk drivers. Hawaii News Now.

Amemiya attorney argues there was 'nothing criminal' about Kealoha payoff
A lawyer for former Honolulu managing director Roy Amemiya is asking a federal judge to dismiss the conspiracy charge against his client, according to a motion filed with the court. Civil Beat.

O'ahu bar claims new liquor commission laws discriminate against LGBTQ community
Scarlet Night Club said under the new rules, investigators can close a business without prior notice or a hearing if they believe there is a violation of "an emergency order." Scarlet alleges two supervising investigators are biased against them. Hawaii News Now.

Citric acid plan in the works for invasive coqui frogs found in Waimānalo
For the first time on Oʻahu, officials may have to resort to aerial spraying to beat back the population. Hawaii Public Radio.
HAWAII BUSINESS MAGAZINE
Everyone Can Vote for Hawai'i's People's Choice Award
Pick the startup that you think best represents the interests and goals of Hawai'i's Startup Paradise: A company that serves as an example for others based on its products, successes, popularity and support of fellow… read more.
HAWAIʻI ISLAND
Roth: Large in-person events will return this year
During a livestreamed interview Monday, Roth said he believes that it will be safe to hold events such as the Merrie Monarch, which was cancelled in 2020 and held without a live audience last year. Tribune-Herald.

School administrator letter chronicles brawl, asks community to help fix what caused it
In an open letter to the community, a Pāhoa High and Intermediate School vice principal described last week's fight at his school where seven students were arrested and 20 suspended as a sad, unfortunate event triggered by racial epithets toward a group of kids being made to felt as though they did not belong. Big Island Now.
HAWAII BUSINESS MAGAZINE
Saving Hawai'i's Endemic Plants, One Seed at a Time
In September, the U.S. Fish and Wildlife Service named the Phyllostegia glabra, a member of the mint family that grew in the moist forests of Lāna'i, as lost to extinction. The Army Natural Resources Program on O'ahu works to stem the loss by maintaining a permanent stock of rare seeds... read more.
MAUI COUNTY
Maui County Council asks Legislature to set visitor fees for the environment
Council Chair Alice L. Lee announced today that eight proposals have been introduced as the 2022 Maui County Council Legislative Package, including legislation to establish a "green fee surcharge"—a visitor fee that would fund environmental-protection and conservation projects. Maui Now.

NTSB: Pilot says plane appeared to be losing power after take-off from Hāna Airport
The National Transportation Safety Board released a preliminary report for a plane crash on Maui that left two people onboard injured. Hawaii News Now. KITV4.

Funding being considered to recognize 8,000 Kalaupapa residents diagnosed with leprosy
Of the 8,000 Hawai'i residents diagnosed with leprosy who were banished to Kalaupapa from 1866 to 1969, there are nine people remaining today who have the right to live at the isolated Moloka'i peninsula. Star-Advertiser.
KAUAʻI
DMV, County of Kaua'i offices network restored
A mechanical issue Monday night resulted in an outage of the County of Kaua'i's server and network early Tuesday morning. Garden Island. Hawaii News Now.

Community continues to back Malama Hule'ia fishpond efforts
Nonprofits Malama Hule'ia and the Trust for Public Land have raised nearly $190,000 through its community fundraising campaign for the Alakoko "Menehune" Fishpond. Garden Island.

Emmalani Park boasts refurbished pickleball, basketball courts
It was a celebration Sunday morning as the newly refurbished Princeville pickleball and basketball court at Emmalani Park opened to the public. Garden Island.
JANUARY/FEBRUARY 2022 ISSUE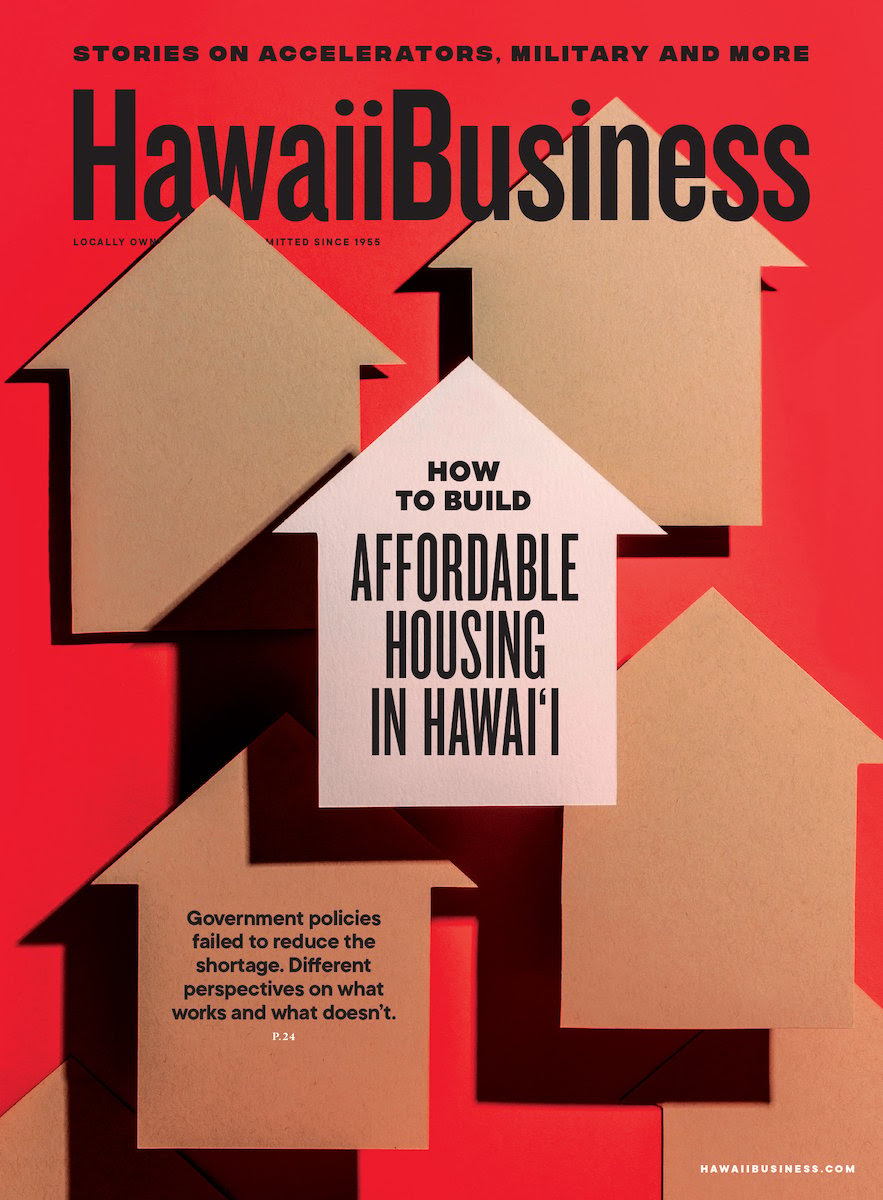 Dive into some of our latest features!
My Job Is Preserving Damaged Scrolls and Precious Art
EV Sales in Hawai'i Are Up 30.6%, and Many Buyers Say They're Glad They Made the Switch
Here's How Affordable Housing Policies Have Impacted Hawai'i's Housing Supply

Big Brothers Big Sisters Helps At-Risk Youth Achieve Their Full Potential
Hawaii Business Magazine 
 1088 Bishop St. Ste. LL2
Honolulu, HI 96813
General Inquiries: (808) 537-9500
Advertising/Sponsorships: (808) 534-7124
For the latest Hawaii State, Hawaii Island, West Hawaii, and Hawaii Sports News, please check the blog sidebar, links, and twitter posts.