Hawaii lawmakers introduce bills to make Hawaii more cryptocurrency friendly.
Views expressed in this Hawaii State News summary are those of the reporters and correspondents.
Accessed on 01 February 2022, 1945 UTC.
Content provided by email subscription to "Hawaii Business Magazine Newsletters."
Source:
Please click link or scroll down to read your selections.
Locally Owned, Locally Committed Since 1955
2.1.22
TOP STORIES
Hawai'i lawmakers introduce bills to make state more cryptocurrency friendly
Sen. Bennette Misalucha, Sen. Glenn Wakai, and Rep. Patrick Pihana Branco are leading the efforts to get Hawai'i state lawmakers to consider the cryptocurrency-related legislation. The trio has crafted four bills they say will make Hawai'i a more conducive place for cryptocurrency exchanges. KITV4.

Public school Covid-19 cases drop, but teacher absences high


Coronavirus cases among students and teachers in Hawai'i public schools appeared to trend downward significantly last week, according to state Department of Education data.  Star-Advertiser.

Josh Green has an early money lead in 2022 Hawai'i governor's race
Green outraised his likely opponents in the last six months of 2021, bringing in more than $770,000 between June 1 and Dec. 31. Civil Beat.

Hawai'i veteran joins governor's race on Republican ticket
A Hawai'i veteran and U.S. Indo-Pacific Command program manager has announced his run for governor on the Republican ticket. Lynn Mariano is pledging to tackle "bipartisan issues in a bipartisan way." Hawaii News Now.

State says it shouldn't be held liable for pandemic harm including inmate deaths
The state Attorney General's Office wants to block pandemic lawsuits, including claims filed in cases where prisoners died from Covid-19. Civil Beat.

OHA trustee for Hawaiʻi Island stepping down
OHA Trustee Keola Lindsey has announced that he is vacating his position effective Tuesday, February 1. The OHA Board of Trustees received a letter of resignation from Lindsey which stated that "he is leaving his position to focus on the well-being of his ʻohana." Big Island Video News. Big Island Now.

Hope rises as omicron trends down
Hawai'i County Mayor Mitch Roth expressed optimism Monday about the current downward trend in daily coronavirus case counts and the anticipated return of larger events. Star-Advertiser.
HAWAII BUSINESS MAGAZINE
Many Hawai'i Defense Jobs Are Not Going to Locals. Advocates Want to Change That.
Despite its tarnished reputation amid the Red Hill water crisis, many think the U.S. military is the best bet for revitalizing the local economy. Here's what local advocates say needs to be done to create a workforce and private sector… read more.
OʻAHU
Military to fight state's order on Red Hill fuel tanks, official says
The U.S. military plans to appeal the state's emergency order requiring it to drain its Red Hill fuel tanks, a decision that was met Monday with swift rebuke by members of Hawai'i's congressional delegation, the state Department of Health and groups that have long fought for the tanks' removal, including the Hawai'i Sierra Club. Star-Advertiser. Civil Beat. Hawaii Public Radio. Hawaii News Now. KHON2. KITV4.

BWS: Water conservation measures could slow completion of new housing
Water restrictions for O'ahu this summer brought on by the ongoing fuel contamination crisis are still possible, and the measures could even impact new housing projects. Hawaii News Now. KHON2.

New police misconduct report shows record number of officers disciplined
Last year, the department suspended or fired 59 officers in 61 different cases, narrowly surpassing the department's previous record for officers disciplined in one year, which was in 2015 when 58 officers were suspended or fired. HPD employs about 2,000 sworn officers. Civil Beat.

Honolulu prosecutor: Police were justified in shooting man near Ala Moana
Honolulu Prosecuting Attorney Steve Alm commended the officers who shot 48-year-old Ricky Kaleopaa for their "textbook" response. Alm said the officers used multiple efforts of non-deadly force. Civil Beat. Hawaii News Now.

Attorneys seek dismissal of charges against former managing director
Attorneys representing former city managing director Roy Amemiya filed a motion Monday to dismiss federal charges that he conspired with two others to defraud the county and federal government in 2017 by arranging a $250,000 retirement settlement for former Honolulu police Chief Louis Kealoha. Star-Advertiser.

City opens new isolation and quarantine facility in 'Ewa Beach
The City and County of Honolulu opened a second isolation and quarantine facility in 'Ewa Beach on Monday to accommodate those who have been infected by Covid-19 and need a space to distance themselves from others. Star-Advertiser. Hawaii News Now. KITV4.

2 groups will compete to redevelop land around Aloha Stadium
It will be a head-to-head contest between a pair of development partnerships seeking to turn 73 acres of state land around Aloha Stadium into a community with homes and businesses. Star-Advertiser.
HAWAII BUSINESS MAGAZINE
How Nine Women Broke Through Tech's Glass Ceiling
These female tech leaders in Hawai'i describe how they navigated through what has been a male-dominated industry and how other women can take advantage of the greater opportunities today… read more.
HAWAIʻI ISLAND
40k open building permits set to expire as county streamlines permit process
More than 40,000 open building permits, some dating back 40 years, will be declared null and void if permit holders don't act soon, as the county continues its transition to an online permit system. West Hawaii Today.

Finding an alternative road to Puna: Measure would fund surveys for possible routes
State Rep. Greggor Ilagan has introduced a bill that, if passed, would order and fund site surveys to identify the most suitable location for an alternate road to lower Puna makai of Highway 130. Tribune-Herald.

DOFAW seeks input on restoration of Honuaʻula State Forest Reserve
The DLNR Division of Forestry and Wildlife is seeking input on a draft management plan for the Honuaʻula Forest Reserve that will guide management priorities for this area over the next 10 years. Big Island Now. Big Island Video News. Hawaii News Now.

Hawaiian monk seal transported from O'ahu to Kona for care
The Marine Mammal Center recently admitted an endangered Hawaiian monk seal suffering from fishing gear ingestion and moderate malnutrition to its Ke Kai Ola facility within the Natural Energy Laboratory of Hawaii Authority. The juvenile male monk seal, known by researchers as N2, was listed Monday in stable condition.. West Hawaii Today. Big Island Now.
HAWAII BUSINESS MAGAZINE
Here Are 5 Ways That Small Businesses Get Sued. Would Your Insurance Plan Protect You?
Without the right coverage, crashes, hacks and honest mistakes can leave you vulnerable. Homeowners insurance may not cover business-related liabilities, even for those working from home. To protect business investments, the right coverage is essential... read more.
MAUI COUNTY
Mayor allows West Maui Community Plan ordinance to become law without signature
The mayor has asked the Planning Director to draft proposed amendments to rectify the plan's current "legal ambiguity" and to allow for additional public input on Kahoma Village as well as revamped plans for Lahaina Town South. Maui Now.

Maui group aims to expand coqui frog eradication efforts
A group fighting invasive species on Maui wants to expand efforts to eradicate coqui frogs near a popular surfing spot before the animals spread. Hawaii Public Radio. Maui News.
KAUAʻI
NOAA frees whale once entangled in 2,500 feet of marine debris
A humpback whale that was recently seen tangled in 2,500 feet of cord is now swimming freely off Kaua'i. Garden Island. Hawaii News Now.

Good Fix to spay and neuter cats in Kaumakani and Anahola
Greater Good Charities' Good Fix Program is back on Kaua'i providing spay and neuter cat clinics islandwide. Garden Island.
JANUARY/FEBRUARY 2022 ISSUE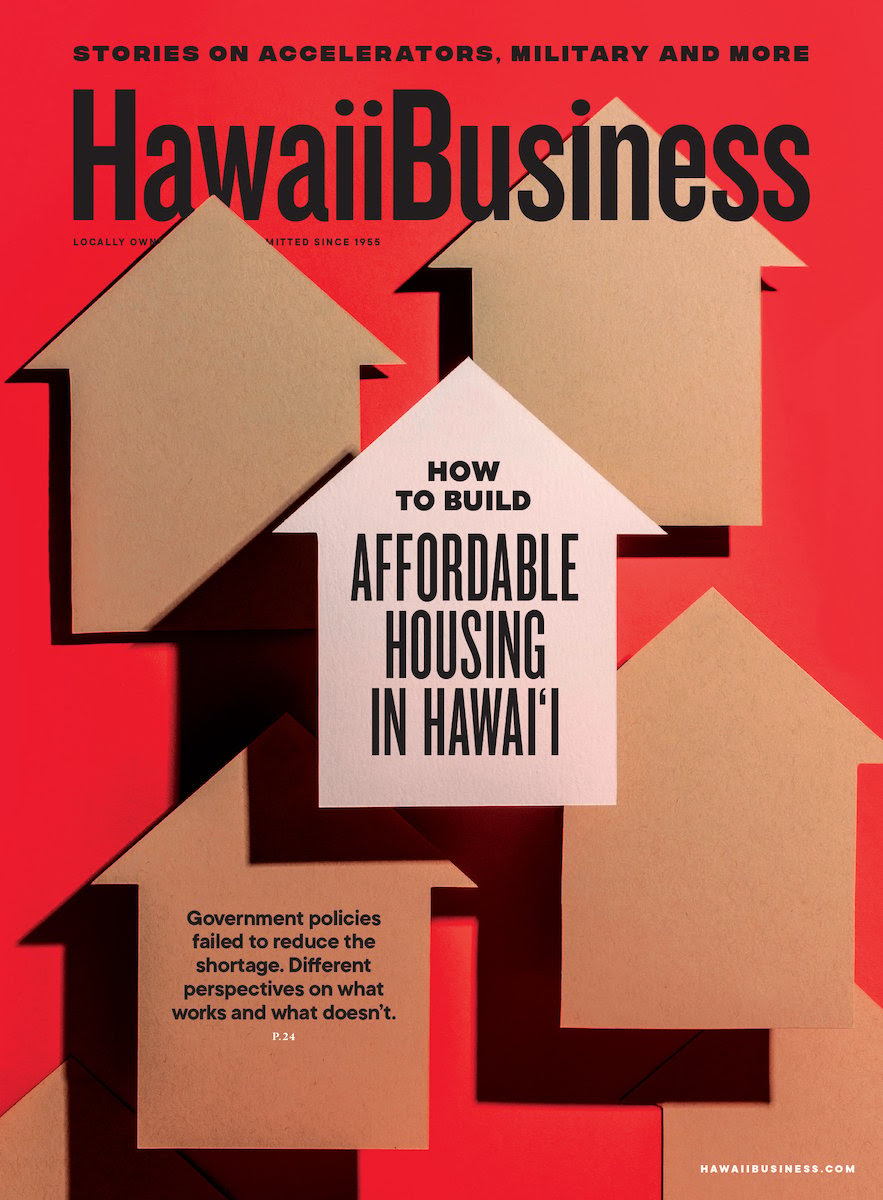 Dive into some of our latest features!
My Job Is Preserving Damaged Scrolls and Precious Art
EV Sales in Hawai'i Are Up 30.6%, and Many Buyers Say They're Glad They Made the Switch
Here's How Affordable Housing Policies Have Impacted Hawai'i's Housing Supply

Big Brothers Big Sisters Helps At-Risk Youth Achieve Their Full Potential
Hawaii Business Magazine 
 1088 Bishop St. Ste. LL2
Honolulu, HI 96813
General Inquiries: (808) 537-9500
Advertising/Sponsorships: (808) 534-7124
For the latest Hawaii State, Hawaii Island, West Hawaii, and Hawaii Sports News, please check the blog sidebar, links, and twitter posts.  Thanks for joining us today.