Hawaii Reapportionment Commission accepts revised legislative maps despite community opposition.
Views expressed in this Hawaii State News summary are those of the reporters and correspondents.
Accessed on 31 January 2022, 2022 UTC.
Content provided by email subscription to "Hawaii Business Magazine Newsletters."
Source:
Please click link or scroll down to read your selections.
Locally Owned, Locally Committed Since 1955
1.31.2022
TOP STORIES
Commission adopts new legislative maps despite community pushback
The state Reapportionment Commission finalized House and Senate election maps for the next decade, shaking off resident complaints from Hawai'i Island and O'ahu, citizen-produced alternative maps and even the threat of lawsuits. Star-Advertiser. Civil Beat. West Hawaii Today.

Investigative committee finds no criminal wrongdoing by state auditor
A special House committee created last year to look into audits of land management practices by two state agencies mushroomed to include an investigation of State Auditor Les Kondo. On Saturday, the committee released its final report finding no criminal wrongdoing. Star-Advertiser.

Strict regulation, high taxes: How would a casino work in Hawai'i?
Despite years of failed proposals, several lawmakers are introducing measures to allow a single casino in Waikīkī, to regulate online sports betting and fantasy sports, and to legalize a state-run lottery. Civil Beat. Star-Advertiser.

$100 tax refund proposal may run into headwinds, Tax Foundation says
The president of the Tax Foundation of Hawaii says Gov. David Ige's proposed rebate is a good idea, but it could be difficult to pass given the state's many needs. Hawai'i Public Radio.

Lawmakers look to fund or regulate food banks, endangered species, child welfare
The Legislature is considering using general fund revenue to support local food banks. Star-Advertiser.
House Bill 1979 would require developers whose projects could harm a threatened or endangered species to prepare a Habitat Conservation Plan. Tribune-Herald.
"Ariel's Bill" would allow Child Welfare Services to continue family checkups after adoptions take place. KITV4.

How Hawai'i's school bus woes contribute to student absences
Out of 650 total bus routes, 30 were temporarily suspended as of a week ago. The driver shortage is due to some contracting Covid-19 and others opting to quit. Civil Beat.

Astronomy adds $110M per year in direct spending, UH says
The state's astronomy sector pumped $110 million into Hawai'i's economy in 2019 and generated an overall economic impact twice that, according to a report released Sunday. Star-Advertiser. Big Island Now.

Over 100K Covid cases reported in January as new sub-variant detected
The original Omicron strain is believed to make up 99% of all cases, but a new sub-variant called BA.2 has reached Hawai'i's shores. KHON2.
HAWAII BUSINESS MAGAZINE
Honolulu Rail Columns Tell Stories
Each station's 12-panel embossing is based on storylines, legends or other elements unique to the particular area. The engravings appear in three rows: The top reflects elements of the sky and heavens, the middle reflects life of plants and animals, and the bottom reflects elements of… read more.
OʻAHU
Honolulu City Council to consider lowering property tax rate
The move is one of several measures the council is considering as it looks to offset a dramatic increase in residential property assessments. KITV4.

Legislators seek to fix fireworks problem
Lawmakers are exploring measures such as increased inspection of shipping containers and a new Honolulu Police Department undercover unit to catch users in the act. Star-Advertiser.

Among the ideas for screening Honolulu's police chief candidates: sleep deprivation
SHOPO president Robert Cavaco said that sleep deprivation may be key to determining how applicants handle pressure and the physical requirements of the job. Civil Beat.

Woman with "terrifying" neighbor sues condo board for failing to stop harassment
The case at the Yacht Club Terrace complex in Kāne'ohe is raising questions about a condo association's responsibility to protect residents from verbal and potential physical abuse. Hawaii News Now.

Lawmaker calls for DOT transparency as debate grows over Pali Highway projects
Road projects such as raising crosswalks on the Pali Highway has prompted one lawmaker to introduce a bill requiring transparency from the state Department of Transportation. Hawaii News Now.
SPONSORED BY HAWAIIAN ELECTRIC
Food Powered by ʻĀina
Native Hawaiian self-reliance provides a template for imagining a future of innovative stewardship of our natural resources in part two of Hawaiʻi of Tomorrow, a six-part series presented by Hawaiian Electric… read more.
HAWAIʻI ISLAND
Senate bill aims to restore Kahaluʻu Beach Park
The project would potentially be funded with a $50 million grant to UH from Mark Zuckerberg and Dr. Priscilla Chan. Big Island Video News.

Water Board approves consultant fees to secure federal funding
As more federal money becomes available for infrastructure projects, the county Water Board recently approved $75,000 to hire a consultant to go after some of it. West Hawaii Today.

Efforts are underway to conserve 2,317 acres near Nāʻālehu 
Future plans for the conservation land in Kaʻū may include limits to public access, with preference given to lineal descendants and area residents. Hawai'i Public Radio.

Hawai'i Wai Ola provides community access to water testing data
The dataset was made public this month and tracks water quality dating back to June 2020. West Hawaii Today.
HAWAII BUSINESS MAGAZINE
How Has the Pandemic Changed Your Behavior?
Surveys of business leaders and the general public ask about remote work, shopping, eating out and more. Respondents in the BOSS Survey of local business leaders were asked if they are working more from home than before... read more.
MAUI COUNTY
Court ruling expected to delay solar project
Developers say a new court ruling will delay construction on the 15-megawatt solar, 60-megawatt-hour battery storage project slated for 150 acres in South Maui. Maui News.

HTA releases progress report for Molokaʻi  
The Hawai'i Tourism Authority submitted a second update on its Moloka'i Destination Management Action Plan. Maui Now.

Kahekili Highway slope repair to cause road closures
The project will result in road closures from 8:30 a.m. to 3:30 p.m. on Feb. 7-16. Maui Now.
KAUAʻI
Kaua'i statesman Ezra Kanoho remembered
Solomon Kanoho remembers his father as a man who would stop to help strangers broken down on the side of the road and would greet everyone on the street. Garden Island.

First of 3 whale counts held Saturday
Sanctuary Ocean Count volunteers were waiting to spot a breach at the Ahukini State Recreational Pier viewing site. Garden Island.
JANUARY/FEBRUARY 2022 ISSUE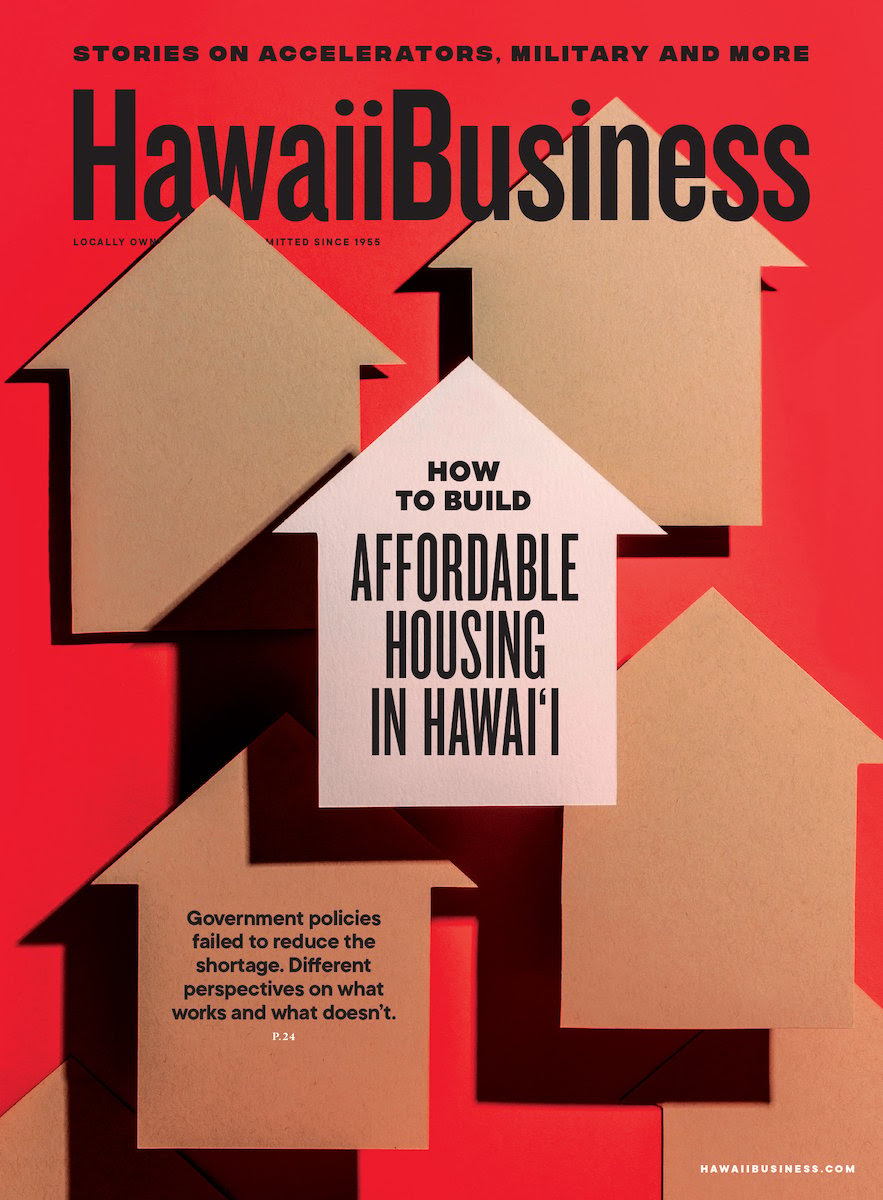 Dive into some of our latest features!
My Job Is Preserving Damaged Scrolls and Precious Art
EV Sales in Hawai'i Are Up 30.6%, and Many Buyers Say They're Glad They Made the Switch
Here's How Affordable Housing Policies Have Impacted Hawai'i's Housing Supply

Big Brothers Big Sisters Helps At-Risk Youth Achieve Their Full Potential
Hawaii Business Magazine 
 1088 Bishop St. Ste. LL2
Honolulu, HI 96813
General Inquiries: (808) 537-9500
Advertising/Sponsorships: (808) 534-7124
For the latest Hawaii State, Hawaii Island, West Hawaii, and Hawaii Sports News, please check the blog sidebar, links, and twitter feeds.
Thanks for joining us today.