Should OHA get a bigger share of Hawaii's public land revenues?
Views expressed in this Hawaii State News summary are those of the reporters and correspondents.
Accessed on 28 January 2022, 2032 UTC.
Content provided by "Hawaii Business Magazine Newsletters."
Source:
Please click link or scroll down to read your selections.
Locally Owned, Locally Committed Since 1955
1.28.22
SUBSCRIBE TO HAWAIʻI REAL ESTATE NEWS
Please subscribe to Hawaiʻi Real Estate News – a free weekly email from Hawaii Business Magazine that provides insights and news on local real estate.

Coming to your inbox every Tuesday. Click here to subscribe!
TOP STORIES
Should OHA get a bigger share of Hawai'i's public land revenues?
The ceded land revenues, which make up a significant chunk of OHA's annual budget, go to fund programs for Hawaiian beneficiaries. The Office of Hawaiian Affairs is again asking the Legislature for a greater share of revenue generated by lands formerly held by the Hawaiian Kingdom. Civil Beat.

Report: Hawai'i safest state in Covid-19 pandemic


Hawai'i is the safest state in the nation to weather the coronavirus, according to a study released Thursday by the online credit reporting company WalletHub. West Hawaii Today.

DLNR expects to bring in $12M from park fees by the end of the fiscal year
Funding to improve and manage Hawaiʻi's natural resources should be getting a boost this year, thanks to increased visitor fees at some popular parks and trails. Hawaii Public Radio.

Bill would unite state law enforcement under Department of Corrections and Rehabilitation
Senate Bill 3139 would "consolidate and administer the criminal law enforcement and investigations functions of the Department of Transportation, certain investigations functions of the Department of the Attorney General, functions of the Office of Homeland Security, and current law enforcement and investigations functions of the Department of Public Safety." Star-Advertiser.

Hawai'i hotel workers rally for bill to eliminate tax exemption
About 150 members of the Unite Here Local 5 union participated in the effort urging the Legislature to end what the union calls a tax loophole for real estate investment trusts, or REITs. Hawai'i lawmakers have considered bills to amend state tax policy on REITs every year since 2014 but haven't had a single bill become law. Star-Advertiser.

Training begins for Hawai'i's next community and political leaders
The first group of 30 emerging leaders who want to play bigger roles in their island communities — including political candidates and the newest member of the state House — began their first day of a 15-week training program Thursday night. The program called "Partners for Democracy" is backed by Pacific Resource Partnership, a nonprofit organization that represents the Hawaii Regional Council of Carpenters and more than 240 Hawai'i contractors. Star-Advertiser.

Hawai'i schools chief search extended 2 months
Hiring a state superintendent of Hawai'i's public schools is taking about two months longer than originally planned. Board of Education Chairwoman Catherine Payne says the extra time is necessary to work with a search firm that will advertise nationally for the job and to minimize disruption to the schools. Star-Advertiser.
HAWAII BUSINESS MAGAZINE
Grandparents Help Hawai'i Parents Get the Job Done
Grandmothers and grandfathers are storytellers, sources of wisdom, keepers of family legacies and teachers. But perhaps their most important role in Hawai'i is to help working parents raise their keiki… read more.
OʻAHU
Mayor Blangiardi to drop large indoor gathering restriction, no booster requirement being discussed
Honolulu Mayor Rick Blangiardi said he'll drop the 50% capacity limit for indoor events on Monday, Jan. 31. The restrictions were put in place about two weeks ago amid the rise in Covid cases. But with cases seemingly trending down, and possibly peaking, he said that he feels comfortable having businesses decide whether to have a large indoor event or not.  KHON2.

Attorney: Ex-city budget director can prove Donna Leong's innocence in Kealoha case
Leong is accused of conspiring with two other former city officials to circumvent the Honolulu City Council to pay $250,000 to then-chief Louis Kealoha when he was under investigation for corruption. The payment was done legally, Leong's attorney says. Civil Beat.

Navy says it will release investigation into cause of Red Hill water contamination
The Navy says it will release its full investigation into what caused the fuel contamination in its drinking water system, clawing back a statement it released earlier this week that said only a summary of the report's conclusions would be released to the public. Star-Advertiser.

Water from contaminated Red Hill well will be treated, discharged into Halawa stream. Civil Beat. Hawaii News Now. KHON2.

As criticism mounts, police commission eyes ways to speed up chief selection process
It's already been almost eight months since Susan Ballard retired and it could easily be a full year before HPD's next leader is chosen. Hawaii News Now.

Applications to open for new affordable rental complex in Honolulu
Starting Feb. 1, applications will be accepted for an affordable rental complex at the site that used to house Honolulu's juvenile detention center. The affordable housing project "Hale Kalele" is on Piikoi Street and will be near the future rail line. Hawaii News Now.

State to offer federally funded mortgage aid
The state has launched a program funded by the federal government to assist about 1,000 O'ahu homeowners hit by the Covid-19 pandemic and who may be in jeopardy of losing their homes. Star-Advertiser.
HAWAII BUSINESS MAGAZINE
Surveyed Business Executives Talk about Jobs, Wages, Profits and Prices
BOSS Survey looks at key factors in company performance – inside and outside the tourism industry. Business leaders were asked if they find it more difficult to hire people now than before the pandemic… read more.
HAWAIʻI ISLAND
Hilo Medical Center over capacity; 36 FEMA-funded medical workers assist
Hilo Medical Center is over capacity and has opened 24 additional beds in its extended care unit to accommodate more patients. Tribune-Herald.

Seven students arrested following large affray sparked by racial remarks at Pahoa High
No one was seriously injured Wednesday morning when a large-scale fracas broke out on the Pahoa High School campus, but an 18-year-old man and six juveniles — all students — were arrested, according to police. Tribune-Herald. Star-Advertiser. Civil Beat. Big Island Now. KITV4.

Box jellyfish reported at Spencer Beach, other West Hawaiʻi spots
State and county officials issued a rare "Ocean Safety" message on Thursday afternoon, warning beachgoers of box jellyfish along West Hawaiʻi shores. Big Island Video News. Big Island Now.
HAWAII BUSINESS MAGAZINE
My Job: Why Olive Oil? "It's Liquid Gold"
After Angèl Foster and her husband, Brian, opened Island Olive Oil Co. in 2012, they discovered their company was a lot like an onion, with far more layers than they could have ever imagined... read more.
MAUI COUNTY
Kapalua mansion owner claims to fight 'noise pollution' in Cliff House controversy
Questions over shoreline access and public versus private jurisdiction have bubbled to the surface in a controversy that pits a wealthy blockchain entrepreneur against many who frequent the popular Cliff House swimming spot in Kapalua. Maui Now. Hawaii News Now.

Entangled humpback whale freed of 140 feet of line and gear off Ukumehame, Maui
An entangled yearling humpback whale was freed of gear by a NOAA-led team of trained responders off Ukumehame, Maui on Wednesday.  Maui Now. Star-Advertiser.
KAUAʻI
EPA fines Koloa real-estate company, citing illegal cesspool
The federal Environmental Protection Agency has fined real estate firm Hale Kaua'i $40,000, after finding a large-capacity cesspool at the company's Waikomo Road property, which operates as Hardware Hawai'i. Garden Island.
JANUARY/FEBRUARY 2022 ISSUE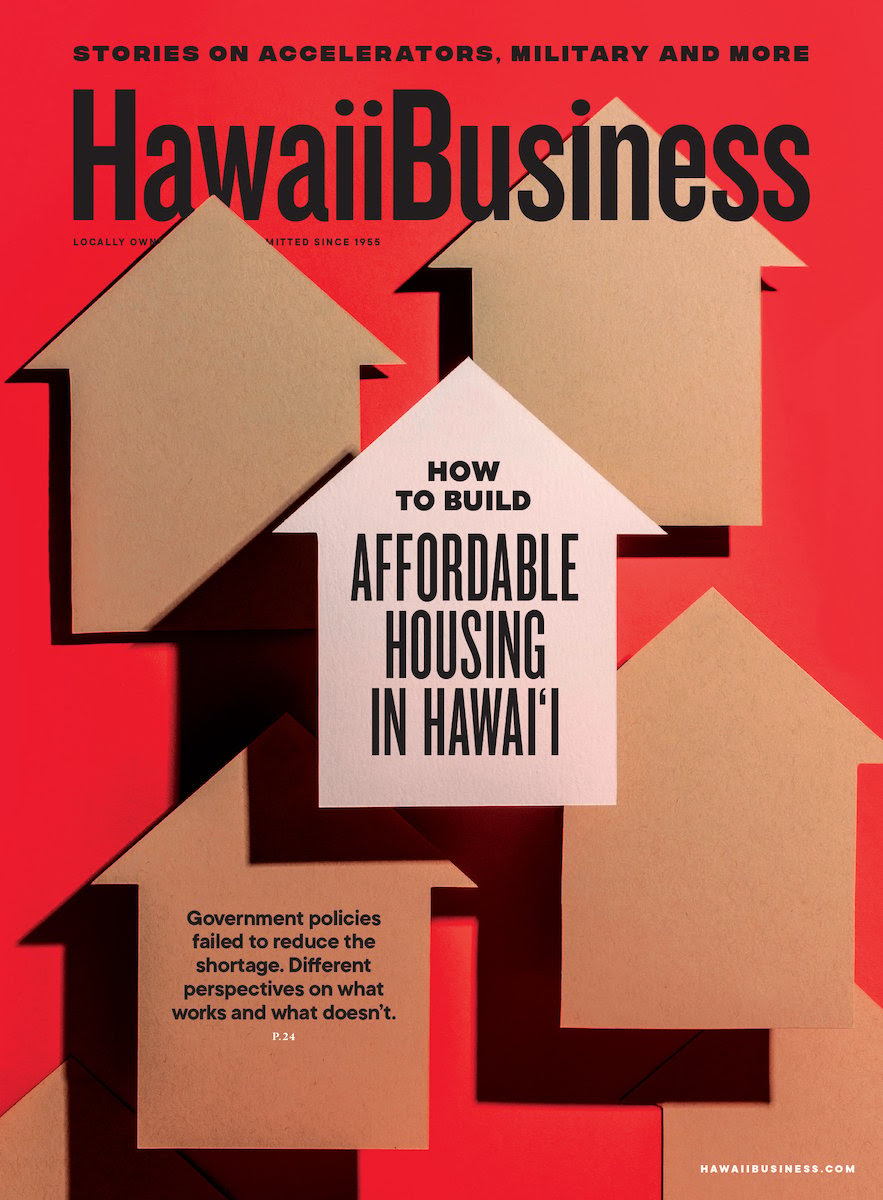 Dive into some of our latest features!
My Job Is Preserving Damaged Scrolls and Precious Art
EV Sales in Hawai'i Are Up 30.6%, and Many Buyers Say They're Glad They Made the Switch
Here's How Affordable Housing Policies Have Impacted Hawai'i's Housing Supply

Big Brothers Big Sisters Helps At-Risk Youth Achieve Their Full Potential
Hawaii Business Magazine 
 1088 Bishop St. Ste. LL2
Honolulu, HI 96813
General Inquiries: (808) 537-9500
Advertising/Sponsorships: (808) 534-7124
For the latest Hawaii State, Hawaii Island, West Hawaii, and Hawaii Sports News, please check the blog sidebar, links, and twitter posts.