Hawaii's COVID-19 cases may be peaking, but hospitalizations are not.
Views expressed in this Hawaii State News summary are those of the reporters and correspondents.
Accessed on 26 January 2022, 0117 UTC.
Content supplied by "Hawaii Business Magazine Newsletters."
Source:
Please click link or scroll down to read your selections.
Locally Owned, Locally Committed Since 1955
1.25.22
SUBSCRIBE TO HAWAIʻi REAL ESTATE NEWS
Please subscribe to Hawaiʻi Real Estate News – a free weekly email from Hawaii Business Magazine that provides insights and news on local real estate.

Coming to your inbox every Tuesday. Click here to subscribe!
TOP STORIES
Hawai'i's Covid-19 cases may be peaking, but not hospitalizations
Health officials believe they'll know by the middle of this week if Hawai'i has reached the peak of its Omicron surge. Officials say a steady drop in the number of infections is the first sign the surge may be on the decline.  Star-Advertiser. Hawaii Public Radio. Hawaii News Now.

Hawai'i's Covid-19 boosted numbers rise slightly, while overall vaccinated data dips after review.  Star-Advertiser. Hawaii News Now.

Gov. David Ige proposes $100 refund for every Hawai'i taxpayer and their dependents
Gov. David Ige proposed refund checks of $100 for every taxpayer and each of their dependents that would pump $110 million from the state general fund into the economy during his eighth and final State of the State speech Monday. Star-Advertiser. Civil Beat. Hawaii Public Radio. Big Island Video News. Big Island Now. Maui Now. Garden Island. Hawaii News Now. KHON2.

Full text of Gov. David Ige's State of the State address can be found here.

Hawai'i minimum wage increase bill advances
A bill to raise Hawai'i's minimum hourly wage incrementally to $18 by 2026 cleared the first of two anticipated public hearings in the state Senate on Monday. Star-Advertiser. Big Island Now. Garden Island.

Proposed bill prevents illegal vacation homes from advertising
HB1516 affects businesses without state or county licensing. This would prevent illegal vacation rentals from promoting their services on cards, signs and media. Hawaii Public Radio.

Bills aim to reduce number of abandoned vehicles
A Big Island lawmaker is spearheading a suite of bills aimed at reducing the amount of abandoned vehicles in Hawai'i. Tribune-Herald.

Hawai'i's unemployment rate tumbles to 5.7%
Hawai'i's unemployment rate dropped sharply in December to a 21-month low of 5.7% as the state's economy continued making significant strides in recovering from the nearly 2-year-old pandemic. Star-Advertiser.
HAWAII BUSINESS MAGAZINE
Here's How Affordable Housing Policies Have Impacted Hawai'i's Housing Supply
Everyone agrees that Hawaiʻi needs more affordable housing. What we don't agree on is which government policies will best fill that need.This report on affordable housing policies by county governments and state agencies provides different perspectives on what works and what doesn't – and what might work better… read more.
OʻAHU
Honolulu Council considers new rules for short-term rentals
The Honolulu City Council is again considering a measure that would alter the rules for short-term rentals, notably increasing the minimum stay proposal to three months from 30 days unless a special permit is granted. Star-Advertiser.

Hawai'i Senate bill takes aim at Red Hill fuel facility
The bill is the first state legislative effort to shut down the Red Hill fuel facility since the Navy poisoned the water supply of 93,000 people. Civil Beat.

Navy to withhold full Red Hill fuel leak report
Officials confirmed Monday that the report had been submitted to the commander of the U.S. Pacific Fleet on Jan. 14, as anticipated. But the Navy says the report remains under review and that it plans to release only a summary of its findings. Star-Advertiser.

Red Hill water crisis taking toll on students, teachers say
About a dozen teachers spoke out publicly for the first time Monday about what they have witnessed and felt since the running water at their schools was declared off-limits due to possible fuel contamination. Star-Advertiser.

Notorious Pearl City cemetery to get new website, GPS system
Community members say an owner-less cemetery in Pearl City notorious for its homeless camps, sinkholes, and overgrown grass continues to be a danger. Some are so disheartened they're looking at spending thousands of dollars to remove their loved one's remains. KHON2.
SPONSORED BY HAWAIIAN ELECTRIC
The Tranquility of Transportation
Local artist Kimberlie Clinthorne-Wong, envisions a Hawai'i of 2050 where electric transportation means shorter commute times, more gardens and green spaces, and the sounds of bird-song and laughter instead of the roar of… read more.
HAWAIʻI ISLAND
Struggling to achieve: More support needed on the Big Island for special needs children and adults
Parents of special needs children say there's a lack of support for them on the Big Island — and the pandemic has only made it worse. Tribune-Herald.

Pathways to productivity: Programs help people with special needs thrive after high school
Life after high school is not always an easy transition for students with special needs, but some programs on the Big Island are giving students an avenue to a brighter future. Tribune-Herald.
HAWAII BUSINESS MAGAZINE
Handmade Noodles with Okinawan Sweet Potatoes are a Staple at this Kāne'ohe Takeout Restaurant
Adela Visitacion guides dough blended with Okinawan sweet potatoes through a ramen machine purchased in Japan, where she trained in the art of noodle making. Homegrown in Hawai'i, these noodles are a work of art... read more.
MAUI COUNTY
Maui County booster requirement now in effect
A booster shot is now required to be considered fully vaccinated in Maui County. Those eligible for a booster, who are 18 and older, who want to dine indoors at a restaurant or bar, or workout at a gym will have to show proof to do so. KHON2. Hawaii News Now.

Maui commission wants public's feedback on 40 reforms to local government
A citizens commission has consolidated 135 ideas on how to refine county governance into 40 Maui County Charter amendment proposals. Now it wants the public's help to finalize the list for voters. Civil Beat.

Deer on Kahului Airport runway prompts additional fencing
A reinforced fence has been installed around Kahului Airport after a deer blocked a runway earlier this month. At one time, up to 700 axis deer were spotted around the perimeter of the airport fence, but that number has since reduced to about 300 as they move more north, seeking greener pastures and water. Hawaii Public Radio
KAUAʻI
County of Kaua'i begins distribution of free at-home Covid-19 tests
Free Covid-19 home test kits ran out within a half hour at the Kekaha Neighborhood Center, where the county, in partnership with the state Department of Health Kaua'i District Health Office, began its distribution of about 15,000 kits islandwide. Garden Island. KITV4.
JANUARY/FEBRUARY 2022 ISSUE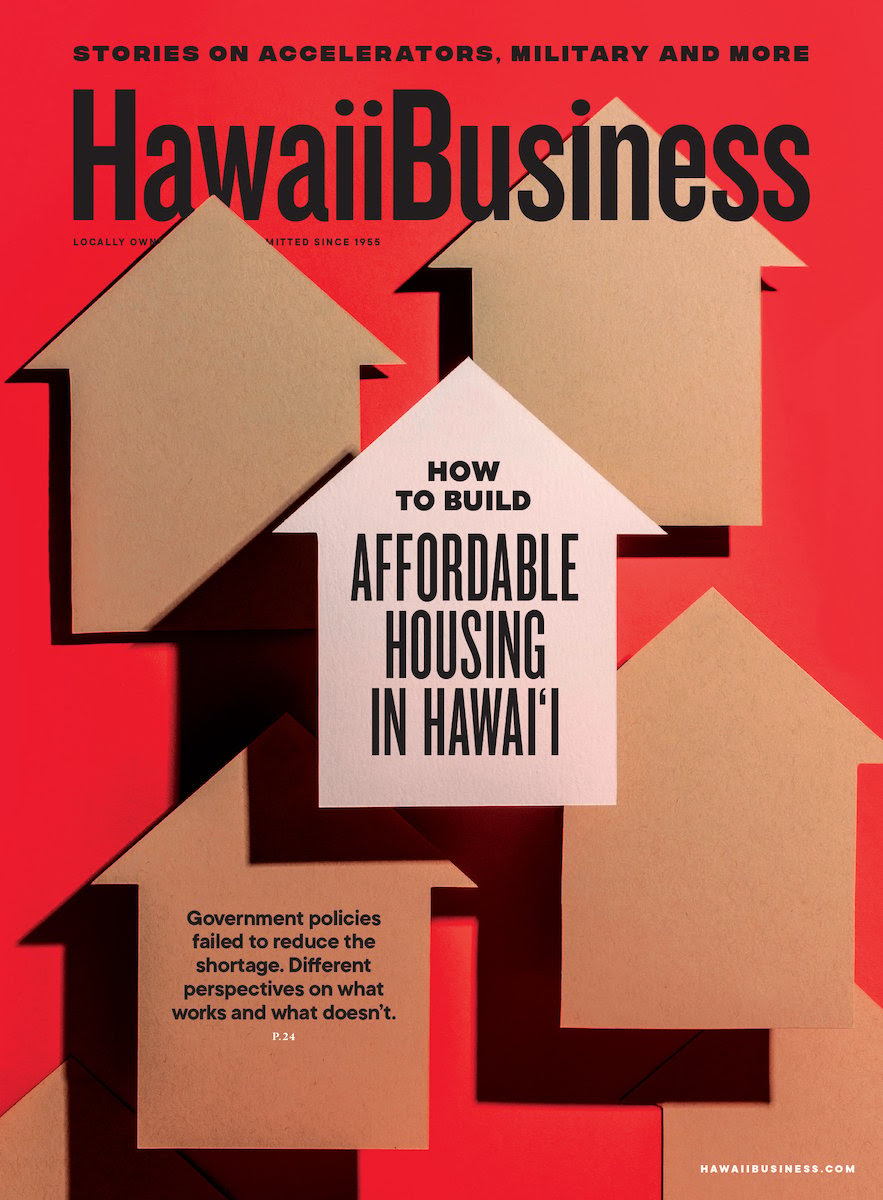 Dive into some of our latest features!
My Job Is Preserving Damaged Scrolls and Precious Art
EV Sales in Hawai'i Are Up 30.6%, and Many Buyers Say They're Glad They Made the Switch
Pusong Filipinx Showcases Millennial Entrepreneurs and Creatives

Big Brothers Big Sisters Helps At-Risk Youth Achieve Their Full Potential
Hawaii Business Magazine 
 1088 Bishop St. Ste. LL2
Honolulu, HI 96813
General Inquiries: (808) 537-9500
Advertising/Sponsorships: (808) 534-7124
For the latest Hawaii State, Hawaii Island, West Hawaii, and Hawaii Sports News, please check the blog sidebar, links, and twitter posts.