Although a minimum wage hike is "long overdue", will it be enough to live in Hawaii?
Views expressed in this Hawaii State News summary are those of the reporters and correspondents.
Accessed on 24 January 2022, 2057 UTC.
Content provided by "Hawaii Business Magazine Newsletters."
Source:
Please click link or scroll down to read your selections.
Locally Owned, Locally Committed Since 1955
1.24.2022
SUBSCRIBE TO HAWAIʻi REAL ESTATE NEWS
Please subscribe to Hawaiʻi Real Estate News – a free weekly email from Hawaii Business Magazine that provides insights and news on local real estate.

Coming to your inbox every Tuesday. Click here to subscribe!
TOP STORIES
Minimum wage hike "long overdue," but will it be enough to live in Hawai'i?
On Monday, the Senate is scheduled to hear SB 2018 that would raise the minimum wage to $18 an hour in 2026, while House leadership is expected to introduce its own minimum wage bill. Star-Advertiser. Hawaii News Now.

Pandemic cloud lingers as Ige prepares his final State of the State address
Gov. David Ige will make his eighth and final speech to the Legislature on Monday as Hawai'i slogs through yet another surge in a pandemic that upended many of the governor's plans. Civil Beat. Hawaii News Now.

HTA is shifting focus to a new type of visitor
The Hawai'i Tourism Authority is requesting $60 million from the state's general fund for its revamped programs and operations. Instead of marketing Hawai'i's beauty, the agency is aiming to attract and educate responsible visitors. KHON2.

Newly sold bonds will fund $230M for essential airport projects in Hawaiʻi
The Airports Division of the state Department of Transportation has sold the bonds in order to modernize and expand facilities across the state. Maui Now.

Caucuses multiply in Hawai'i, focusing on specific legislation
Three new caucuses are introducing bills in the 2022 legislative session, which began Wednesday, joining eight other formal caucuses and some informal ones that have been around for many years. Star-Advertiser.

Okimoto to seek Honolulu City Council seat, leaving House with just 2 Republicans
Rep. Val Okimoto's departure would leave just Rep. Lauren Matsumoto and Rep. Gene Ward, with Kurt Fevella as the sole Republican in the state Senate. Civil Beat.

Char: Number of Covid cases "very concerning"
The state health director said it's too early to say that Hawai'i's Omicron-fueled surge has plateaued. Yesterday, the state recorded 4 new Covid deaths and 3,167 infections. Tribune-Herald. Star-Advertiser.
Clinical trials are underway for a new Omicron-specific vaccine. KITV4.
HAWAII BUSINESS MAGAZINE
Here's How Hawai'i Plans to Expand its Electric Vehicle Charging Infrastructure
New styles to suit every need, personality and driving desire are about to debut in the electric vehicle market. By 2045, forecasts suggest half the vehicles on Hawai'i's roads will be electric. The challenge facing the state and Hawaiian Electric Co.: Where will everyone plug them in?… read more.
OʻAHU
State has yet to release new rules cracking down on beach revetments
Property owners are legally allowed to keep the emergency protections in place temporarily, but state officials have allowed walls of sandbags to remain for years, even decades. Star-Advertiser. Hawaii News Now.

Roy Amemiya wants city documents to fight his conspiracy indictment. The city says no
The former Honolulu managing director has filed a lawsuit against the city after his requests for documents pertaining to severance agreements with a number of former city officials was turned down. Civil Beat.

City lawyers can also represent Honolulu officers in teen's shooting
Honolulu attorneys may represent both the city and three police officers in a civil lawsuit by the family of a 16-year-old boy shot and killed by police, a judge ruled Friday. Garden Island. Hawaii News Now.

A deal to sell plots of land to Waialua farmers moves ahead
Developer Peter Savio is acquiring the fee interest on 280 acres of agricultural land from owner Dole Plantation to help preserve farming. He's selling individual lots of 1 to 10 acres to Dole's tenants at little profit. Hawaii News Now. KITV4.

Navy water quality results to be made public faster, says interagency team
Test results for the Joint Base Pearl Harbor-Hickam water system will be released more quickly, according to a news release from the Interagency Drinking Water System Team. Star-Advertiser.
SPONSORED BY IIDA HAWAIʻI
IIDA Hoʻohuli Awards 2021
Honoring commercial interior design excellence in Hawai'i, the Ho'ohuli Awards exemplifies design excellence and celebrates local interior design talent. This awards program furthers IIDA's vision to support culture and positively impact the health and well-being of people's lives through a greater… read more.
HAWAIʻI ISLAND
North Kona, South Kohala are vacation rental hotspots
The areas are home to about 80% of short-term vacation rentals on the island, and 87% of complaints. West Hawaii Today.

Council rejects contractor for Leeward Planning Commission
The County Council last week rejected its second nominee to the commission in six months, saying Shane Vincent would bring too much of a developer's perspective. West Hawaii Today.

Plans for Kalanianā'ole reconstruction pushed back to April
The state Department of Transportation announced Saturday that the portion of the Hilo project from Kamehameha/Railroad Ave. to Kauhane Ave. has been delayed because of contract and supply issues. Big Island Now.
HAWAII BUSINESS MAGAZINE
Two Surveys Ask About Covid-19 Issues at Work and at Home
We asked about personal vaccination statuses, whether workplaces have vaccination policies and how concerned people are about contracting the virus... read more.
MAUI COUNTY
Victorino, Bissen dive in early to Maui mayor race
Mayor Michael Victorino and former Judge Richard Bissen are declaring their candidacies for mayor this week. Voters will elect a mayor in November following the nonpartisan August primary. Civil Beat.

New law impacts some vacation rentals and Grand Wailea expansion
Under the law that went into effect on Jan. 7, new transient accommodations such as hotels, time-shares and vacation rental units are prohibited in all zoning districts on Maui. Maui News.

Maui ranks among top destinations, based on trip searches
Maui is ranked second on Vrbo and fifth on Expedia. No other island hit the top five. Maui Now.

Hawai'i's strictest pandemic policies have created a lonely existence at Kalaupapa
Kalaupapa's last living leprosy patients confront state-mandated social isolation policies that continue to prohibit visits by family and friends. Civil Beat.
KAUAʻI
Tourism officials discuss top priorities in 2022
Island tourism officials have a game plan for 2022, one year after the Hawai'i Tourism Authority debuted county-by-county Destination Management Action Plans to address a changing visitor industry. Garden Island.

Run-up to KIUC election is underway
Three seats on the Kaua'i Island Utility Cooperative's board of directors are up for grabs this March. Garden Island.
JANUARY/FEBRUARY 2022 ISSUE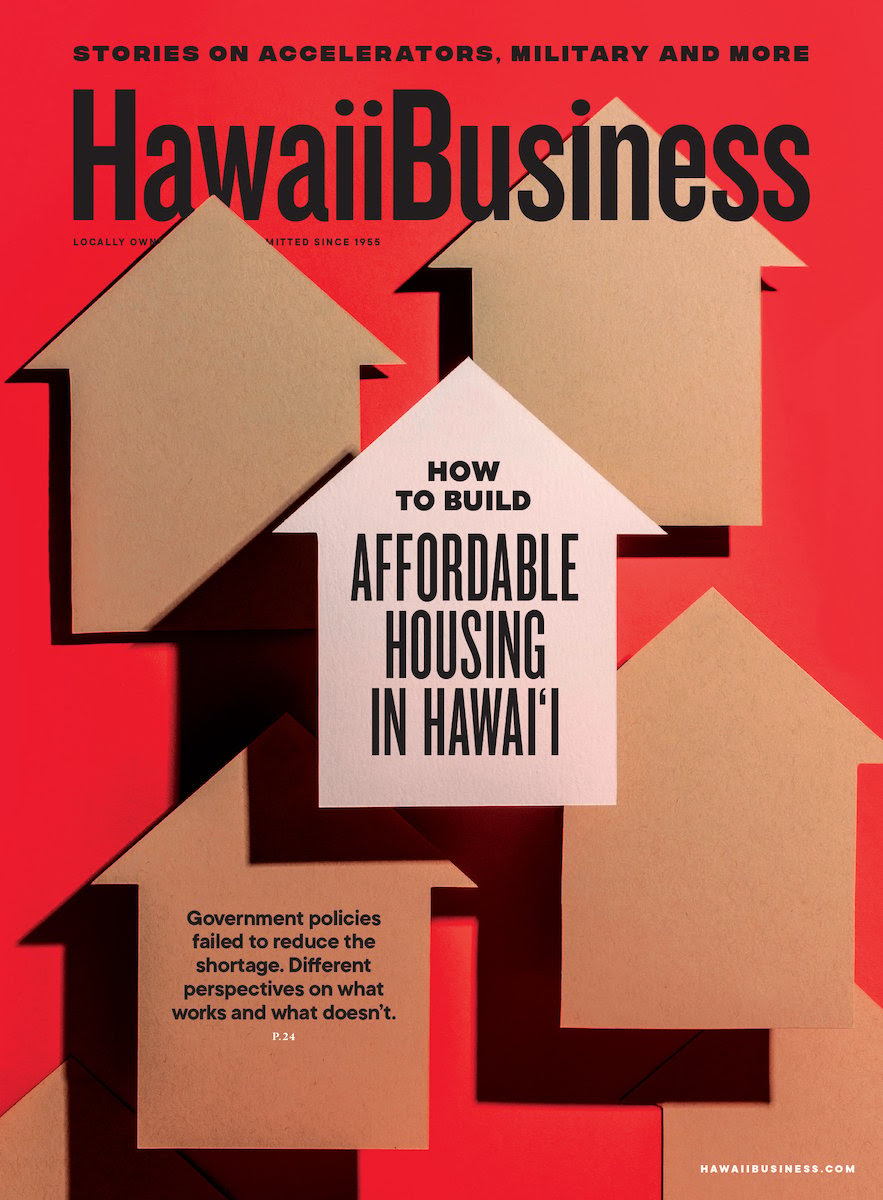 Dive into some of our latest features!
My Job Is Preserving Damaged Scrolls and Precious Art
EV Sales in Hawai'i Are Up 30.6%, and Many Buyers Say They're Glad They Made the Switch
Pusong Filipinx Showcases Millennial Entrepreneurs and Creatives

Big Brothers Big Sisters Helps At-Risk Youth Achieve Their Full Potential
Hawaii Business Magazine 
 1088 Bishop St. Ste. LL2
Honolulu, HI 96813
General Inquiries: (808) 537-9500
Advertising/Sponsorships: (808) 534-7124
For the latest Hawaii State, Hawaii Island, West Hawaii, and Hawaii Sports News, please check the blog sidebar, links, and twitter posts.