UH Board of Regents approves Maunakea Master Plan despite opposition to Thirty Meter Telescope.
Views expressed in this Hawaii State News summary are those of the reporters and correspondents.
Accessed on 21 January 2022, 2300 UTC.
Content provided by "Hawaii Business Magazine Newsletters."
Source:
Please click link or scroll down to read your selections.
Hawaii Business Magazine

 

Unsubscribe
Locally Owned, Locally Committed Since 1955
1.21.22
SUBSCRIBE TO HAWAIʻi REAL ESTATE NEWS
Please subscribe to Hawaiʻi Real Estate News – a free weekly email from Hawaii Business Magazine that provides insights and news on local real estate.

Coming to your inbox every Tuesday. Click here to subscribe!
TOP STORIES
UH Board of Regents approve Mauna Kea Master Plan despite testimony condemning Thirty Meter Telescope
The UH Board of Regents on Thursday approved an updated Mauna Kea Master Plan that guides oversight of the mountain for the next 20 years and accommodates the controversial Thirty Meter Telescope if and when it is built. Star-Advertiser. Civil Beat. Tribune-Herald. Big Island Now. Hawaii News Now. KITV4.

Marine Corps to deactivate Hawai'i battalion after 80 years of service
After 80 years of service, the Marine Corps will deactivate the Hawai'i-based Island Warriors of the 2nd Battalion, 3rd Marine Regiment that fought in Bougainville, Guam, the Republic of Vietnam, Kuwait, Iraq and Afghanistan. KHON2.

Hawai'i public-school student absences up dramatically in latest Covid-19 surge, report finds
A new report shows for the first time the dramatic rise in student absences at Hawai'i public schools during the surge of the Covid-19 omicron variant, with many schools reporting absentee rates two to four times higher than pre-pandemic levels. Star-Advertiser. Civil Beat.

DOE: Nearly 3,400 Covid cases reported among students, staff amid Omicron surge. Hawaii News Now.

Retention rate of Hawai'i public school teachers after 5 years of employment just over 50%
The retention rate of Hawai'i public school teachers after five years of employment stubbornly hovered at just over 50% last school year despite multiple state efforts, including an incentive program for teachers in hard-to-retain categories that has cost $34.5 million so far. Star-Advertiser.

Advisory panel formed to help find next DOE superintendent
As the search continues for the permanent head of Hawai'i's public schools, an advisory group is now in place to help with the selection process. The panel includes public school teachers, a parent and other community and education leaders, including UH President David Lassner. Hawaii News Now.

Hawai'i Senate bill would hike minimum wage to $12 an hour on Oct. 1
The state Senate has introduced its version of a bill to raise Hawai'i's $10.10 an hour minimum wage — starting with an initial jump to $12 per hour starting Oct. 1. Star-Advertiser. Civil Beat.

UH is considering a Covid booster shot mandate
The university's president, David Lassner, said the move would be in line with current discussions at the state and county level. Civil Beat. Hawaii News Now.

FEMA will provide Hawaiʻi with $48M to pay for 1,000 temporary medical staff
The advance funding represents half of the $95.8 million sought by the Hawaiʻi State Department of Health at the request of the Healthcare Association of Hawaiʻi, the state said in a news release. Hawaii Public Radio.
HAWAII BUSINESS MAGAZINE
How a Law Student is Breaking into Venture Capital
Madonna Castro Perez, who grew up on Guam, is rising fast in a male-dominated world. In February 2021, Castro Perez became vice chair of the UH student-run venture fund for which I am the chair. Before that, she was part of a team that won the UH Venture Competition… read more.
OʻAHU
Honolulu councilman proposes short-term rental compromise
A proposed crackdown on short-term vacation rentals on O'ahu has been amended to address several areas of criticism from rental operators, a move that is getting a mixed reaction from the community. Civil Beat. Hawaii News Now.

Federal prosecutors who led corruption probe into Kealohas make it clear they're not finished
A week after three ex-city executives were arrested by the FBI for conspiracy, agents and the special prosecutor investigating public corruption in Honolulu were back before a federal grand jury. Hawaii News Now.

Changes to fares for TheBus, TheHandi-Van up for public input
Seven proposals are being considered by the Honolulu Rate Commission. One of them would introduce residency requirements for someone to be eligible for discounted fares. Another would allow free transfers between TheHandi-Van and TheBus. Hawaii News Now. KHON2.

City lawyers' ouster from Iremamber Sykap case sought
Attorneys representing the family of a 16-year-old boy who was shot and killed by Honolulu police following an alleged crime spree and car chase are seeking to disqualify the city Department of the Corporation Counsel from defending both the officers and the city against civil accusations of negligence and wrongful death. Star-Advertiser.

Hawai'i homeowners to get $50 million in federal relief funds
On Friday, O'ahu homeowners have an opportunity to apply for up to $30,000 for each household through the first mortgage relief program on Hawai'i's most populous island. Relief funds can go toward mortgage coverage, property taxes, utility payments, homeowners association fees and other expenses. Civil Beat.

7 public schools still can't use tap water as contamination crisis drags on
Nearly two months after tests revealed tainted water coming from the faucets at more than a half dozen public schools, health officials say it's still not safe to use the tap. Hawaii News Now.
HAWAII BUSINESS MAGAZINE
Cultural Practitioners, Advisors Help Educate Visitors About Hawai'i's People, Places, History and Culture
Cultural practitioners working in the tourism industry see their roles as integral to ensuring Hawaiian culture is perpetuated accurately and that visitors treat the Islands respectfully. But some practitioners say Hawaiian culture is still undervalued… read more.
HAWAIʻI ISLAND
State land use panel rejects Connections' permit request
The state Land Use Commission on Thursday denied by a 6-0 vote an application by Connections New Century Public Charter School for a special use permit to build a campus on about 70 acres of leased agricultural-zoned state land in Hilo. Tribune-Herald.

Request to change land use classification for site of proposed affordable housing project moves forward
The Hawai'i County Council on Wednesday approved the first reading of a land-use amendment request so an affordable housing project in Hilo can move forward. Bill 101 would amend the county's state land-use boundary maps to change the classification of a vacant 9.09-acre parcel on the north side of Mohouli Street in Hilo, just west of the intersection with Komohana Street, from agricultural to urban. Big Island Now.
HAWAII BUSINESS MAGAZINE
A Pueo and his Keeper
The Hawaiian short-eared owl was rescued on Kaua'i in 2016, blinded in one eye and too young to know how to hunt on his own. His doting animal keepers now care for him. "If the zoo didn't exist, he may have been euthanized"... read more.
MAUI COUNTY
Maui becomes first island to add Covid booster shot for full vaccination status
Starting on Jan. 24, the Covid-19 booster shot will be a part of Maui's Safer Outside program — it is a county program that requires businesses such as bars, gyms and restaurants to verify proof of vaccination. KHON2.

Maui Police 25% short staffed: 21 resignations, 13 retirements in 2021
The Maui Police Department is more than 25% short staffed with 145 vacancies department wide. According to department reports, there are 101 sworn vacancies, which is at 75% staffing; and 44 civilian vacancies for 70% staffing in that portion of the department. Maui Now.

Plan seeks more natural solutions to flood risks
Reduced wetland areas due to development in South Maui, drought and degraded watersheds and intense storms are creating a "formula for disaster" and leading to "mud floods" that pollute the ocean as they did in a recent storm, a local water quality expert said. Maui News.

State leaders disagree on who should spearhead Maui County's axis deer problems
State Sen. Lynn DeCoite says that while she believes in a multi-pronged approach that includes government and community, the Department of Land and Natural Resources should be leading the effort. Hawaii Public Radio.
KAUAʻI
County of Kaua'i seeks to avoid Kekaha Landfill crisis
With the Kekaha Landfill nearing its capacity, the county is scrambling for solutions to avoid a potential garbage disaster. The landfill is currently projected to reach capacity in January 2027. According to the county's Department of Public Works, the construction of a new landfill can take 10 to 12 years. A new landfill would not be completed until 2032 at the earliest.
Garden Island.
JANUARY/FEBRUARY 2022 ISSUE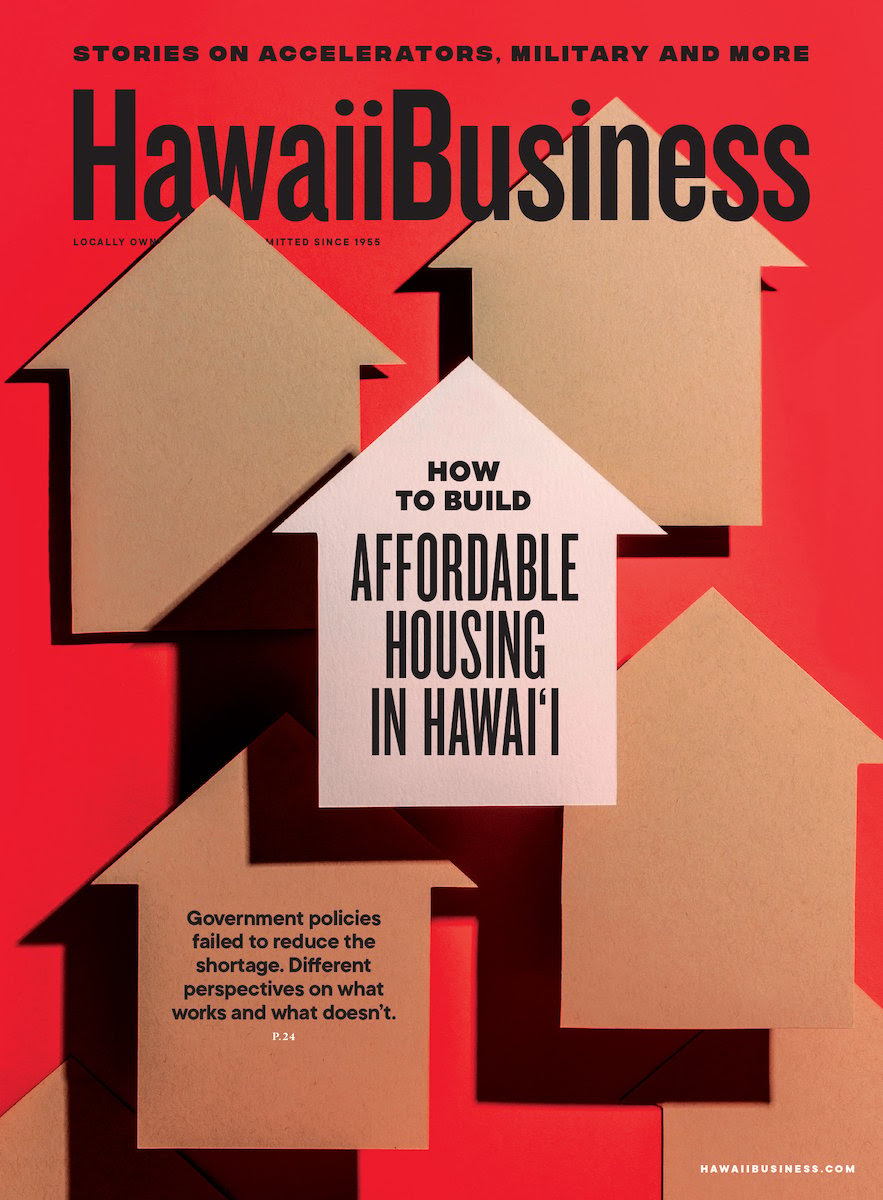 Dive into some of our latest features!
My Job Is Preserving Damaged Scrolls and Precious Art
EV Sales in Hawai'i Are Up 30.6%, and Many Buyers Say They're Glad They Made the Switch
Pusong Filipinx Showcases Millennial Entrepreneurs and Creatives

Big Brothers Big Sisters Helps At-Risk Youth Achieve Their Full Potential
Hawaii Business Magazine 
 1088 Bishop St. Ste. LL2
Honolulu, HI 96813
General Inquiries: (808) 537-9500
Advertising/Sponsorships: (808) 534-7124
For the latest Hawaii State, Hawaii Island, West Hawaii, and Hawaii Sports News, please check the blog sidebar, links, and twitter posts.