Hawaii tourism officials seek mindful, respectful, and high value travelers.
Views expressed in this Hawaii State News summary are those of the reporters and correspondents.
Accessed on 21 January 2022, 0114 UTC.
Content supplied by "Hawaii Business Magazine Newsletters."
Source:
Please click link or scroll down to read your selections.
Hawaii Business Magazine

 

Unsubscribe
Locally Owned, Locally Committed Since 1955
1.20.22
SUBSCRIBE TO HAWAIʻi REAL ESTATE NEWS
Please subscribe to Hawaiʻi Real Estate News – a free weekly email from Hawaii Business Magazine that provides insights and news on local real estate.

Coming to your inbox every Tuesday. Click here to subscribe!
TOP STORIES
Hawai'i tourism officials are seeking 'mindful, respectful and high-value travelers'
The state tourism authority is asking the Legislature for funding to rebrand Hawai'i and attract visitors who might volunteer to plant trees, clean beaches and care for taro patches. Civil Beat.

Staffing shortages leave scores of Hawai'i hospital patients 'waitlisted' for long-term care beds
Health officials say there are approximately 150 "waitlisted" patients in hospitals across the state. That means the person needs to be in a nursing home or some type of skilled nursing facility but that there isn't an available bed. Hawaii News Now.

Senate sets agenda in semi-virtual session
During the Opening Day floor session, Senate President Ron Kouchi reiterated and elaborated on previously stated legislative priorities for members to address this year, including ways to improve affordable housing, education, local food production, mental health care as well as alleviate homelessness and address the minimum wage. Star-Advertiser.

Opening remarks from the state Senate and House for the 2022 legislative session. Hawaii Public Radio.

Mark Zuckerberg donates $50M to UH to study impact of climate change on ocean
UH announced a $50 million gift over seven years from billionaire Facebook founder Mark Zuckerberg and his wife, Priscilla Chan, for research about the impact of climate change on the ocean. Star-Advertiser. Civil Beat. Maui Now. Garden Island. Hawaii News Now.

Substitute teachers are in high demand but short supply in Hawai'i
As of Jan. 11, the Department of Education system had 3,922 substitutes, down from 4,738 in the 2019-20 school year. Civil Beat.

In rare rebuke of state's Covid response, Kahele offers 10-point plan to rein in surge
In a video and news release timed for the Legislature's opening Wednesday, U.S. Rep. Kai Kahele issued a 10-point plan that he said will curb the ongoing Covid surge by encouraging more people to get boosted and by improving safety in the schools and workplace. Hawaii News Now.
HAWAII BUSINESS MAGAZINE
Low Inventory May Push Local Real Estate Prices Even Higher
Chad Takesue, 2022 president of the Honolulu Board of Realtors and a partner at real estate firm Locations, says the lack of inventory could restrain sales this year. Potential buyers are looking, but there aren't enough homes… read more.
OʻAHU
Honolulu Mayor Rick Blangiardi may add booster to Safe Access O'ahu plan
Honolulu Mayor Rick Blangiardi stopped short of announcing any policy changes Wednesday during a press conference with Hawai'i's hospital leaders, but implored residents to get tested and boosted amid the recent Covid-19 surge in omicron cases. Star-Advertiser. Hawaii News Now. KHON2.

Personal injury firms prepare to sue Navy for water contamination
Former Hawai'i Attorney General Margery Bronster has paired up with a mainland firm to seek compensation for Navy water users, marking the latest legal action taken in response to the Navy's Red Hill water contamination saga. Star-Advertiser. Civil Beat. Hawaii News Now. KHON2. KITV4.

New HPD website streamlines gun registration on O'ahu
Second amendment advocates will no longer have to make multiple trips to register a gun with the Honolulu Police Department. KITV4.

Cyberattacks' impact lingers at Hawai'i businesses
A month after cybercriminals shut down a third-party, cloud-based timekeeping system used by employees of The Queen's Health Systems, the Honolulu Board of Water Supply, city Emergency Medical Services workers and thousands of businesses and organizations nationwide, some supervisors continue to use manual record-keeping to track work hours and leave time. Star-Advertiser.

State partners with the Council for Native Hawaiian Advancement to provide $50 million to help homeowners
The O'ahu housing assistance fund will offer up to $30,000 per eligible homeowner to help with mortgage, utilities, taxes and association fees. Hawaii News Now.
HAWAII BUSINESS MAGAZINE
My Job as a Psychiatric Nurse at the Hawai'i State Hospital
Tom Davidson says many staffers treat patients like family and view them as people who have gone through traumatic experiences and need help to get better. "I became a nurse because I felt that it was a great way to help other people and give something back to the community… read more.
HAWAIʻI ISLAND
Wastewater tops Roth's legislative priority list
A measure privatizing or creating public-private partnerships to handle wastewater projects is Mayor Mitch Roth's top priority for the 2022 legislative session that started Wednesday. West Hawaii Today.

Parents plead with Big Island school sports league to lift ban on spectators
Hawai'i County parents are pleading with Big Island Interscholastic Federation officials to change its ban on fans at school sports games. The rule went into effect on Jan. 4 due to the ongoing surge in coronavirus cases. Hawaii News Now.
HAWAII BUSINESS MAGAZINE
The Night Rail First Died and What's Next
Hawaii Business Magazine's editor talks about the Honolulu City Council vote that changed the fate of the previous attempt to build rail. What died that night was the authorization for a 0.5% general excise tax surcharge on O'ahu... read more.
MAUI COUNTY
Pandemic still central to lawmakers' priorities
From improving infrastructure to boosting health care training on Maui as well as addressing the ongoing effects of the pandemic, Maui County's state legislators will have lots to handle this legislative session. Maui News.

Council aims to get handle on Maui downhill bike industry
Decades-old concerns over Maui downhill bicycling have been resurfacing in recent months, and many hope Maui County Council deliberations on the topic will help pave a new, safer path forward. Maui Now.

Workforce housing lottery for Hale Kaiola in South Maui set for March 4
The lottery will determine which successful applicants will secure one of the new housing units at the project site, which is planned for construction at the corner of Kaiola Place and ʻOhukai Road, a few blocks mauka from Mai Poina 'Oe Ia'u and Kalepolepo Beach Park. Maui Now.

Submarine, ship, jet and balloon-type object off Maui, part of Naval exercise
Maui Now began receiving reports from witnesses on Tuesday morning of a ship with some type of floating object above it, about one mile offshore of Hoʻokipa, Maui. Maui Now.
KAUAʻI
Responders pull 2,000 feet of debris from entangled whale, but some remains
Federal and state responders have removed 2,000 feet of heavy-gauge line from an adult humpback whale first sighted off Brennecke's Beach last Sunday. Garden Island.
JANUARY/FEBRUARY 2022 ISSUE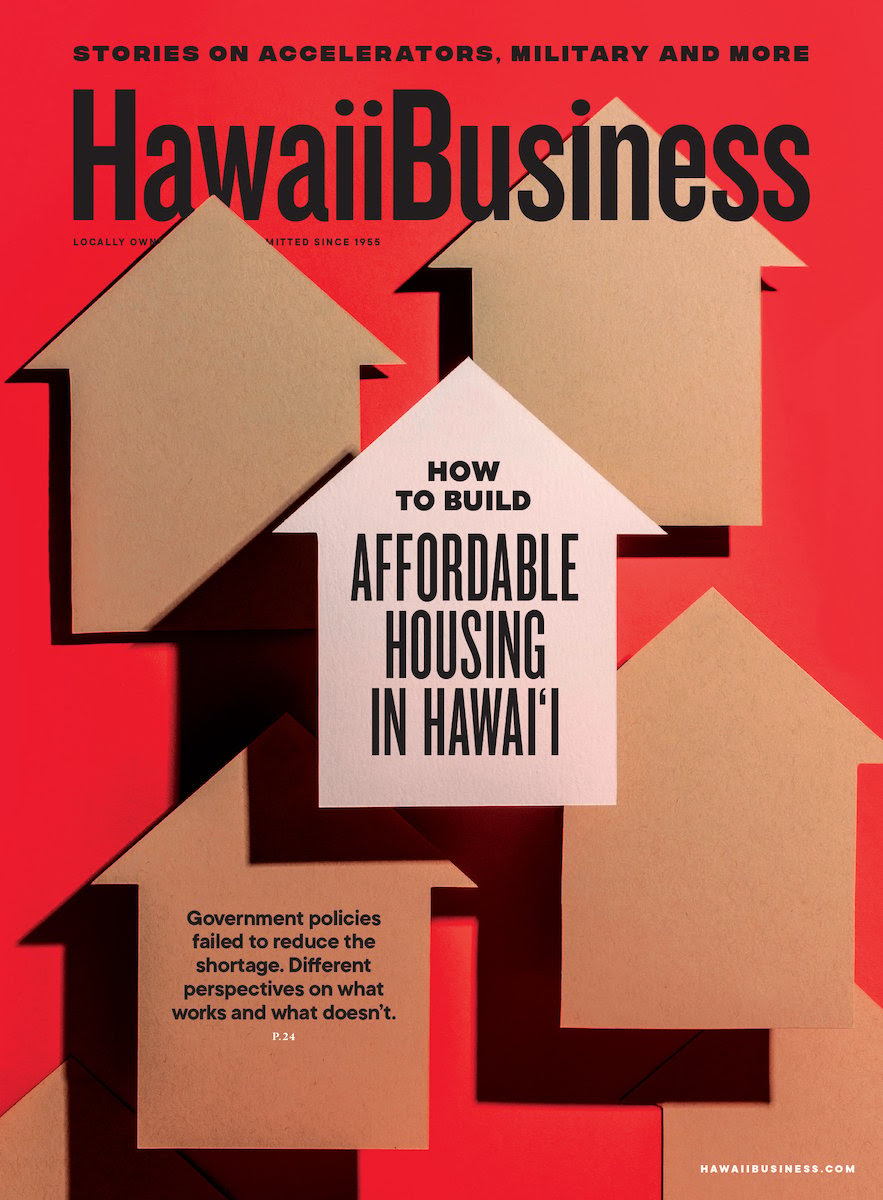 Dive into some of our latest features!
My Job Is Preserving Damaged Scrolls and Precious Art
EV Sales in Hawai'i Are Up 30.6%, and Many Buyers Say They're Glad They Made the Switch
Pusong Filipinx Showcases Millennial Entrepreneurs and Creatives

Big Brothers Big Sisters Helps At-Risk Youth Achieve Their Full Potential
Hawaii Business Magazine 
 1088 Bishop St. Ste. LL2
Honolulu, HI 96813
General Inquiries: (808) 537-9500
Advertising/Sponsorships: (808) 534-7124
For the latest Hawaii State, Hawaii Island, West Hawaii, and Hawaii Sports News, please check the blog sidebar, links, and twitter posts.