Hawaii State Legislature opens quietly today without the usual mix of music, food, and celebration;
Views expressed in this Hawaii State News summary are those of the reporters and correspondents.
Accessed on 19 January 2022, 2018 UTC.
Content provided by "Hawaii Business Magazine Newsletters."
Source:
Please click link or scroll down to read your selections.
Locally Owned, Locally Committed Since 1955
1.19.22
SUBSCRIBE TO HAWAIʻi REAL ESTATE NEWS
Please subscribe to Hawaiʻi Real Estate News – a free weekly email from Hawaii Business Magazine that provides insights and news on local real estate.

Coming to your inbox every Tuesday. Click here to subscribe!
TOP STORIES
Hawai'i Legislature's session once again to begin quietly
Today's opening of the new legislative session once again will be a staid affair absent music, dance and spreads of food following nearly two years of Covid-19-induced layoffs, unemployment and struggles for island businesses. Star-Advertiser.

Governor: Hawai'i making full use of $1.6 billion in federal Covid aid
Half of the American Rescue Plan Act money was used to repay federal loans the state used to pay unemployment insurance benefits that are traditionally funded by taxes on businesses. Star-Advertiser. Maui Now.

Lawmakers to discuss tax breaks, drinking water, minimum wage and more this session
Lawmakers say the Red Hill fuel spill shows how important it is for the state to protect the acquifers, which is the main source of drinking water. KHON2.
The Progressive Legislative Caucus' bill package includes a bill that would raise the state minimum wage to $18 per hour over several years and another that would add a conveyance tax on empty vacation homes. Hawai'i Public Radio.

Hawai'i House committee's auditor report late, needs more time
Hearings to investigate critical audits of state land management that quickly pivoted into an investigation of state Auditor Les Kondo — and were scheduled to produce a final report in November — have now extended well into January and require at least another 10 days. Star-Advertiser. Civil Beat.

Internet options expanding for Hawaiian homesteaders
The state Department of Hawaiian Home Lands is lifting a decades-old exclusivity clause that allowed only one internet service provider option for Hawaiian homesteaders. KITV4. KHON2.

Hawai'i's Tongan community eagerly awaits word on loved ones
With communications cut off from relatives in Tonga, thousands of Tongan Americans in Hawai'i, as elsewhere, are desperately seeking information on the welfare of family members. Star-Advertiser.

DOE outlines its criteria for deciding if a school should switch to virtual learning
Staffing, appropriate supervision outside of the classroom, and key support services are the considerations the department is using to determine whether a school should temporarily move to distance learning. Hawaii News Now.

DOE suspends dozens of school bus routes amid drivers shortage
The state has had a shortage of school bus drivers since the school year began — and the Omicron surge has only made things worse. With little relief in sight, families say the DOE should have had a backup plan. Hawaii News Now. Big Island Now. KITV4.

HAWAII BUSINESS MAGAZINE
Here's How Generational Differences Play a Role in Family Business Succession
In its latest annual survey of family businesses, Honolulu-based Business Consulting Resources discovered a marked generational gap in how family members approach handing over the torch. "Everyone on the team needs to come to the table to see how things can work out as a collective… read more.
OʻAHU
Navy hires contractor to assess integrity of Red Hill fuel facility
The company will conduct one of several investigations into the facility that leaked fuel into military families' drinking water. Civil Beat.

State suspends contract for security guards that watch over the Hawai'i Capitol
The contract with Alii Security Systems Inc. to provide the guards for the Capitol has been temporarily suspended after the U.S. Department of Labor concluded the company illegally denied overtime pay to its employees. Civil Beat.

Illegal gambling rooms keep springing up but police have few tools to shut them down
Honolulu police conduct dozens of raids every year and have seized more than 700 machines that still sit, unclaimed, in a warehouse on O'ahu. Civil Beat.

Redevelopment projects in Ke'eaumoku to change neighborhood landscape
From new hotel operators to new condominium developments, the Ke'eaumoku Street area will see plenty of changes, and some are even calling it the new Kaka'ako. KHON2.

Waikiki Galleria Tower owner sues DFS over back rent
BlackSand Capital and Waikiki Galleria Tower have filed a lawsuit against DFS, the current retail tenant of Galleria Tower, for nonpayment of about $7 million in back rent and failing to perform tens of millions in restoration work. Star-Advertiser.

Progress has occurred 2 years after tragedy at Diamond Head, but loopholes remain
That progress includes the 2020 passage of a bill that established a gun violence and violent crime commission and prohibits homemade "ghost guns" lacking serial numbers, and Hawai'i's "red flag" law, which allows household members and law enforcement officers to petition a court for an order to temporarily remove guns from a person in crisis.

City: Big fines haven't stopped 'egregious violator' from flouting environmental laws
The city has issued over $300,000 in fines against Iosepa Electric and General Contracting, put liens on the Hau'ula property and even sent police officers to serve stop work orders ― to no avail. Hawaii News Now.

State Rep. Bob McDermott announces run for US Senate
The GOP lawmaker represents 'Ewa Beach and wants to unseat Democrat Brian Schatz and shut down the Red Hill fuel facility. Civil Beat. Hawaii News Now. KITV4.
SPONSORED BY HAWAIIAN ELECTRIC
Hawaiʻi of Tomorrow
In this series, Hawaiian Electric envisions resourceful, sustainable islands that adapt to the challenges of the coming decades, especially climate change. Brilliant collaboration with experts across industries, community groups and local artists manifested stories that imagine what Hawaiʻi's future might look like in 2050… read more.
HAWAIʻI ISLAND
Mayor drops efforts to acquire trail to Papaikou Mill Beach
Managing Director Lee Lord said the county would have gained very little if it had won its eminent domain lawsuit because the owners open the trail to the public every day of the year except one, and maintain the trail at their own cost. Tribune-Herald.

Future of $10.5M compost facility still uncertain
Executives for a stalled $10.5 million composting project addressed a County Council panel Tuesday, extolling the virtues of a centralized system, while other island recycling groups pushed for a distributed system of smaller facilities across the island. West Hawaii Today.

UH Board of Regents nearing vote on latest Maunakea Master Plan
A meeting will be held on Thursday to go over the proposed master plan, which has a 20-year span and prioritizes the building of the controversial Thirty Meter Telescope. Hawaii News Now.

Council members get update on Big Island Film Offices
Hawai'i County Council members expressed frustration Tuesday that the county has not yet appointed a new film commissioner. Tribune-Herald.
HAWAII BUSINESS MAGAZINE
Four Programs That Inspire and Teach Kidpreneurs
Steve Sue likes to start young when nurturing the next generation of public-spirited entrepreneurs. He launched Lemonade Alley in 2011, a lemonade stand challenge for children in kindergarten through high school... read more.
MAUI COUNTY
Maui Interscholastic League relaxes spectator ban after parents rally to attend games
Effective immediately a "limited number" of parents/guardians of participating teams will be allowed to attend MIL events, MIL announced online Tuesday. Maui Now. Hawaii News Now.

Developer seeks workforce housing credits for Pulelehua development in West Maui
Maui Oceanview, LP, is requesting that the Maui Department of Housing and Human Concerns issue 120 workforce housing credits for its Pulelehua development in West Maui. Maui Now.
KAUAʻI
Whale Ocean Count modified due to Covid-19
The Jan. 29 count will use trained site leaders rather than volunteers. For the February and March counts, conditions may allow for a small number of general volunteers to participate at the viewing sites with the trained site leaders. Garden Island.
JANUARY/FEBRUARY 2022 ISSUE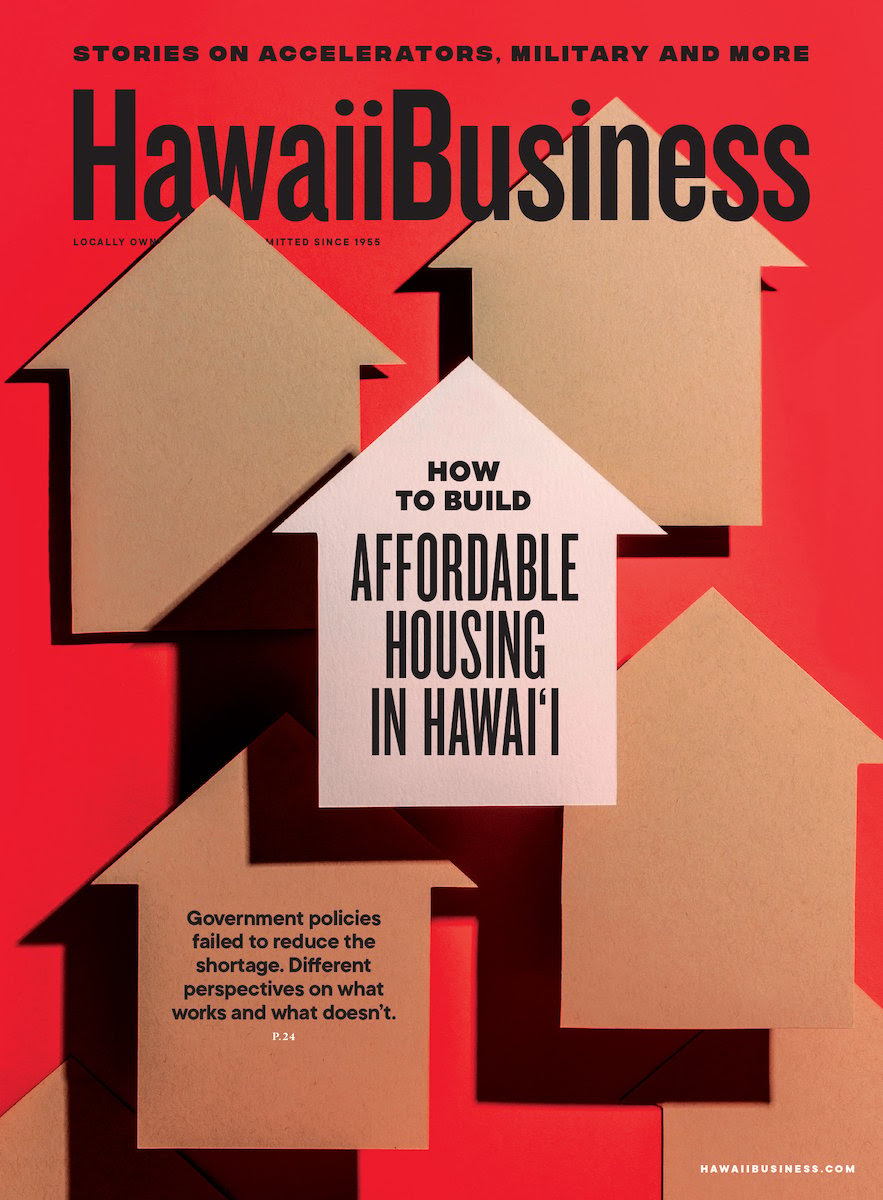 Dive into some of our latest features!
My Job Is Preserving Damaged Scrolls and Precious Art
EV Sales in Hawai'i Are Up 30.6%, and Many Buyers Say They're Glad They Made the Switch
Pusong Filipinx Showcases Millennial Entrepreneurs and Creatives

Big Brothers Big Sisters Helps At-Risk Youth Achieve Their Full Potential
Hawaii Business Magazine 
 1088 Bishop St. Ste. LL2
Honolulu, HI 96813
General Inquiries: (808) 537-9500
Advertising/Sponsorships: (808) 534-7124
For the latest Hawaii State, Hawaii Island, West Hawaii, and Hawaii Sports News, please check the blog sidebar, links, and twitter posts.
Thanks for joining us today.