See on Scoop.it – PRG HAWAII NEWS WITH RUSS ROBERTS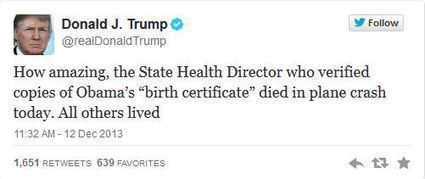 Conspiracy theory about plane crash angers company president
Hawaii News Now
The President of Makani Kai Air is speaking specifically to New York businessman Donald Trump. Trump tweeted about the crash off of Moloka'i.
Russell Roberts's insight:
Richard Schuman, the president of Makani Kai Air, says allegations by the so called "birther" movement and New York businessman Donald Trump that the death of state Health Director Loretta Fuddy following an ocean crash off Molokai is some kind of government conspiracy is "such idiotic nonsense." Fuddy was the state official that verified President Obama's birth certificate in 2001 and helped launch the "Obama Care" health insurance plan in Hawaii. Extreme conservative groups having been playing up the alleged connection to a government cover up on the internet ever since the fatal aircraft accident on Wednesday. Aloha, Russ.
See on www.hawaiinewsnow.com