See on Scoop.it – PRG HAWAII NEWS WITH RUSS ROBERTS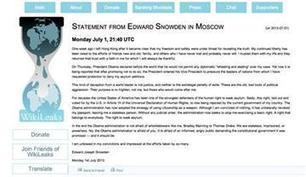 Yahoo! News
WikiLeaks: Snowden requests asylum
Hawaii News Now
WikiLeaks: Snowden requests asylum – Hawaii News Now – KGMB and KHNL. SITE SEARCH WEB SEARCH BY Google.
Russell Roberts's insight:
Great intelligence coup by Russia. Apparently, the former Hawaii resident turned whistleblower will be granted political asylum by our Russian friends. Shades of Kim Philby in the early 1950s. You can be sure the Russian Security Service (formerly the KGB) will have a nice long talk with Mr. Snowden. Of course, the USA has also accepted defectors in the past…kind of "tit for tat" in the intelligence business. Mr. Putin, a former KGB officer, played a good hand…cool, matter of fact, and somewhat disinterested. I bet he's having a good laugh at our expense. In the bad old days after World War II, a defection of this magnitude would be kept out of the press while each respective government did a little damage control. Not today, however. Thanks to the internet, secrets are harder to keep and security flaws are exploited much sooner than in the past. Those responsible for Mr. Snowden's actions should be fired, fined, and imprisoned for treason. Aloha, Russ.
See on www.hawaiinewsnow.com